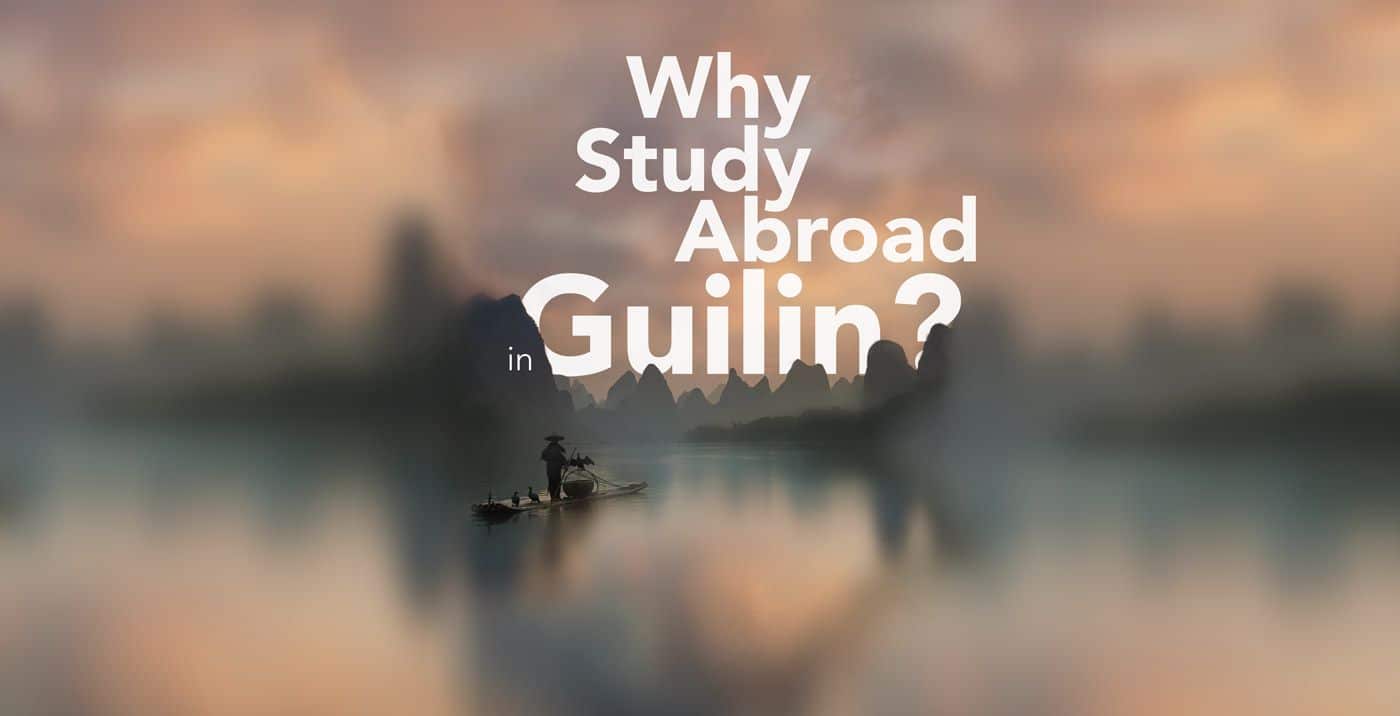 As if spending a semester abroad in China wasn't reason enough, we felt compelled to list 12 reasons (out of countless) why you should study abroad in Guilin. We've also included some photos from our Instagram account and we suggest you watch a video called Guilin is...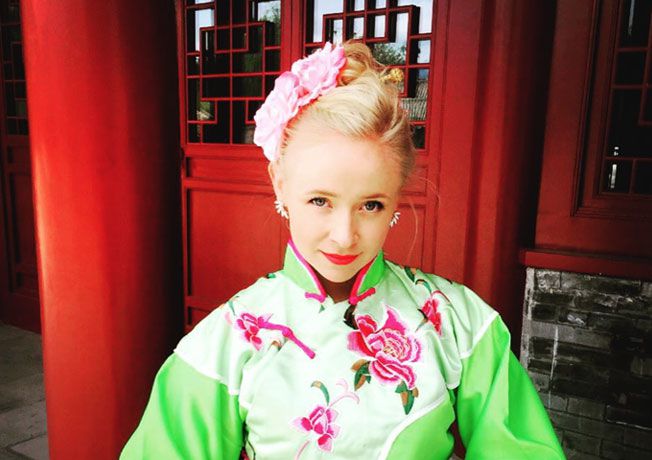 Jessica Beinecke,
better known as Bái Jié (白洁 ) by her viewers, is an American educator, videographer, and internet personality best known for producing videos that focus on introducing English slang and American culture to Chinese viewers.
Beinecke became a language-star in China in August 2011 when one of her videos titled, Yucky Gunk, in which she talks about boogers, earwax, and eye gunk, went viral. She hasn't looked back since, and currently curates six social media accounts in China and the U.S.

10 Slang Mandarin Phrases by Crazy Fresh Chinese




一 How do you say "You're so dramatic!" in Chinese?
Have a friend that's overreacting or being way too dramatic for no good reason? Want to tell them how you feel, but don't know how to do so in Chinese? Watch this video and you'll know exactly what to say to them!
二 How do you say "It's not my fault!" in Chinese?
When you're learning a new language, there's bound to be some miscommunication and oftentimes what you end up saying is a lot different from what you had in mind. Need to explain to your Chinese friend that it wasn't your fault? Learn how to by watching this video!
三 How do you say "I know what you're thinking!" in Chinese?
Ever get the feeling you know what someone is thinking and want to let them know you know what's on their mind? In this video, Bái Jié explains how you say, "I know what you're thinking," in Chinese.
四 How do you say "That's messed up!" in Chinese?
Want to express your discomfort upon being faced with an undesirable situation but don't know the best way to do so in Chinese? Allow Bái Jié to help you learn.
五 How do you say "I have no clue!" in Chinese?
There are times, when learning a new language, when one simply has no idea what is being said to them. This may be because what is being said is being said way too fast, or because one doesn't have the required vocab to comprehend. We've all been there, and it's immensely frustrating. How do you let the other person know you have no clue what they're talking about in Chinese? Watch this video to find out!
---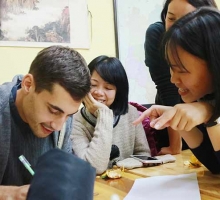 Learn Chinese in China
Study Abroad in Guilin
Learn Chinese Online
---
六 What does "88" mean in Chinese?
Have you ever received a text message from a friend which says "88"? Has this left you scratching your head, wondering what this number means? In China, it's simply another way to say, 'Bye-bye!'
七 How do you say "That makes sense!" in Chinese?
Well, that really does make sense.
八 How do you say "It means a lot to me!" in Chinese?
It's important to express your gratitude when someone does something sweet for you. But how do you do so in Chinese? Bái Jié shows you how!
九 How do you say "Bring it on!" in Chinese?
Are you a competitive person? Love accepting challenges? If so, you ought to know how to say, "Bring it on!" in Chinese. It's a sure-shot way of impressing your Chinese friends!
十 How do you say "Could you do me a favor?" in Chinese?
Anyone who's studying – or living – abroad in China knows that it's impossible to do everything on your own. From time to time, we all need help from other people. Watch this video, and let Bái Jié teach you how to say, "Could you do me a favor?" in Chinese.
Having studied Mandarin in Beijing and Hangzhou as an undergraduate, not only is Beinecke fluent in the language but also serves as an ambassador of American culture and language to China. According to Jessica's about page, "The 100,000 Strong Foundation is the founding partner of Crazy Fresh Chinese, focused on encouraging students across the country to both learn Mandarin and study in China."
You can watch more of her videos and subscribe to her channel on YouTube plus follow her on Facebook.
We hope to study Mandarin in China together some day soon. Don't forget to follow CLI on Twitter, Instagram, and Facebook.
Did you find these videos interesting? Share this post with a friend.
| Share the knowledge: | Follow CLI for Chinese learning resources: |
| --- | --- |
下次见!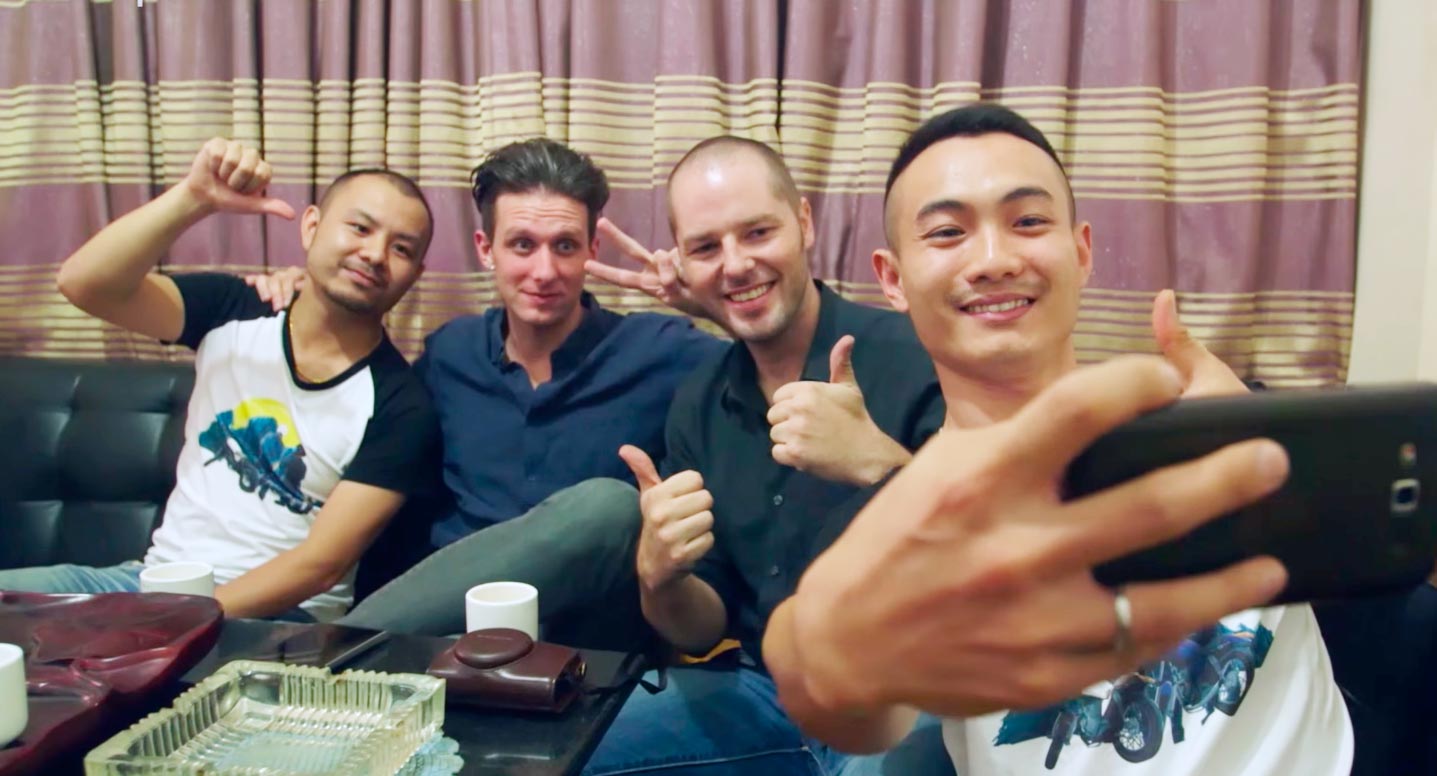 Matthew Tye, better known as laowhy86, is an American YouTuber and Internet personality best known for producing entertainingly insightful video content on his time as an expatriate in China. His videos cover a range of different topics like the cultural differences that exist between the United States and China, what it means to be a foreigner in China, tips for expats residing in the country, and pretty much everything in between! The nature of his videos is both candid and comical in equal measure, and here's a list of some of our absolute favorites from his YouTube channel.
Top 13 Videos from YouTuber, Laowhy86
一 5 Reasons You Will Love China
From the diversity of its languages and cuisine to the sheer humility and kindness shared by its people, China is a truly remarkable country, and this video highlights some of the things that make it so different yet so welcoming to foreigners.
二 Why It's HARD to Have Chinese Friends
Is it easy to make friends in China? Is it not? How hard could it be? In this video, laowhy86 shares his experiences on what it takes to initiate and forge meaningful friendships with locals, and the challenges that may arise along the way.
三 Top 5 Underrated Places in CHINA to Visit
China is simply too big and too beautiful a country with way too many places worth visiting and exploring! While selecting just 5 places from a huge list of possible options is hard, it's interesting to see which places laowhy86 recommends his viewers visit during their time in China. A somewhat subjective list, the video does leave one wondering: how has the gorgeous Guangxi landscape not made its way onto this list?
四 Chinese Girl Tries American SNACK FOODS
Watch as Tye and his Chinese wife make each other try snacks from their respective childhoods in this amusing video!
五 Stereotypes of Foreigners in China
You know what makes an extremely relaxed yet insightful video? Discussing some of the misconceptions about, and stereotypes associated with, being a foreigner in China over dinner and drinks. Tye joins his friend Prozzie in this hilarious undertaking!
六 What NOT to do in CHINA: Top 5 Things
A good watch for foreigners in the country, this video goes over some of the things any and every visitor in China should avoid doing if they don't want to (mistakenly) stand out and embarrass themselves!
七 How Hard is Learning CHINESE?
Is Chinese really the hardest language on the planet? In this video, laowhy86 discusses why that's simply not true, along with other misconceptions that are usually associated with learning the language.
八 Top 5 Weirdest Laws in CHINA
Did you know that you cannot use puns – yes, puns – in China? This is especially true for advertisements and anything else in the media. Weird right? Check this video out if you're interested in learning about other weird laws that exist in the country.
九 Are You Fat In China?
Beauty standards are different in different countries. In this video, Chinese women talk about their ideal body types, pressures they've faced to lose weight, and body shaming experiences they've endured.
十 5 WEIRD Things CHINESE People Believe
The older the country or culture, the more superstitions it has, and China is a very old country with many different superstitions and unique beliefs. How do these beliefs differ from those in the west? Watch the video to find out!
十一 Why You Need Connections in China
It's common knowledge that befriending locals (in any country) is a good thing. But how far can having local connections actually help you if or when you find yourself in a sticky situation in China? As it turns out, really, really far!
十二 Pokémon GO In CHINA
Okay, so everyone knows of Pokémon GO by now, but the important question for those of us in China is whether or not the game is indeed playable here. The answer to that question is a resounding "no." While one can certainly download the application without any problems, China has blocked GPS signals, thereby making the game essentially pointless. Are there other versions of the game? Sure! Are they any good? As we find out in this video, not quite.
十三 What's it Like Being a FOREIGNER in China?
If you're an expat in China, you may have wondered what the locals think of you. If you're not, you've probably wondered what life living in China as an expat is like. In this video Prozzie and laowhy86 go over these and other important questions.
Tye has been in China for over 7 years now and has been producing videos for a good portion of that time. You can watch more of his videos by clicking on this link and subscribing to his channel.
We hope to study Mandarin in China together some day soon. Don't forget to follow CLI on Twitter, Instagram, and Facebook.
Did you find these videos interesting? Share this post with a friend.
| Share the knowledge: | Follow CLI for Chinese learning resources: |
| --- | --- |
下次见!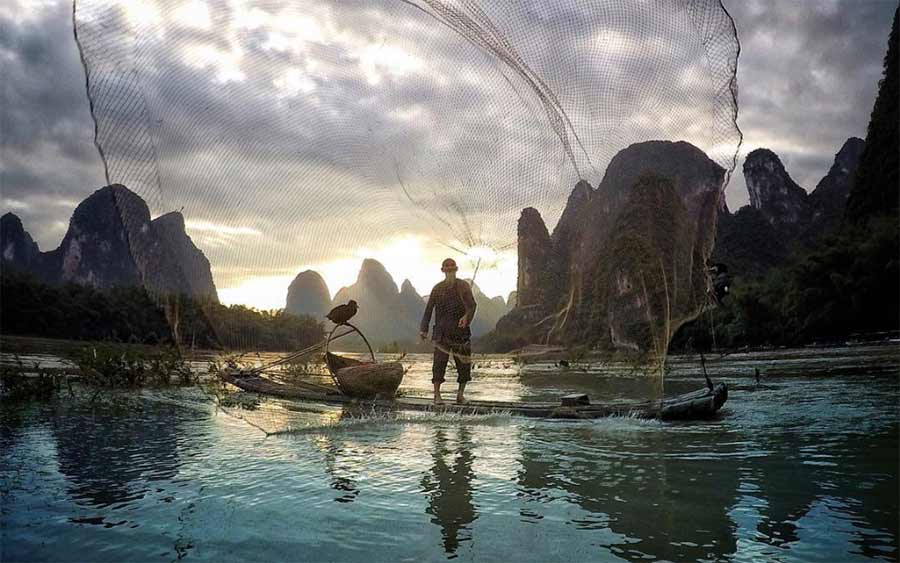 The Middle Kingdom is fast becoming one of the most popular destinations for international students, and it's easy to see why. The following are five of the most relevant reasons to spend a semester studying in China:
一 Mandarin Is Among the Most Spoken Languages in the World
Presently, more than a billion people around the world speak Mandarin, and this number is only expected to continue growing. According to language forecasting models, Mandarin will be – along with English and Spanish – the dominant language in the decades to come. Those learning Mandarin today are including themselves in an ever-growing global trend, and better equipping themselves for an increasingly globalized world of the future.


Language
Approx. number
of speakers
1. Chinese
1,197,000,000
2. Spanish
414,000,000
3. English
335,000,000
4. Hindi
260,000,000
5. Arabic
237,000,000
6. Portuguese
203,000,000
7. Bengali
193,000,000
8. Russian
167,000,000
9. Japanese
122,000,000
10. Javanese
84,300,000
Source: infoplease.com




二 One of the Fastest Growing Economies
China consistently ranks among the fastest growing economies on the planet, and its rapid growth shows no signs of stagnating anytime soon. Most of the world's largest multi-national companies have business interests in China and are constantly on the lookout to hire individuals that can speak the language, have lived in the country, and have experienced the culture firsthand.
Source: Wikipedia (mostly 2015)
三 It's Affordable
Living in China is significantly less expensive than living in most countries in Europe or the Americas, and even some countries in Asia. Tuition/education costs, rent, transportation, food, and entertainment expenses are lower here than in most places, and this means students can enjoy a higher quality of life without breaking the bank.
四 Immense Cultural Heritage
One of the oldest civilizations in the world with a long and proud history stretching far back in time, China is a country teeming with immense cultural heritage. One can get a sense of this cultural pride and heritage almost anywhere in the country, and those living here can witness, firsthand, the blend that takes place between long-standing traditions and rapid economic development for the future on an everyday basis.
五 The Country's Natural Beauty
The fourth largest country in the world, China has a distinct and diverse landscape. From the karst mountain formations around the Guilin area in the South to the gorgeous Tibetan plateau in the West to the booming metropolitans of the East, there are simply too many beautiful places worth exploring in the country.
The following testimonials were given by students who have studied with CLI:
"
I wanted to learn Mandarin and study in China, but the big cities were way too much for me. CLI and Guilin were perfect. I fell in love with the place, and had a comfortable environment in which to learn about the country."

~ Babar
"CLI offered assistance with applying for the visa, getting to CLI from the airport or train station, familiarizing with the city on arrival and basically anything else that I needed to know before I left home or when I got there."
"I attended CLI for 5 weeks and I truly loved every minute! Everyone from the teachers, to the staff were fantastic! Everyone was very accommodating, warm, friendly and supportive of me learning Mandarin. Guilin was beautiful, even though it was winter and some times cold & rainy, it was beautiful. I loved the city, the local people were very nice and polite. The local food was fantastic and very, very inexpensive. The food was so good I am now a snob when in comes to Chinese food."
Contact us to learn more about studying abroad in Guilin. You can also find CLI on Twitter, Instagram, YouTube, and Facebook.
| Share the knowledge: | Follow CLI for Chinese learning resources: |
| --- | --- |
下次见!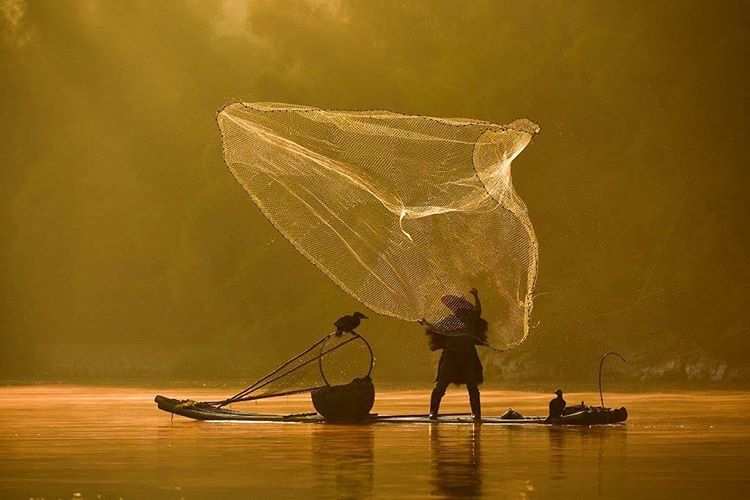 The beauty of Guilin, China is undeniable. Freelance photographer and Instagram'r, Anna Kwa, does an excellent job highlighting the picturesque views of Guilin. Scroll through and enjoy!
"Guilin's scenery is the most beautiful under heaven."

– Chinese proverb
"One month in Guilin was more productive than an entire year of coursework in a normal college class."

– Allie Riggs, CLI Alumni

Follow Anna Kwa on Instagram or by liking her on Facebook and following her on Twitter.
We hope to study Mandarin in China together some day soon. Don't forget to follow CLI on Twitter, Instagram, and Facebook.
| Share the knowledge: | Follow CLI for Chinese learning resources: |
| --- | --- |
下次见!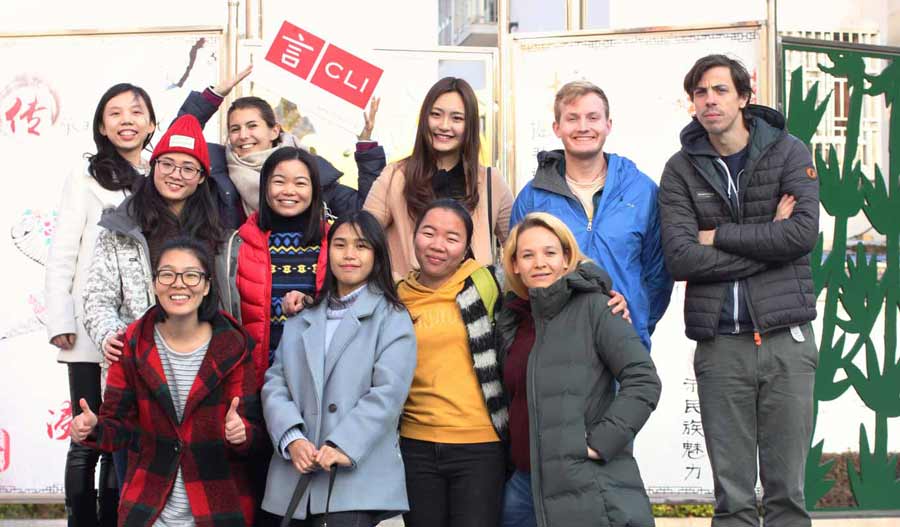 Tips to help you get the most out of your time in this beautiful city
CLI's Study Abroad Program allows participants to learn and improve their Mandarin while living in the picturesque city of Guilin. Living and learning in a Guilin over an extended period of time provides students with the unique opportunity to experience local Chinese culture in ways tourists simply can't.


Here are a few tips that, when complemented with one's language training at CLI, make for an enriching and meaningful time studying abroad in Guilin:
一 Befriend locals
While this may seem like an obvious idea, it is one that often gets overlooked. Not only are locals great for practicing your Chinese with when not in the classroom, but they are also a wealth of knowledge on most things Guilin. Always eager to help, they know the ins and outs of the city in ways only locals can.



二 Eat local
Guilin relies heavily on tourism as a source of income and the constant influx of tourists over the years has resulted in international food chains such as Burger King, McDonald's, and Pizza Hut (to name just a few) opening franchises in the city. One could as easily find restaurants that specialize in Italian, Indian, or Spanish cuisines. Eating local, however, is the way to go. Not only is eating local significantly less expensive when compared to some of the options mentioned above, but is just as tasty and absolutely delicious.



三 Don't let the language barrier discourage you
While practicing your spoken Mandarin by having conversations with locals can seem like a daunting task at first, there are few other ways that are as effective for improving your fluency in the language. The key is to not be afraid of making mistakes, and having the courage to take that first step. Guilin locals are more than friendly and appreciate any effort taken by foreigners to converse in Mandarin!



四 Partake in outdoor activities
One of the most naturally beautiful cities on the planet, Guilin has plenty to offer in terms of outdoor activities for people to take part in. The city's peculiar karst mountain formations make it an ideal spot for rock climbing and hiking (the views are absolutely stunning!). If that's not your thing, though, you could bike around and explore the city, or join one of the many amateur sports teams set up by expats for those interested in playing soccer, football, or basketball.



五 Make the most of the expat community
Guilin has a small but close-knit expatriate community made up of nationals from the world over. While it's essential to interact with, and befriend, locals to get the most of your time studying abroad, knowing that there exists a community of foreigners who are undergoing similar experiences abroad can be comforting and refreshing. Make the most of this community: these people are friendly, know the city well, and have really good advice on any questions you may have!


#MyGuilinStory EP6: Studying in Paradise

Ever wondered if it was even possible to study in paradise. Watch this weeks #MyGuilinstory and discover why Bradford Fried, Co-founder of CLI, from America thinks studying at the Chinese Language Institute feels like living in the wonderful world of Dr. Seuss.

Posted by Go Guilin on Friday, July 8, 2016
We hope to study Mandarin in China together some day soon. Don't forget to follow CLI on Twitter, Instagram, and Facebook.
| Share the knowledge: | Follow CLI for Chinese learning resources: |
| --- | --- |
下次见!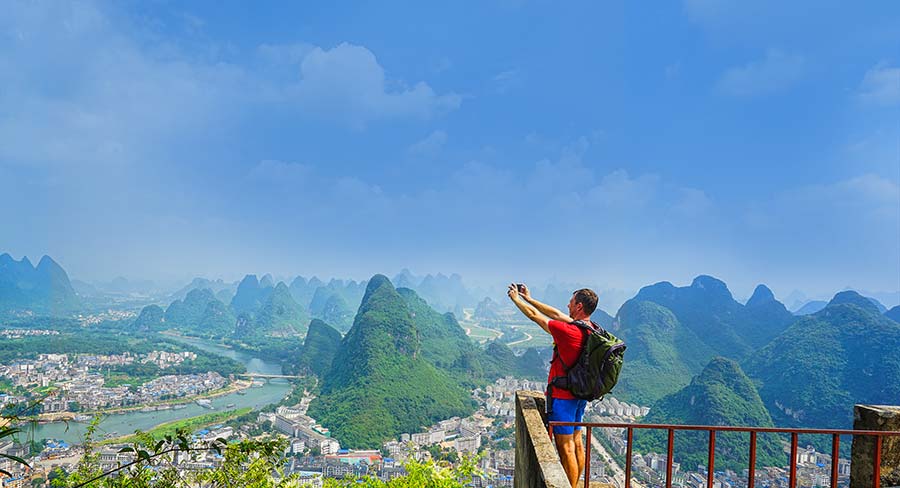 Guilin offers an endlessly flowing river of opportunities to students studying abroad. Each individual student who studies with CLI is unique and is seeking an experience to call their own. Guilin's truly bottomless selection of paths to explore will prove to be a tremendous benefit to your experience.


Here are 18 activities we suggest you try during your semester in Guilin — there are countless more we'd love to share with you so please don't hesitate to ask.
一 Climb a mountain… or five!
Guilin (including Yangshuo) is quickly becoming the capital of the world of rock climbing. You do not need to be an expert, there are peaks of all levels –and plenty of rock climbing schools! There are also endless opportunities for you to just walk up some of the mountains around Guilin and capture some of the best shots of the city's landscape.
二 Drink rice wine in a cave
Guilin's rice wine or Sanhuajiu –which literally means wine of three flowers– is very famous in China and its brewage can be traced to the Song Dynasty. The quality of this wine is very high, which is why it's considered one of Guilin's treasures.
三 Watch the Yao women dance in the Longji terraces
Each ethnic minority in China has its own unique fashion, music, dance, and more. The Yao people are famous for their pink embroidered clothing and extremely long hair.
"The only source of knowledge is experience."

~ Albert Einstein
四 Send postcards to your family and friends back home
Share some of the magic of your experiences in China with your family and friends back home! Place your grain of sand in building a bridge between our countries.
五 Check out the tallest man-made waterfall in the world
Every night, unsuspecting tourists at the city center are surprised to find themselves in front of the tallest man-made waterfall in the world. Don't miss it, it will appear on the back side of the Waterfall Hotel at 8:30 pm sharp.
六 Bring a date to the Two Rivers and Four Lakes Scenic Area at night
The Sun and Moon Pagodas are beautifully illuminated at night and definitely the highlight of an unforgettable walk around one of Guilin's most enchanting spots.
七 Put your Mandarin to the test watching a Chinese movie at Wanda
Don't miss out on a rich cultural experience and a huge opportunity to improve your language skills! To get the most out of the movie try to remain engaged with the plot and repeat some of the words the characters say using their pronunciation.
八 Drink the insanely addictive Gongcha bubble tea
Originally from Hong Kong, Gongcha, a Taiwan-style drink shop, is now ubiquitous in Guilin. Try one of their tons of flavors and then try to not buy a second one.
九 Try shaokao 烧烤
Shaokao (烧烤) is the name for street BBQ skewers in Guilin. It's by far one of the favorite places for people of all ages. Locals typically pile order after order of shaokao to accompany beers while they play games of Chinese dice.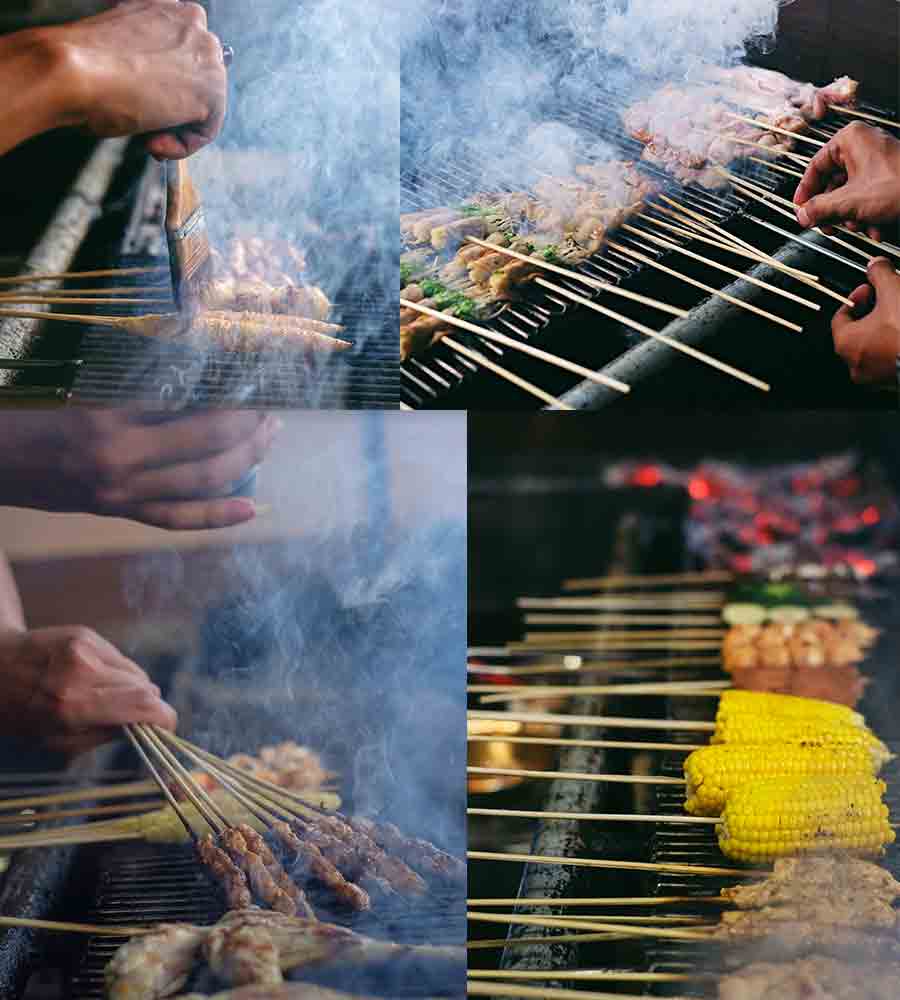 十 Swim with a view
Surrounded by karstic mountains and rivers, Guilin is one of most beautiful places in China. Local hotels and restaurants take full advantage of the landscapes and many offer visitors a chance to dip into their rooftop swimming pools for a small fee.
十一 Learn how to play mahjong
This incredibly fun game of strategy originated in China during the Qing dynasty. Don't be surprised if the other players try to find the seats with the best Feng Shui or wear their lucky clothing and trinkets.
十二 Learn about traditional tea culture at a Daoist tea house
Tea culture forms a major part of China's rich historical traditions. Gain a deeper understanding of its place in society by learning from the experts at one of Guilin's numerous exquisitely-decorated tea houses.
十三 Get pampered with your friends at one of the tons of massage places in the city!
China is without a doubt a paradise for massage lovers, as you can find high-quality massages at very reasonable prices. Get an oil, full-body, just-feet or only-back massage and let all your worries and stress float away.
十四 Join a Taiji group every morning and a group of dancing ladies at night to keep in shape
Taiji Quan (太極拳), often spelled Tai Chi in the West, is an internal Chinese martial art practiced for both its defense training and its health benefits.
At night in public squares all over China, millions of older women gather to dance and socialize.
十五 Learn a Chinese song and belt it out at KTV (Karaoke) club
Impress your Chinese friends and practice your Mandarin while partaking in one of the most popular and fun activities for locals in Guilin.
十六 Escape the city for a day and visit Daxu
Walk through the stone paths of ancient Daxu village. Daxu is a 1,000-year-old village with a rich story and some of the best examples of Ming and Qing Dynasty architecture in China.
十七 Talk with strangers on the street – learn about how China has changed throughout their lifetime
Few other countries have changed so radically as China has in the last 30 years. Its people are walking history books with tons of interesting stories they are happy to share with friendly foreigners. Don't be shy!
十八 Go out at night and enjoy some live music
There is no shortage of live music bars in Guilin's city center. The scene has been bubbling in the past few years, and it has progressed through pop music covers to local foreign musicians from all over the world.
Contact us to learn more about studying abroad in Guilin. You can also find CLI on Twitter, Instagram, YouTube, and Facebook.
| Share the knowledge: | Follow CLI for Chinese learning resources: |
| --- | --- |
下次见!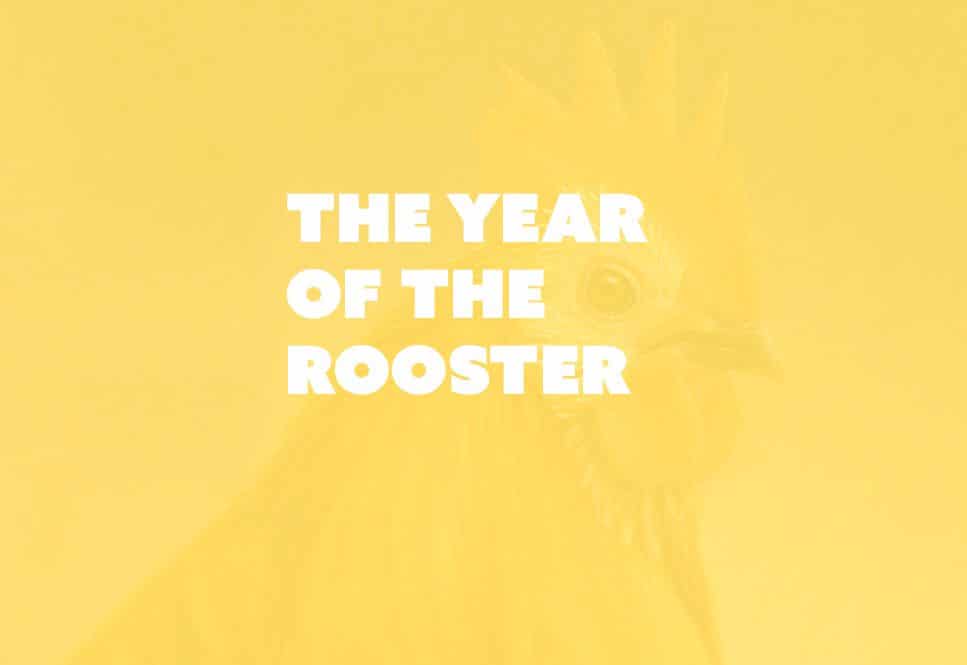 The numbers 5, 7, and 8 are considered especially lucky for those born in the year of the Rooster while gold and yellow are considered their lucky colors.
January 28th marks the first day of the Chinese lunar calendar in 2017. New Year's Day in China marks the completion of a year of hard work. Chinese New Year, or the Spring Festival as it's sometimes known, is by far the most important and auspicious of all festivals in the country, and a time for families nationwide to come together and look forward to the upcoming year in hopes of good health, wealth, luck, and happiness.
Each year in the Chinese calendar is related to an animal sign according to the twelve-year cycle, and 2017 is the year of the Rooster. The Rooster is the tenth in the Chinese zodiac—each animal in the Chinese zodiac has its own unique significance.
Those born in the year of the Rooster (1957, 1969, 1981, 1993, 2005, and 2017) are said to be hardworking, tenacious, active, and daring. "Roosters" are, additionally, frank and honest. Known for speaking their minds, they aren't ones to shy away from attention either. People born in the year of the Rooster are usually very creative, making fantastic entertainers and artists.
The numbers 5, 7, and 8 are considered especially lucky for those born in the year of the Rooster while gold and yellow are considered their lucky colors. Roosters should, however, avoid the numbers 1, 3, and 9, and the color red as these are considered unlucky for them.
Famous celebrities born in the year of the Rooster include Matt Damon, Natalie Portman, Roger Federer, Matthew McConaughey, Jennifer Aniston, and Elton John.
While each animal sign in the Chinese zodiac has its own unique meaning, festivities leading up to, on, and immediately after Spring Festival are much the same every year, regardless of the zodiac. It is a time for families across China to celebrate the year that has just gone by, and usher in the new one with family members and loved ones.
---
If you were intrigued by this post, please share the knowledge:
You may also enjoy our interview peering into the life of Uncle Ye, a local Guilin resident, as he discusses the Spring Festival now versus 30 years ago.
What is your Chinese Zodiac? Share with us here or on Twitter @studycli.
At CLI we've always known that Guilin is beautiful and we've been on a mission to share the beauty since our founding in 2009. So it was a welcomed surprise when we learned that The New York Times sent staff photographer, Josh Haner, to capture some of Guilin, China's beauty. Enjoy the view. We hope it inspires you to study Mandarin with CLI in Guilin!
Don't forget to follow CLI on Twitter, Instagram, and Facebook.
| Share the knowledge: | Follow CLI for Chinese learning resources: |
| --- | --- |
下次见!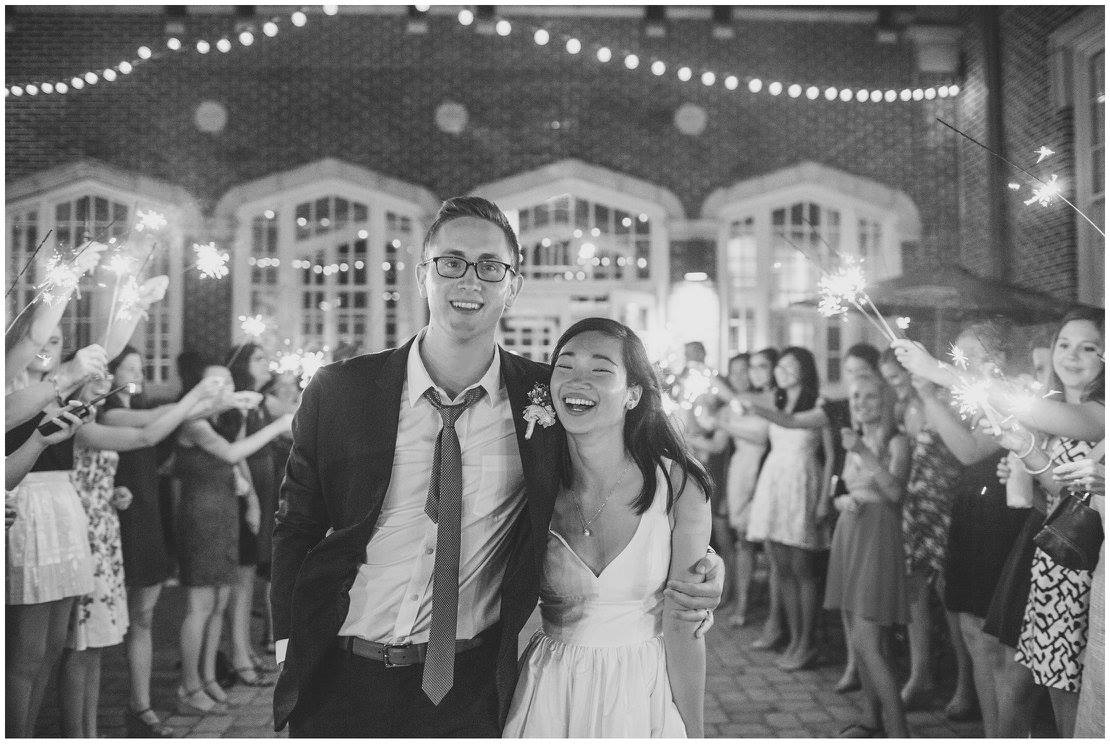 In addition to winning the USA Memory Championship, CLI Online student, Alex Mullen just set a new World Record in Speed Cards (memorizing the order of one shuffled deck of 52 playing cards as fast as possible). He completed this feat in a mere 18.65 seconds!! What's more? Alex also won the 2015 World Memory Championship.
Alex has a passion for teaching other the techniques he uses in memory sport competition. Dive into his website and start applying the methods of a World Champion to your language learning journey. As a sample, below we've included Alex's 20 Words Challenge.
Watch Alex move through a shuffled deck of cards while setting a World Record speed that would intimidate Johnny 5:
And here's the moment Alex Mullen was announced USA Memory Champion:
Be sure to subscribe to Alex's YouTube channel. You can also like him on Facebook at Mullen Memory and follow him on Twitter.
We hope to study Mandarin in China together some day soon. Don't forget to follow CLI on Twitter, Instagram, and Facebook.
| Share the knowledge: | Follow CLI for Chinese learning resources: |
| --- | --- |
下次见!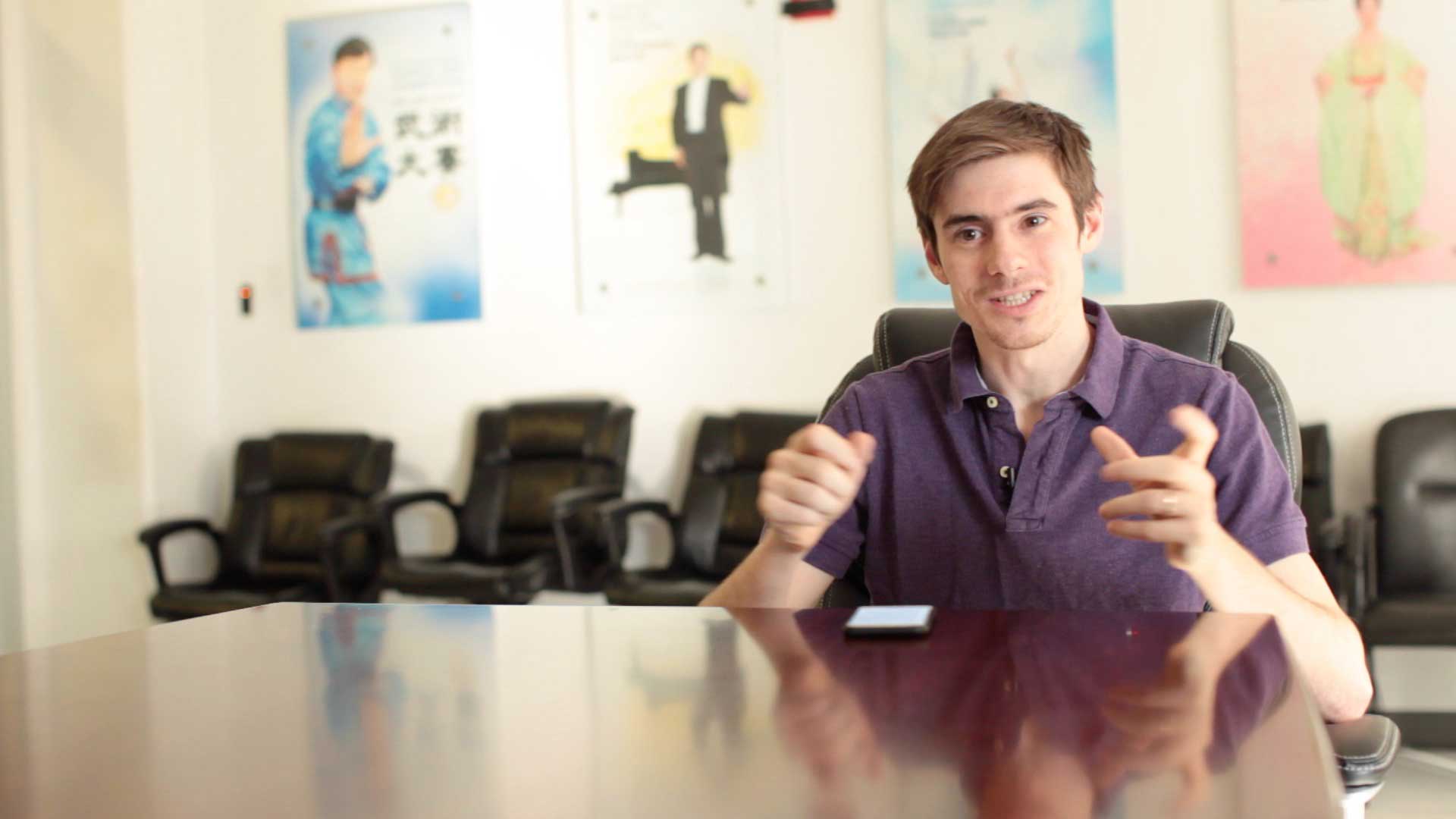 We had the privilege of sitting down with Ben Hedges, founder of Learn Chinese Now, and discussing a variety of topics including his personal journey into the Mandarin language. Ben shared such incredible language learning insights and wisdom during our chat that we've decided to release the entire interview in three installments. While watching this first installment, follow along in the below transcript for the Chinese characters, pinyin, and English translation. You can also use this link to download a PDF containing the interview transcript and vocabulary list.
Jump to the vocabulary list.
Ben Hedges Interview Transcript
Dayong (00:04 – 00:07)
请做一个简短的自我介绍。
Can you please briefly introduce yourself?
Ben (00:07 – 01:32)
大家好,我是 Ben Hedges,中文名字叫郝义博。我是英国伦敦大学亚非学院的毕业生。我也在台湾留学了一年,在那边学了一年的中文。毕业之后,我就开始拍网络视频,主要是讨论一些中国的时事、电视剧、新闻、什么电影啊。后来这些视频就在台湾爆红了。所以我们就现在是每一周拍一个新的网络节目,后来我有很多机会跟一些公司合作拍一些影片,比如说我们跟Seven Eleven合作过拍台湾的环岛影片。2013年我也开始拍一个教中文的节目叫 "Learn Chinese Now"。我们每个星期出一个新的视频。这是针对外国人,正在学中文的外国人。帮他们学一点简单的中文,或 是把比较复杂的中文给他们解释一下。这个节目也是用一个幽默的方式,用一个幽默的方式来教中文。观众的反馈是很好的。
Hello everyone, my name is Ben Hedges and my Chinese name is Hao Yibo. I graduated from the School of Oriental and African Studies (SOAS) in the University of London. I also studied Chinese in Taiwan for one year. After I graduated, I started making online videos, discussing current affairs, TV dramas, news and movies in China. The videos became a hit in Taiwan, so now we release a new video online every week. We started to get a lot of opportunities to collaborate with companies and create more videos. For example, we worked with 7-Eleven to film a video about traveling around Taiwan. In 2013, I started a new program called "Learn Chinese Now". It is a program developed for foreigners learning Chinese, and we release weekly videos. The program's goal is to teach foreigners some simple Chinese, or explain the use of complicated Chinese words, and we try to do it in a humorous way. The program is well received by its audience.
Dayong (01:33 – 01:40)
通过制作Learn Chinese Now对您更好的理解文化差异有什么影响吗?
How has building Learn Chinese Now impacted your own journey toward greater fluency and cultural understanding?
Ben (01:40 – 02:36)
制作这些影片的时候我有一个机会在复习我已经在上大学的时候学过的一些成语啊,但是教,作为一个影片,比如说教一个成语的影片,真的会帮我更深的理解那个成语的意义。比如说我们拍了一个介绍"塞翁失马 焉知非福"的这个成语,所以我看了那个,那个故事,看了原文,文言文的那个古代汉语的故事。真的很有趣,真的更深,更深入了解这个故事,然后把它教给学生。这个过程,当一个老师,真的可以让你更深的理解一些中文词的,中文成语的意义、内涵,很深的内涵。
Making these videos gave me a chance to review what I have learned, for example, idioms in college. Teaching people what I have learned really allows me to have a deeper understanding of the idioms. For instance, we made a video introducing the idiom "Misfortune may actually be a blessing", and I read the original story in classical Chinese. The story was really interesting and meaningful, and teaching it to the students allows me to discover more meaning behind the idioms.
Dayong (02:37 – 02:40)
您希望Learn Chinese Now对观众有什么影响?
What impact do you hope Learn Chinese Now has on your audience?
Ben (02:41 – 03:30)
现在很多学生,他们只要学现代汉语可能是因为他们要去中国做生意。但是我觉得学一点古代汉语,学一点文言文,真的会让你更了解现代汉语,因为这个现代汉语就是来自古代的语言。它的每一个中文词,每一个成语背后有一个故事,不像英文那么简单,中文是真的有比较深的内涵。所以我希望现在的学生可以了解这一点。我希望我的节目可以帮他们了解,让他们去探索古代汉语、古代汉语跟现代中文的关系。
Nowadays, a lot of students are learning modern Chinese, so they can go to China for business. However, I feel that learning a bit of ancient Chinese and classical Chinese allows you to understand modern Chinese better, as modern Chinese evolved from ancient Chinese. There is a story behind most of the Chinese phrases and idioms, and it is not as simple as English.
Vocabulary List:
| | Hànzì | Pīnyīn | Definition | Part of Speech |
| --- | --- | --- | --- | --- |
| 1. | 网络视频 | wǎngluò shìpín | online video | n. |
| 2. | 环岛影片 | huándǎo yǐngpiān | around the island videos | n. |
| 3. | 幽默 | yōumò | humorous | adj. |
| 4. | 简短 | jiǎnduǎn | brief | adj. |
| 5. | 讨论 | tǎolùn | discuss | v. |
| 6. | 观众 | guānzhòng | audience | n. |
| 7. | 文化差异 | wénhuà chàyì | cultural difference | n. |
| 8. | 古代汉语 | gǔdài hànyǔ | ancient Chinese (language) | n. |
| 9. | 内涵 | nèihán | connotation | n. |
| 10. | 探索 | tànsuǒ | explore / probe | v. |
Follow Ben by subscribing to Learn Chinese Now on YouTube, liking him on Facebook and following them on Twitter. You can also check out new content his original channel 老外看中國、老外看台灣。
We hope to study Mandarin in China together some day soon. Don't forget to follow CLI on Twitter, Instagram, and Facebook.
| Share the knowledge: | Follow CLI for Chinese learning resources: |
| --- | --- |
下次见!