Seeing China through the Eyes of Kindergartners
CLI students spent this past Sunday on a cultural tour of the Guilin countryside. We may have started a little early for some, but after a quick breakfast at the local bāozi (traditional steamed bun filled with meat or vegetables) shop, everyone was energized and ready for the day's events.
The first stop on the cultural tour found students at a local art school. Young children's shyness and nervousness quickly turned to smiles and amazement as CLI students demonstrated their Chinese language ability. After the ice was broken, CLI students were given a traditional painting and calligraphy lesson. Laughter warmed the room as students followed their instructors in writing their Chinese names with the traditional brush and black ink.
As the art school began to warm up, so did the weather outside. This provided the perfect backdrop for the next cultural stop, a countryside kindergarten. Like the art school, shy students quickly turned to rambunctious, excited children as CLI students gained the trust of their new friends by connecting with them through language. With introductions over, our new little friends accompanied us to the local market to buy food for lunch. Lunch was truly a banquet which everyone helped to prepare. CLI students learned how to make dumplings, sticky rice, and other traditional Chinese dishes.
Michael helping to prepare the traditional sticky rice.The day's fun continued as everyone journeyed to the river bank for an outdoor face-changing performance. After a lovely show, students were given some free time to enjoy the natural beauty of Guilin's countryside. Some students took the time to enjoy a bamboo raft ride down the Li River while others simply relaxed on the cool river bank.
An eager student waits his turn for a  bamboo raft ride on the Li River.As evening arrived and the weather cooled, everyone was treated to some local tea and cakes. Satisfied faces were everywhere, thanks to a hearty meal and the feeling that comes from making new friends. As darkness fell, goodbyes were said and CLI students prepared for the return trip home. The ride was mostly silent as many were exhausted from the never-ending ball of energy that are young children, but all were content. It is safe to say that Sunday's trip was something special that no one will soon forget.
A beautiful day with great weather, delicious food, and new friends.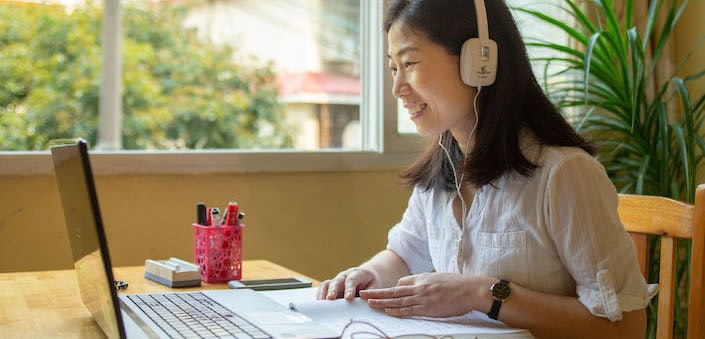 Free 30-minute Trial Lesson
Free 30-minute Trial Lesson
Continue Exploring