The Best Way to Learn Chinese

One-on-one instruction and complete immersion within a safe, friendly environment is among the most direct paths to learning Chinese. Rather than vying for your teacher's attention, your daily one-on-one lessons with three unique CLI instructors will give you an individualized opportunity to advance and validate your Chinese language skills hour by hour, day by day, and week by week.
Begin your stay any Monday of the year and immerse yourself in Chinese language and culture with CLI as your guide.
Read more
Show less
A New Level of Personalized Service

From the moment you contact us until your final day of coursework, CLI provides all necessary elements to ensure a highly effective learning experience, including airport pick-up and drop-off, housing accommodations, a comprehensive program orientation and introduction to Guilin, a carefully developed learning curriculum, 24-hour assistance, and much more.
For direct insight from CLI students themselves, please take a moment to explore our testimonials page.
Read more
Show less
Activities & Travel Excursions

In addition to four daily hours (Monday through Friday) of one-on-one instruction, CLI organizes weekly activities and monthly travel excursions designed to immerse students deeply into Chinese language and culture.
Join fellow CLI students and team members for bamboo boat rides down the Li River, hikes up Guilin's breathtaking karst mountains, photography excursions to the Longji Rice Terraces, cooking lessons with Chinese chefs, tea house visits to Daoist monasteries, and more.
See the Included in Tuition section for details.
Read more
Show less
Joint Program with GXNU

If you are interested in CLI's joint program with Guangxi Normal University (GXNU), please visit the Study Abroad in China section of our website.
Study Abroad students begin coursework at the beginning of the university's Fall or Spring semester (usually mid-February and early-September) and are required to enroll for at least one academic semester.
CLI's Study Abroad program welcomes students of all ages.
Read more
Show less
CLI's Pengyou Program

Actively engaging in direct cultural exchange is a crucial part of studying in China. In order to help foster this opportunity, CLI has created the Pengyou Program as an optional add-on to your Immersion Program at no additional tuition cost.
The Chinese word for friend (péngyǒu, 朋友) includes two moon characters (月) side by side. Through the passage of time, and with the passage of each moon, long-lasting friendships are built and sustained.
At CLI, we strive to provide an educational environment that leads to lifelong friendships, and the Pengyou Program is just one way we pursue this goal. If you choose to participate in the Pengyou Program, CLI will match you with a student from our local partner university who has also applied to join the program. We interview all candidates and make selections primarily based on personality and enthusiasm. We also require that all pengyous speak standard Mandarin, although many may also be excited to practice their English.
By taking part in the Pengyou Program, we ask that both you and your pengyou agree to the following:
Local pengyous will take part in your orientation meeting, welcome lunch or dinner, and farewell dinner. CLI pays for these meals.
Pengyous will have at least one meal together per week outside of CLI. No other international students are allowed to take part, but your local pengyou may invite his or her own local pengyous. You (the CLI student) are responsible for paying for your and your pengyou's meal, but your pengyou's pengyous pay their own way.
You and your pengyou should take part in at least two activities together outside of CLI per month. As with the previous obligation, we strongly encourage that no other international students take part. Pengyous are expected to share the cost, if any, of the activity, but we also encourage you and your pengyou to take part in free or low cost activities, including visiting a park, arcade or shopping area; playing sports or board games together; or going to the local market to buy fresh produce to cook a meal together.
Your pengyou will be available three hours per week to assist you with your Chinese language study. You can review material learned in class and/or practice your spoken Chinese during this time. CLI provides all pengyous with basic training in teaching Chinese and many are majoring in Chinese education at Guangxi Normal University. These language sessions are an excellent opportunity to work through problem areas and improve your Chinese.
When interacting outside of the program as outlined above, unless your pengyou strongly insists on covering your costs for any meal, activity, and/or taxi ride, all costs should either be shared 50/50 or covered by the CLI student. If you would like to swap pengyous for any reason, you may do so one time every two months for the duration of your study at CLI.
If interested in participating in CLI's Pengyou Program, simply follow the instructions when prompted on CLI's application form.
Read more
Show less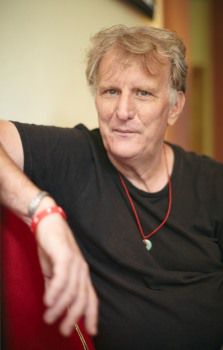 Harry Mattison
"I arrived to Guilin at 5:00 AM,

was picked up by a CLI team member, and found the CLI building with the colored lanterns outside, and that was really a great moment for me because everything here was perfect. The food has...
Read more
"I arrived to Guilin at 5:00 AM,

was picked up by a CLI team member, and found the CLI building with the colored lanterns outside, and that was really a great moment for me because everything here was perfect. The food has been superb, the room spacious, the sheets clean, the water hot, and so it was a very easy transition for me to come from an ideal of my own home to CLI. I highly recommend CLI mostly because of the teachers — the seriousness of their commitment and their desire to see that you actually learn Chinese. This is not a business as much as it is a cultural bridge. There's a high commitment by the staff and the teachers to see that you actually accomplish the goals that you set out for yourself in learning the Chinese language."
Minimize
One-on-One Intensive Chinese

CLI was founded on the principle that traditional large classroom instruction slows down learning speed because it affords students few opportunities to ask questions and actually speak Chinese.
CLI's one-on-one instruction solves this problem by maximizing the amount of time each student has to ask questions and utilize new Chinese words and concepts learned each day. It also allows CLI's Mandarin instructors to tailor class content and teaching style to each individual student's needs.
With 20 weekly hours of one-on-one Mandarin instruction, daily learning-based extra-curricular activities, a variety of housing options, and travel excursions to remote parts of China, CLI's Immersion Program is carefully designed to maximize retention and learning speed, allowing students to rapidly improve their language level in as little time as possible.
Read more
Show less
Small Group Classes Option

Although one-on-one classes are the primary mode of learning in CLI's Immersion Program, we recognize that different students have different learning styles. Sharing class time with other students in a small group setting gives you the opportunity to learn from your peers, and it also provides an alternative classroom dynamic.
Keeping with the CLI tradition of fully customizable language learning, we want to give you as many options as possible, and we do our best to make small group classes an option for students who request it.
Arranging a small group class at CLI depends on several factors, including enrollment numbers, matching language levels, coinciding program lengths, and the preferences of other students. In order to maintain CLI's high standards of instruction while allowing students the flexibility to explore other methods of learning, small group classes are generally capped at three to five students.
If interested in CLI's small group classes option, please contact CLI's Director of Admissions (tania@studycli.org, subject line: "Small Group Classes").
Read more
Show less
Three Unique Instructors

CLI provides each Immersion Program student with three unique Mandarin instructors.
Your 20 weekly hours of Mandarin instruction will be divided amongst three teachers according to your individual learning needs. One teacher focuses primarily on your reading and writing skills, another on your listening and speaking ability, while an additional teacher ties all components together with in-depth daily lessons and review.
Read more
Show less
The CLI Method

CLI's Immersion Program integrates all aspects of the Chinese language (reading, writing, speaking, grammar, listening, pronunciation, and vocabulary) into a completely unique learning experience.
Lessons and topics studied are tested daily in real-life situations to provide constant language growth and validation. CLI's Immersion Program ensures that students are not just studying Chinese, but actually learning Chinese.
For deeper insight into our course syllabi, frameworks, and structure, please see pages 24 to 105 in CLI's Course Catalog.
Read more
Show less
Objectives & Assessments

Under the careful guidance of your three unique one-on-one Mandarin instructors, daily learning objectives will be pursued and, once achieved, validated through an organized system of assessment.
Day to day objectives may include learning new vocabulary words, grammar points, radical sets, word pronunciations, idiomatic expressions, social etiquette, and so on.
Short-term students are given a formal Chinese language assessment once every two weeks, and daily informal assessments in the form of homework assignments, in-class questions and games, and organic real-life interactions throughout the city of Guilin.
Read more
Show less
CLI Language Pledge Option

The CLI Method stresses the importance of total language immersion and thinking and speaking in Chinese as much as possible. To help foster these crucial learning components, CLI has a flexible language pledge program, which allows students to opt in or out at any time.
How does it work?
Opting in: The CLI Language Pledge is optional and flexible. If you put on your CLI Language Pledge wristband, you're "opting in" to the CLI Language Pledge program. You must speak only Chinese while wearing your wristband. And members of the CLI Team will speak only Chinese with CLI Language Pledge students.
Opting out: We recognize that different students have different needs and different modes of learning. Keeping with the CLI tradition of fully customizable language learning, students can "opt out" of the CLI Language Pledge program at any time simply by removing their wristband.
Although the CLI Language Pledge program is optional, we strongly encourage all students to participate, regardless of language level. The more you challenge yourself, the faster your Chinese will improve!
Read more
Show less
CLI Tuition Chart
 
Private Room at CLI
Homestay
Private Apartment*
Apt. w/ Chinese Roommates*
Duration
Short-Term Study
2 Weeks†
1,240
1,470
1,760
N/A
4 Weeks
2,390
2,870
3,440
N/A
6 Weeks
3,570
4,250
5,090
N/A
8 Weeks
4,660
5,540
6,650
N/A
10 Weeks
5,840
6,950
8,340
N/A
Duration
Long-Term Study
3 Months‡
7,370
8,770
10,080
11,090
4 Months
9,520
11,330
13,030
14,330
5 Months
11,550
13,740
15,800
17,390
6 Months
13,450
15,990
18,410
20,240
7 Months
15,210
18,090
20,820
22,890
8 Months
16,860
20,070
23,080
25,390
9 Months
18,410
21,890
25,190
27,710
10 Months
19,830
23,590
27,140
29,860
11 Months
21,170
25,190
28,970
31,870
1 year
22,390
26,650
30,650
33,720
All tuition amounts are listed in US Dollars (USD)
*Apartment options subject to availability
†1, 3, 5, 7, and 9-week terms available under "Desired Term" in CLI's Application Form; tuition equals average of weeks immediately before and after
‡On average, 4.35 weeks per month (e.g., CLI's 6-month program is 26 weeks)
The famous Chinese proverb 桂林山水甲天下 (Guìlín shānshuǐ jiǎ tiānxià) claims that "Guilin's scenery is the most beautiful under heaven," and rightly so.
Surrounded by picturesque limestone mountains, the bustling city is comfortably located along China's famous Li River in the gorgeous province of Guangxi. Guilin's natural landscape has proven so charming throughout history that it is even celebrated on the back of China's twenty-yuan bill.
20 Weekly Hours of Chinese

The core of your learning experience will be CLI's Immersion Program, which includes 20 weekly hours of one-on-one intensive Mandarin training with three unique Chinese teachers.
Read more
Show less
Comprehensive Orientation

CLI's orientation is designed to make sure you hit the ground running. We'll introduce you to your new living and learning environment and we'll share tips and advice on how to navigate your China experience and how to maximize your language learning.
Your orientation includes a welcome meal with local team members and other program participants, an introductory tour of Guilin, and a comprehensive look at how to make the most of your upcoming studies.
See CLI's Immersion Program Orientation Book and Orientation Slide Deck for a look at some of the things we'll cover in your orientation.
Read more
Show less
Support & Emergency Assistance

We know that many students who travel to China are doing so for the first time. At CLI, we pride ourselves on providing comprehensive support and assistance to students.
From the moment you arrive in Guilin until the day you leave, CLI will be there to assist you with questions, problems, and logistics in order to make your transition to China as smooth as possible—your tuition even includes airport pick-up and drop-off. In addition, we have team members on call 24/7 to assist with any emergency situations that may arise.
Read more
Show less
Housing Accommodations

The cost of rent is fully covered by your program tuition. All living accommodations include heating and A/C, hot and cold shower water (some sinks do not have hot water), and Internet connection.
Apartment options additionally include a washing machine, refrigerator, and cable television. Weekly maid service is included in all housing options.
Read more
Show less
Activities & Travel Excursions

Each week, CLI hosts a variety of events and activities for the entire CLI community. In order to build a vibrant learning environment, CLI invites all program participants, pengyous, Chinese student-roommates, and CLI team members to take part in our excursions and weekly activities.
Activities include group potlucks, tours of Guilin and its surroundings, boat rides on the Li River, guest lectures at GXNU, movie and games nights, bike rides to the countryside, Calligraphy class, supplemental language activities, and much more.
In addition, CLI helps students organize optional local travel on select weekends and provides free travel arrangement assistance (e.g. ticket-purchasing assistance, safety tips, travel itineraries, recommendations for lodging) to all students who wish to travel on their own. Students are encouraged to take advantage of breaks and long weekends to explore China's diverse cities and provinces.
These excursions allow students to take a broader look at southern China's rich culture and offer an additional opportunity for students to practice their Chinese language skills. Popular travel destinations include the Longsheng Rice Terraces, Yangshuo, Nanning, Guangzhou, Kunming and other locations throughout Southwest China.
Read more
Show less
Visa Assistance

CLI provides all Immersion Program students with assistance in obtaining a short- or long-term visa to China. Visa costs are the responsibility of the student and are not included in tuition fees.
Accepted students receive comprehensive visa assistance from CLI's Director of Admissions. Please explore our Pre-Departure To-Do List for further insight.
Read more
Show less
Private Room at CLI

CLI's newly renovated 5-story learning center is the perfect location to live, study, eat, relax, enjoy China, and learn Chinese. The CLI center has a maximum occupancy of 30 students and is also home to several of CLI's Mandarin teachers.
All rooms have a range of amenities, including free WiFi, heating and AC, hot and cold water, and a Western-style bathroom.
Read more
Show less
Private Apartment

For many students, the best way to finish a long day of intensive study is to relax at one's own apartment. Live in the city environment in a comfortable one- to three-bedroom apartment while attending four hours of one-on-one Chinese language courses at CLI during the day.
All apartments are fully furnished and ready for you to move in. It's our job to make it easy.
Read more
Show less
Homestay Program

One of the most enriching ways to discover China is through CLI's homestay program. Share your living space with a local Guilin family, discuss Chinese culture over dinner with your host parents, and immerse yourself in Chinese society through its most basic unit — the family.
CLI's homestay option provides direct insight into a typical Chinese family's lifestyle. If you choose this option, you'll be provided a private room in the host family's apartment. Apartments usually consist of a dining area, family room, kitchen, two full bathrooms, and three bedrooms. Host families provide dinner daily, but it's up to you whether you'd like to take part in these meals. All homestays are within comfortable travel distance of CLI, and we carefully select our host families from within the CLI community.
CLI's homestay program is the most immediate and intimate way to immerse yourself in Chinese society and culture – each day becomes a learning experience. Western students living in a Chinese household quickly learn cultural intricacies they may not otherwise encounter. For example, one rule that is fairly universal in Chinese households that students are often surprised to hear is that underwear and socks are not to be washed in the family's laundry machine. Most Chinese families require that these items be washed separately by hand.
Many CLI students have built lasting bonds with their host families, and have cited shared meals and family excursions throughout the city and its surrounding areas as some of their most memorable experiences.
Read more
Show less
Apartment with Chinese Roommates

Integrated housing offers students a fast track to Chinese fluency. Live with two to three GXNU university students in a Western-style apartment and discover China while constantly immersed in the Chinese language.
You will amaze yourself with the speed at which your Chinese improves. All CLI students who choose to live in an apartment with Chinese roommates are provided a private bedroom.
A minimum program length of three months is required to take part in this housing option.
Read more
Show less