Yangshuo Travel Guide: An Insider's Look at Yangshuo, China
Yangshuo (阳朔, Yángshuò) is located on the banks of the Li River just south of Guilin. Known for its hauntingly beautiful karst mountains, unique caves, and Chinese delicacies, Yangshuo is a bucket list destination for anyone looking to experience southern China's beauty and culture. CLI's Yangshuo Travel Guide introduces the best spots to visit, places to see, food to eat, and landscapes to explore!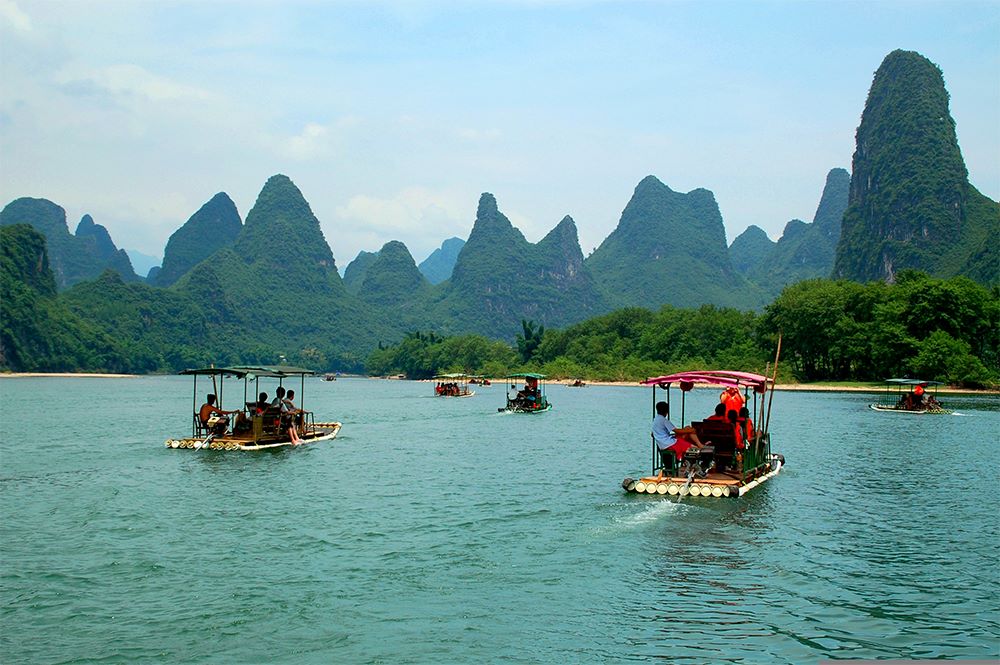 Yangshuo Travel Guide: Getting There
Yangshuo offers travelers the best of both worlds. Serene natural beauty make it a relaxing place to recharge while its bustling avenues allow you to experience modern China in all its neon-lit glory. Luckily, getting there is easy. 
With hundreds of thousands of visitors every year, Yangshuo is a first-class travel destination. This means that the local government has invested in developing easy methods of transportation for locals and travelers alike. Below are the main ways to get around:
Plane
Yangshuo doesn't have its own airport. However, international and domestic travelers will find that Guilin Liangjiang International Airport (桂林两江国际机场, Guìlín Liǎngjiāng Guójì Jīchǎng) offers easy access to the town. The airport enjoys daily flights from Shanghai, Beijing and Kuala Lumpur. There's a 20 RMB ($3) shuttle service available from the airport.
The shuttle makes three stops. The second stop is next to the train station and is where you can also find buses headed to Yangshuo. If you get off at the last stop, you'll find yourself in Guilin. From there you can also board a bus or boat headed to Yangshuo. Direct buses to Yangshuo are available for about 40 RMB ($5.50).
Train
Trains are the most widely used public transportation service in China. Getting accustomed to utilizing them will make your China journey much easier.
Yangshuo is connected to Guilin, Guangzhou and Shenzhen via high speed train. There are two main train stations that travelers can use to access Yangshuo. The most convenient is the new train stop in Xingping, the second is the train station in Guilin.
From the Xingping station there is a bus available to Yangshuo. These bright blue buses depart from the Yangshuo train station. Travelers can buy tickets at a ticket counter just outside of the station for 20 RMB ($3). The journey will take roughly 50 minutes.
If you arrive at Guilin North Railway Station (桂林北站, Guìlín Běi Zhàn), the easiest way to get to Yangshuo is to board Bus number 100 to the other train station. There, you'll find another public bus bound for Yangshuo. The ticket will cost you 1-2 RMB and will take roughly 40 minutes.
Taxi
Taking a taxi is by far the easiest option when traveling to Yangshuo. It's also the most expensive option, however. When coming from Guilin, the cost will be between 270-400 RMB ($35-60).
Factors such as the type of vehicle you take, whether or not you use the main G65 Baomao Highway (a toll road costing an additional 30 RMB and cutting about 35 minutes from travel time) and if your taxi driver thinks you can easily be duped may affect the price.
Yangshuo Travel Guide: Getting Around
Bicycle
Once in town, renting a bicycle is a great way to explore Yangshuo. Renting a bicycle can be as cheap as 20 RMB ($3) for a simple street bike. Prices go up to 80 RMB ($13) if you're hoping to rent a higher quality mountain bike suitable for tackling the dirt paths in the countryside. Always check the brakes, tire pressure and suspension prior to letting money change hands.
Motorcycle/Scooter
Another fantastic way to discover Yangshuo's streets and take in the town's natural beauty is to rent a motorcycle or scooter. Most guesthouses, hostels and hotels have a service available or will at least be able to put you in contact with the right people. Prices should fall somewhere between 70-100 RMB ($10-16).
On Foot
One of Yangshuo's charms is how manageably small it is by Chinese standards. Reserving an afternoon to simply wander and let your feet take you where they will is definitely an option to be considered. From the sensory overload of walking through an open air market to peacefully strolling down the riverwalk, you're likely to find something valuable by footing it.
Top 16 Things to Do in Yangshuo
Most travelers come to Yangshuo to soak up the otherworldly scenery. Below are sixteen of the best ways to enjoy all that Yangshuo's stunning natural surroundings have to offer.
1. Ride a bamboo raft along the Yulong River
Floating down the Yulong River on a bamboo raft is one of the best ways to witness Yangshuo's spectacular beauty. A guided bamboo raft ride down the Yulong should cost you no more than 350 RMB for a raft that seats two people. Consider boarding and disembarking at the following small ports:
Jinlong Bridge (金龙桥, Jīnlóngqiáo) to Jiuxian docks (旧县, Jiùxiàn) — 1 hour 30 minute ride, less crowded
Yima (骥马, Jìmǎ) to Shui E Di (水厄底, Shuǐ'èdǐ) — 1 hour ride, more crowded
Yulong bridge (遇龙桥, Yùlóngqiáo) to Xia Tang Zhai (夏堂寨, Xiàtángzhài) — 1 hour 30 minute ride, more crowded
Yulong Bridge (遇龙桥, Yùlóngqiáo) to Gong Nong Bridge (工农桥, Gōngnóngqiáo) — 4 to 5 hour ride, more crowded
2. Watch the sunrise/sunset
Yangshuo's distinctive limestone mountains make for some of the most awe inspiring sunrises and sunsets in all of China. If you want to relax and soak in these magical dusk and dawn moments, be sure to plan to spend some of your morning or evening hours in Yangshuo. The best places to watch the sunrise/sunset include:
Moon Hill

Green Lotus Peak

Xianggong Mountain
3. Go biking in the countryside
Biking is a popular way of exploring Yangshuo since it allows you to get to the remotest points conveniently. Along the way, you'll be able to take in the landscape and are likely to encounter several fellow cyclists. For as little as 20 RMB ($3), you can rent a bike for a day.
4. Explore Yangshuo's caves
Yangshuo has several amazing caves that you can explore. We've listed some of the best options below:
Water Cave (Short: 1.5 hours, Long: 3.5 hours)
The endless tourist traps located in this rainbow-lit cave can strike many as being a bit tacky. Splashing around in pools inside the cave itself and bathing yourself in volcanic mud, however, is generally well-received.
The cave is quite deep and you'll enter by a small boat. About halfway through your boat journey, you can disembark and enjoy a swim in a mud pond. As you reach the end of your tour, you'll pass a number of freshwater streams. These serve as a great way to wash off the mud. Some lovely hot springs are also only a three minute walk away if you'd like to further soak up the mountain water.
If you'd like to get muddy, don't forget to bring a change of clothes. It's also advisable to bring a towel as well as shoes fit for hiking/getting wet.
Silver Cave (1.5 hours)
The Silver Cave is a bit of a trek to get to, located more than 25 kilometers outside of Yangshuo. However, walking the 2 kilometers path that leads past 12 limestone towers, enormous overhanging rock formations and thousands upon thousands of stalactites and stalagmites more than rewards the effort it takes to get there.
The cave is made up of three separate segments, each of which offer the visitor something fresh. During the high season (July-August), Silver Cave is popular with domestic Chinese tourists and lines can be daunting.
Finally, beware of scammers who will try to sell you overcharged tickets, sometimes as high as 300 RMB. At the time of writing, entrance tickets went for 65 RMB ($10 USD) and shouldn't fluctuate too dramatically. To be safe, we suggest that you double check the price with your hostel or hotel when you arrive in Yangshuo.
Moon Water Cave (Short: 45 min, Long: 3-4 hours)
Moon Water Cave is an expansive 6 kilometer labyrinth of chambers and passageways (some of which are still off-limits to visitors) that extend through 8 different limestone mountains. During the Second World War, local resistance fighters keen on avoiding the Japanese army used the cave as a shelter and hideaway.
The cave has a hot spring swimming area (more warm than hot, but fun nevertheless) where you can bask in volcanic mud. Afterwards, you can choose to have nibbling fish clean your feet. Remember to bring along bathing suits, towels and a change of clothes.
5. Hike up TV Tower Mountain
Yangshuo has a large number of great hiking trails. TV Tower Mountain is one of the most notable. The top of TV Tower Mountain offers an unparalleled panoramic view of the city and the surrounding karst mountains. It is without question the best place to take in the true scale of Yangshuo's famous peaks.
How much will it cost: Bring at least 10 Yuan. The viewpoint from the top of the mountain is on someone's property and they charge a small fee for entry.
How long will it take: The journey will take 1.5-2.5 hours depending on your level of fitness and how many selfies you take along the way.
How to get there: TV Tower Mountain is located near West Street. Finding the trail's starting point can be a bit of a challenge. Luckily, a recent hiker made a photo guide with pictures of each back alley turn to help ensure that you don't lose your way. Another intrepid hiker also created this useful conventional map.
Keep in mind:
The ascent is quite steep and many of the viewpoints don't have guard rails. Be careful and watch your step!

Bring a water bottle or two, especially if you're visiting during the hotter Summer months (June-September).

Bring insect repellent. The mountain is often buzzing with mosquitos.
Because the viewpoint is on private property, sometimes no one's home. Unfortunately, that means there's no way to get past the gate.
6. Witness cormorant fishing
Cormorant fishing is an ancient Chinese fishing technique where fishermen fit cormorant birds' necks with snares which prevent them from swallowing large fish. They then rope and train their birds to dive deep underwater where the comorants catch sizable fish.
Once cormorant birds have found sufficiently large fish, the fishermen pull them back into the boat and make them drop the fish. Next, the fishermen take the catch and offer smaller fish to the birds in exchange. Knowledge of this specialized fishing technique is dwindling. However, it's still possible to witness the activity on the Li River.
Sunset provides the opportunity to snap stunning photos of these birds emerging from the water in a golden splash.
7. Attend the Impression Liu San Jie performance
Liu San Jie is the name of a legendary figure among Guangxi's largest ethnic minority, the Zhuang. The countless folktales involving her depict her as a brave young orphan girl born in Yangshuo during the Song Dynasty.
Blessed with a heavenly voice, she earns the name "Goddess of Singing." Unfortunately, however, she also attracts the jealousy of her neighbors, resulting in her tragic, untimely end. The "Impression Liu San Jie" performance is a spectacular outdoor show. The glittering waters of the Li River serve as the stage while the surrounding mountains, moonlight and trees form a gorgeous backdrop.
Zhang Yimou, a leading Chinese director who is also known for having directed the opening ceremony of the 2008 Beijing Olympics, originally choreographed this stunning performance.
The 70 minute show features nearly 600 Zhuang, Miao and Yao performers riding on bamboo rafts while dressed in the traditional clothing of their respective ethnic groups. The performance is divided into 7 sections, or "chapters."
How much will it cost: Tickets for adults go for 200 RMB (about $30). For children between 1.2-1.4 meters (3.9 - 4.6 feet), tickets are 90 RMB (about $14). Tickets are free for children under 1.2 meters (3.9 feet) but they will not be provided with a seat.
How long will it take: The performance lasts about 70 minutes. There are usually two shows per day, the first at 19:30 (7:30 PM) and the second at 21:00 (9:00 PM).
How to get there: Travelers can purchase tickets at the theatre itself, which is located on the East Street (Dong Jie) of Yangshuo. It can be found via navigation apps using this address: No 1, Tianyuan Rd Lijiang Shanshui Theater, Yangshuo County 541999 China.
8. Visit Xingping Ancient Town
Visitors from both China and abroad celebrate Xingping (兴坪, Xìngpíng) for its beautiful natural scenery, rich Chinese heritage, and cultural artifacts. The town was founded in 265 AD and actually predates Yangshuo as the regional center by a few hundred years.
A visit to Xingping offers you superb views of Yangshuo while the town's small size means that it can easily be traversed in about 20 minutes. Sun Yat-sen, "Father of the Chinese Nation," and former U.S president Bill Clinton both toured a fishing village located just outside Xingping Town during their respective trips to this area.
Some of the best places to go in and around Xingping are listed below:
Bird's View Pavilion
Having been built atop a karst mountain makes reaching this pavilion quite a challenge but also makes for a stunning "bird's-eye view" from the summit. The trek covers a total of 1159 steps and takes you to an altitude of more than 720 feet above the town.
The quality of the road deteriorates rapidly as you ascend. It can become treacherously slippery, so be sure to keep an eye on where you are walking. Despite some trash in the vicinity, the pavilion on the summit is a great spot to have a picnic so consider bringing along some food.
As with any trek, remember to bring water! To locate the Bird's View Pavilion, start at the southern part of the waterfront. Then head in the direction of the Japanese Gardens and simply follow the walkway.
¥20 Point
During your stroll along the river just outside Xingping, you'll undoubtedly encounter a large group of Chinese people lining up, eager to take photos of one particular point on the river. The spot commands a pretty view, overlooking a lovely stretch of the surrounding peaks. However, it's perhaps no more beautiful than any other vantage point on the riverwalk. You've stumbled upon "¥20 Point."
This is the exact vantage point from which the landscape on the back of the 20 RMB note was taken. Join the cheerful crowd, line up and take a classically Chinese selfie.
Hiking Trails
Hiking trails starting in Xingping are some of the best in the area. Passing through grape fruit orchards and rice paddies with the broad Li River rippling in the breeze a few feet away is an incredible experience.
While the trails are generally well maintained and there won't be too many steep ascents wearing quality hiking shoes is a must. Again, if you choose the summertime for your trip also be sure to bring more than enough water as the heat is intense. Two great trails to consider are:
Xingping–Quanjiazhou Trail, 7 miles (全家洲, Quánjiāzhōu); requires about 4 hours (depending on your level of fitness)
Xingping–Jiumahua Hill Trail, 4 miles (九马画山, Jiǔmǎhuàshān); requires about 2 and half hours (depending on your level of fitness)
Hiking maps are readily available at the tourist information center. That said, it's also recommended to ask the reception at your Yangshuo hotel or hostel to ensure the trail is open and not under maintenance.
9. Explore West Street
Flashing lights, local crafts, bustling crowds and steaming open-air food sound like your thing? Then you should consider meandering down West Street (西街, Xījiē).
Although mornings are generally a bit quieter than evenings, the street attracts visitors at all hours so prepare for a jostle. Marble-paved Xijie is Yangshuo's oldest thoroughfare, dating back more than 1,400 years. Today, it serves as one of the main hubs for the town's tourist-driven economy.
Among the locals, it's known as "foreigner street" because of the massive presence of tourists, so much so that it's one of the few places in China where you might hear more English than Chinese being spoken. Xijie is lined with countless stalls and street vendors, selling everything from silk cloth and fish baskets to calligraphy pens. Thus, it's a great place to grab a few souvenirs for friends and family back home.
The other option is simply to take a street-side seat, buy a drink and watch the teeming human river flow past. It's also adjacent to the Li River, which means you can easily travel from here to the Liu San Jie performance.
10. Experience the Seven Stars Tea Plantation
Are you the type who can't go a day without taking tea? How about picking your tea leaves and making your own tea? This is the kind of experience you can have at the Seven Stars Tea Plantation (七仙峰, Qīxiānfēng) in Yangshuo.
Seven Stars Tea Plantation is the only tea house in Yangshuo with its own plantation. Getting to participate in the entire process—from walking through the plantation with a wicker basket harvesting fresh tea leaves and discovering the intricacies of how local villagers boil the leaves in a wok all the way to the final, delicious cup of steaming green tea—is truly a captivating experience.
Perhaps trekking through a plantation wearing a straw hat doesn't sound like your idea of a relaxing afternoon. If so, Seven Stars also offers the opportunity to simply participate in a traditional Chinese Tea Ceremony.
Drinking from delicate porcelain cups and savoring different types of tea in a highly ritualized fashion is both an educational and a yummy experience. Read this brief article to gain an understanding of the history and cultural context of the ceremony (as well as a few tips to help you avoid any awkward missteps). 
How much will it cost: The fee for walking through the plantation, picking tea leaves and having a short tasting session is 60 RMB (about 9 USD).
How long will it take: The trip can be just a quick pit stop for a cup of tea on your way to somewhere else. It can also last a few hours if you decide to pick your own leaves and learn about the preparation process.
How to get there: The tea plantation is about 12 km (7.47 miles) away from town. Of course, you're promised some truly amazing scenery along the way. Taxi drivers will know where to go if you say (or show them the characters for) 七仙峰茶园 (Qīxiānfēng Cháyuán).
11. Stroll around Yangshuo Park
Yangshuo Park is one of the local favorites. Early morning is the best time if you're looking to escape the heat and have a quiet, relaxing stroll. The morning also offers the best opportunity to watch elderly Yangshuo residents engage in the hypnotic, flowing gestures of southern-style tai chi. Viewing sunrise sneaking in over the mountain peaks from the stone pagoda at the summit of the park is breathtaking.
Later in the day, there's considerably more hustle and bustle. Soon, the park transforms into the ideal place to witness that characteristically Chinese and wildly popular exercise known as 广场舞 (guǎngchǎngwǔ; public square dancing). Groups consisting largely of middle-aged women bring loud speakers (and, if you're lucky, strobe lights) to blast pop songs while energetically dancing in unison.
Scattered between the older citizens doing tai chi and the middle-aged women dancing are the standard motley collection of part-time martial artists, joggers, couples walking hand-in-hand and families relaxing. Yangshuo Park is a short walk from the city center and is well-known to local taxi drivers. Just say (or show the characters for) 阳朔公园 (Yángshuò Gōngyuán).
12. Take a dip in Pubutang Waterfall
Pubutang (瀑布塘 Pùbùtáng) literally means Waterfall Pond. This incredible, lesser-known attraction is only a 30 minute scooter ride from Yangshuo but is a bit hard to find.
It's possible to hire an English-speaking guide at the Pubutang Cafe and Guesthouse, located about 20 minutes walk from the waterfall. During the course of your walk, the guide will give you a review of Guangxi's history. They'll also likely tell some interesting stories about the town and reveal lots of facts about local plants and animals.
If you choose to do it on your own, after a refreshing hike through the forest, a few grape fruit orchards and vegetable patches, you'll suddenly emerge to glimpse a waterfall plunging 260 feet. Its waters may not be deep enough for a swim but you can wade in for a refreshing rinse. The surrounding landscape is just breathtaking. 
How much will it cost: A guide will cost (300 RMB, $45). Finding your way on your own is free.
How long will it take: A guided roundtrip, including transit time and a meal, will take approximately 3-4 hours. On your own it might be substantially shorter.
How to get there: Finding the town isn't much of a problem (Google Maps). Finding the waterfall itself, however, can be a bit challenging as it isn't accessible on navigation apps. The best bet is either to get detailed instructions from whatever hostel/hotel you're staying at or to ask around in the village of Pubutang.
13. Climb Moon Hill
If you're on the hunt for an inspiring hike, then don't miss taking a trip to Moon Hill. This enormous limestone archway is a geological wonder.
Standing atop this mountain allows you to see from afar the beautiful small villages and natural scenery that define Yangshuo as a sought-after travel destination. Whether you want to rock climb Moon Hill's arching face or simply have it serve as a sunset frame for photos of the iconic mountains, it'll be worth your while.
View this post on Instagram
How much will it cost: You'll need to pay an 11 RMB fee to hike to the summit (50 RMB if you're interested in climbing) and 2 for parking.
How long will it take: The journey will take 1.5 to 2 hours. The total time will depend on your level of fitness.
How to get there: Moon Hill is well known by local taxi drivers and is also readily found on major navigation apps (Google Maps, Apple Maps). It can most easily be reached by scooter and taxi or, if you're in an adventurous mood, bicycle.
Keep in mind:
Summer in Yangshuo can sometimes get dangerously hot. Don't forget to bring a water bottle or two and be careful to pace yourself.

Bring insect repellent. Mosquitos can make the climb painful and unpleasant.
Moon Hill's actual summit is different from the viewing platform to which the main path leads. To reach the true summit, when you are walking back towards the entrance from the viewing platform, take the small dirt trail on the left that loops around the back of the platform. Follow this dirt path to the summit. Here's a map to help you find your way.
14. Explore Chinese arts and crafts
Yangshuo has continuously maintained many aspects of Chinese culture and tradition for millenia. Thus, it's an excellent place to collect Chinese arts and crafts. From pottery and stone carvings to scroll paintings and Chinese embroidery, there are many options available. You can also find collectibles in local stores. Below are some of the highlights:
Zhuang Brocade
Guangxi is the homeland of more than 18 million people of the Zhuang ethnicity. In fact, the official name of the province is "Guangxi Zhuang Autonomous Region." The weaving techniques that local artisans use to create Zhuang brocades date back thousands of years. In rural areas, locals consider these brocades an indispensable part of a woman's dowry. Even today, young, unmarried women still commonly weave them by hand.
By a complicated method of weaving contrasting blocks of primary colors with lighter hues using both cotton and silk, the Zhuang people bring a truly beautiful fabric into the world. The bold, geometrical patterns that decorate these brocades originate in ancient Zhuang legends, carrying enchanting names such as "Phoenixes Flying in Pairs," "Butterflies Courting Flowers," and "Dragons Playing with a Pearl."
Depending on the quality and size of the brocade (as well as your skills as a bargainer) you'll pay anything from 60 to 250 RMB ($9-35).
Embroidered Ball
Given as tokens of affection between young Zhuang love birds, embroidered balls hold a symbolic, Romeo and Juliet-like place in Guangxi's cultural life. Traditionally decorated with a theme that symbolizes eternal happiness (usually a bird, flower or mythological creature), these balls come covered in bright green, yellow and red.
During festivals, they're used in a flirtatious ball-throwing game which young Zhuang men and women use to signal their romantic interests. They are generally made to be roughly snowball sized and are filled with millet, corn or cotton seeds both to make them heavier during the game as well as to invoke a lucky harvest. They can be found in many shops and should cost roughly 35 RMB ($5).
Miao Batik
Although more predominant in neighboring Guizhou, there are numerous people of the Miao ethnicity in Guangxi. The "batik" technique which the Miao people use to dye cloth originated in Indonesia and later spread throughout Asia and the world.
To create batik fabric, Miao artists apply a wax paste to certain parts of the cloth, rendering it resistant to liquid paints. Next, they selectively soak the cloth in different color dyes, creating kaleidoscopic patterns. Miao artists usually incorporate elements of Miao mythology into the designs. Butterflies are particularly prominent. A Miao creation legend tells of the world being born from the eggs of a great Mother Butterfly Goddess.
Dresses, handbags, scarves, tablecloths and many other items are available for between 100 and 300 RMB ($15-43).
15. Taste unique cuisine
The long history of politicians, bureaucrats and tourists visiting Yangshuo has had a wonderful influence on the town's food culture. It's possible to find restaurants featuring both Northern Chinese and Southern Chinese styles of food as well as all the tasty shades in between.
Whether you're craving some spicy Sichuan noodles or a steaming plate of sweet Guangdong chicken, you won't be disappointed. Yangshuo itself also has a few recipes up its sleeve. Starting with the tamer options and getting more wild as we go down the list, below you'll find Yangshuo's greatest culinary hits:
Western/Indian Cuisine
If you're not feeling the desire to chow down on exotica and are hoping to have a less-than-adventurous meal one evening, not to worry! The town is home to international food joints such as Café China, Minority Café, and the Indian Restaurant. Here you'll find a comforting variety of familiar Indian and Western meals.
Beer Fish (啤酒鱼, píjiǔ yú)
Beer fish is Yangshuo's signature dish and deservedly so: wild carp braised in a beer sauce served with a mountainous bowl of sticky rice and accompanied by stir-fried bell peppers, onions and garlic.
Many restaurants also allow you to select your own fish from an aquarium-like container kept on the premises to ensure "freshness." Be forewarned, though! This selection process isn't for the faint of heart. The chef will usually club the fish to death in front of you.
Don't sit down until you've come to an understanding regarding the total price (the fish is generally priced per 500g, or "斤," jīn) as some unscrupulous restaurant owners may try to substantially overcharge foreigners.
Osmanthus Tea (桂花茶, guìhuāchá) and Osmanthus Wine (桂花酒, guìhuājiǔ)
Yangshuo's sweet and fragrant tea made from the tiny, yellow flowers of the osmanthus plant is renowned throughout the rest of China. The tea tastes slightly like honey, leaving a delightful aftertaste. Additionally, Chinese Traditional Medicine views the tea as a great defense against diabetes, renal disease and cancer.
The rice liquor made from the same flower (also known as cassia wine) is equally well-known. Featuring an alcohol content of only 20%, osmanthus wine is substantially less aggressive than its rice wine cousins. Thus, many find that it's much easier on the uninitiated palate.
One of China's most famous herbalists and naturalists, Li Shizhen (李时珍, Lǐ Shízhēn), declared that osmanthus wine was both "a cure for a hundred diseases" and an excellent way to "raise the spirit."
Guilin Rice Noodles (桂林米粉, Guìlín mǐfěn)
Although Guilin rice noodles originated in Guilin, Yangshuo is no stranger to this cheap and delicious treat. To make this dish, locals bury a healthy serving of rice noodles under a thick layer of gravy, fried peanuts and soybeans, a flurry of chopped scallions, and razor-thin slices of meat. Served with a complimentary selection of pickled vegetables on the side, rice noodles are a great breakfast, lunch and dinner option.
View this post on Instagram
Oil Tea (油茶, yóuchá)
Oil tea is one of the staples of the Dong people. As its name indicates, locals make oil tea by frying tea leaves in a mixture of oil, garlic, chili, ginger and salt in a large wok. In Guilin, people usually consume oil tea for breakfast or brunch.
After crushing the ingredients with a pestle and boiling the mixture, it becomes "oil tea."  Because of its thicker consistency, some people also refer to this beverage as "tea soup." Customers rarely order oil tea on its own. Instead, locals usually combine it with various fried foods or cold dishes. These include fried rice, potatoes, pumpkin cakes, pickled radishes, and peanuts.
Despite Yangshuo's reliance on tourism, oil tea shops are still impressively local. The owners generally speak very little English, so come prepared with a few phrases memorized or written down. They are a great place to rest and observe the routine of daily life after a long day's scootering.
On its own, oil tea will only cost you about 2-3 RMB per cup. When combined with an assortment of side dishes, it will probably put you back around 30 RMB ($4).
Snake Wine (蛇酒, shéjiǔ)
On top of a dusty shelf in the corner of a number of restaurants, you'll see a large glass jar with a coiled snake steeping in rice wine. Purportedly a miracle drug of sorts, snake wine serves as an aphrodisiac, hair loss prevention medicine, farsightedness cure and general anti-aging agent. A shot of this epic liquor will only cost a few yuan.
Night Market (夜市, yèshì)
More of an experience than a specific food, Yangshuo's night market is immersive. Indeed, visiting this market will really transport you into the pulsing heart of Chinese food culture. It's located on Gui Hua Lu (桂花路, Guìhuālù) towards the northern end of the well-known "West Street" (西街, Xījiē). Night market stalls begin opening around 5:30 PM and stay open till late.
Everything under Guangxi's sun is available here, from beer braised fish and fried tofu all the way to snails, rabbit head and frog. Going to the night market makes for a raucous evening of ambling past dozens of food-laden stalls, brightly-lit shops and throbbing night clubs.
Note that night markets don't cater to tourists and vendors usually don't speak English. If you don't speak a little Chinese, be prepared to haggle in sign language and to use your index finger to point out the food you'd like to try. Watch your personal items carefully as the street has been known to attract pickpockets.
16. Try your hand at martial arts
Many people associate tai chi, kung fu and other martial arts with China and Yangshuo has actively promoted this culture for many years. Martial arts are practiced on the streets and in local parks. There are even schools where you can enroll in classes to try learning some of these ancient self-defense methods for yourself.
If you're looking to learn a martial art from a master who can speak English, you can register at the Yangshuo Traditional Tai Chi School. This school combines tai chi with traditional qigong meditation techniques. It offers a wide range of options (from an afternoon class to a week-long course) and has competent English translators on site. As a result, it's a convenient choice for many travelers.
If you choose to book one of the overnight experiences, you'll be housed in a charming Qing-era farmhouse in a village just outside Yangshuo. Training in the ancient art of tai chi while looking out over rice paddies and the iconic karst mountains that brought Yangshuo to fame is an unforgettable experience. 
How much will it cost: Tuition varies based on what you choose with the 2 hour afternoon classes going for 200 RMB ($30) while the week-long courses are 2500 RMB ($360).
How long will it take: Anything from two hours to two weeks.
Other tai chi school options to consider:
Carpe Diem Tai Chi Kung Fu School
Yangshuo Travel Guide: Weather and What to Wear
Yangshuo experiences relatively mild weather year-round. Even so, the four seasons are distinct. July-August are usually the hottest months, averaging 93-99F (34-37C). January is generally the coldest month, averaging 41-46F (5-8C).
The best time to travel to Yangshuo is between April and October (late spring and early autumn). During this time, it's mostly sunny and rarely rains. Thus, you can wear light clothes like shorts, a short-sleeve shirt/blouse, and tees. 
During the cold winter season, it's advisable to wear something thick and waterproof in case it rains. Packing a raincoat, waterproof footwear, thick socks, and a sweater or jacket in addition to your regular clothes is a good idea.
A Truly Otherworldly Destination
Yangshuo is the perfect travel destination if you're hoping to view some magnificent, otherworldly scenery, experience Chinese culture and gain insight into rural Chinese life. Using the above Yangshuo Travel Guide, start preparing for your visit to this breathtakingly beautiful corner of China today!
To help ensure your travels in Yangshuo go smoothly, consider checking out this list of 10 useful Chinese travel phrases before you leave home. Enjoy your trip!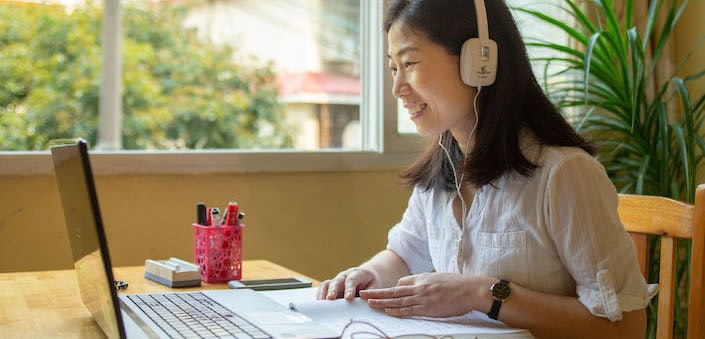 Free 30-minute Trial Lesson
Free 30-minute Trial Lesson
Continue Exploring