Due to the disruptions caused by the COVID-19 pandemic, many students may find their study plans affected.
CLI is currently open and welcoming students who are already in mainland China. While there is currently little to no community transmission in most parts of China and the pandemic is well under control domestically, clusters of COVID-19 cases do occasionally appear. As a result, the country's domestic travel policies are subject to change with little advance notice. As of this writing on January 27, 2022, CLI is currently limiting enrollment to students within mainland China.
To help students consider options during this unique time, we will post frequent updates to this page to keep our community informed about the situation in China and how COVID-19 is affecting CLI.
The Situation in China
By and large, the pandemic is under control in China. China continues to pursue an aggressive "Zero-COVID" strategy which has been largely successful at keeping the virus at bay. COVID vaccination in China is completely voluntary and over 80% of the population is fully vaccinated with domestically developed and produced Chinese vaccines. Proof of vaccination is not required to enter public venues or engage in any other aspects of daily life. 
Over the past few months, there was a relatively large outbreak in Xi'an that resulted in a prolonged lockdown that caused major disruptions to many aspects of daily life, but that has now been lifted. Due to the extremely contagious nature of the Omicron variant, China has also been experiencing sporadic outbreaks in provinces across the country, some of which feature untraceable community transmission.
Areas in China where outbreaks are currently occurring are usually referred to as "high risk areas" (高风险地区 gāo fēngxiǎn dìqū) and "medium risk areas" (中风险地区 zhōng fēngxiǎn dìqū).
People who have recently visited such areas generally face stricter restrictions than other travelers. It is likely that the same policy will continue to be implemented going forward. 
The majority of China's recently recorded cases have been "imported," meaning they were identified in passengers arriving to China from abroad.
Strict quarantine and testing requirements are in place for international arrivals, and these policies have largely helped prevent "imported" cases from leading to larger outbreaks. 
International Travel into China
As a result of the ongoing pandemic, China still has a variety of coronavirus-related travel restrictions in place. These restrictions change frequently and can vary depending on your country of origin as well as your destination province within China.
In addition to consulting the following information, we recommend checking with your nearest Chinese embassy or consulate for the latest information regarding COVID-related travel restrictions.
Entry into mainland China for most non-Chinese nationals holding valid visas has been suspended. Limited exceptions exist. Foreigners holding diplomatic, service, courtesy or C visas are still permitted to enter China.
Foreigners who hold visas that were issued outside of mainland China after March 28, 2020 are allowed to enter, although those coming from the US are required to get their coronavirus test results validated by a Chinese embassy or consulate in the US and successfully obtain a green health code before being allowed to board their flight. Although vaccination is voluntary for those already in China, foreign nationals are required to show proof of COVID vaccination in order to obtain permission to fly.
Technically, it is possible to apply for a new Chinese visa at this time, but in general, these visas will only be issued to foreigners who must come to China for emergency humanitarian needs or to engage in what the Chinese government deems necessary technological, scientific, economic or trade activities.
Foreigners whose intended activities are considered "necessary" usually need to obtain a special invitation letter, known as a PU letter, from the Chinese government before they can apply for a Chinese visa. Note that even with a PU letter, it is sometimes still not possible to obtain a visa.
China's various visa-free transit policies have also been suspended, including visa-free transit for cruise ship passengers and tour groups from ASEAN countries. Port visas are suspended, as is entry for those holding APEC Business Travel Cards.
In November 2020, China's Ministry of Foreign Affairs announced that foreigners from certain countries who hold valid Chinese residence permits for personal affairs, family reunion and work can return to China without applying for a new visa. Entry into China by foreigners holding permanent residence permits (Chinese green cards) is not restricted.
Tourists and students from most countries are still prohibited from entering China at this time. Recent changes allowing some foreigners with valid residence permits to return to China do not apply to those holding valid residence permits for study. 
Some students from South Korea are now able to enter China thanks to an agreement between the Chinese and South Korean governments. However, most schools in Guilin, including CLI, are not able to accept South Korean students who are not already physically in China at this time.
There is still no word on when international students from most countries will be allowed to enter China, but the loosening of restrictions for South Korean students and recent promising COVID-19 vaccine news seem to be encouraging signs.
Visa facilitation for those inoculated with Chinese vaccines
In mid-March 2021, several Chinese embassies and consulates throughout the world announced that they will give special consideration to visa applicants who have been inoculated with Chinese COVID-19 vaccines made in China.
On March 15, 2021, the Chinese embassy in the US issued a notice which states that foreign nationals and their family members who have been inoculated with Chinese COVID-19 vaccines will be able to apply for visas according to pre-pandemic requirements.
Restrictions were also relaxed for foreign family members of Chinese citizens and for holders of APEC business travel cards. International students were not included in the announcement.
The Chinese vaccine is not available in the United States at this time, although it is available in many other countries.
Since this announcement, some people have begun traveling internationally to get the Chinese vaccine in hopes that it will facilitate their entry into China. While some people have been successful with this strategy, there have also been anecdotal reports of those who have been inoculated with Chinese vaccines having their visa applications denied or being requested to present a PU letter just like unvaccinated applicants.
COVID Test Requirements
If you are currently allowed to enter China and are planning your travels, expect to encounter a variety of public health measures put in place by the Chinese government.
All passengers whose destination is China, including Chinese nationals, must present both a negative COVID-19 nucleic acid test and a negative serological test for IgM antibodies before boarding their flight.
These "dual negative" results must be from tests performed within 48 hours of departure. In early January 2022, new guidelines were released which also require passengers flying from the US to get tested seven days before their flights. Test results need to be approved by your local Chinese embassy or consulate, then presented upon check-in for your flight to China.
Since travelers who have been inoculated with some of the coronavirus vaccines available in the United States may test positive for certain proteins without actually being infected with COVID-19, the Chinese embassy has released special testing requirements to accommodate such passengers.
Transiting through other countries is only allowed if a person's passport country has no direct flights to China. If transiting through other countries, passengers may be required to take coronavirus tests in their transit country and provide the new results to the airport authorities before catching their next flight.
Quarantine Requirements
Upon entering China, passengers are required to spend 14 days in quarantine at their own expense, which will be monitored by Chinese health authorities and will take place at a designated location. 
As of this writing in January 2022, quarantine is generally not required for those traveling within China from one mainland Chinese province to another. That said, local policies can change quickly so travelers are strongly advised to check for updates on your destination before departure. Some Chinese provinces may require travelers arriving from other parts of China that are currently experiencing outbreaks to quarantine upon arrival.
Travel Between Provinces
Travel between provinces is currently allowed in China. Travelers coming from cities with medium or high risk areas will frequently be asked to present a negative COVID-19 test taken within 48 hours, although the exact time-frame varies and depends on local policy.
Travelers coming from high risk areas often face additional restrictions which may include extended periods of quarantine.
Mask Requirements
In general in China's population centers, masks are worn in crowded places and on public transportation. They are required in certain spaces, such as on airplanes and in trains. While traveling in China, it's best to check the surrounding area for signs indicating whether masks are required in the given venue.
Green Health Code Requirements
Early in the pandemic, China worked with WeChat and Alipay to roll out an app that helps track people's exposure to the novel coronavirus. Based on their recent movements and proximity to COVID patients, people are assigned a "health code" which is then used by authorities to control their movements.
People with a green health code (绿码 lǜmǎ) are generally permitted to travel where they please, but restrictions are placed on those with yellow or red health codes. These codes are still very much in use throughout China and have become a big part of daily life.
Without a green health code in hand, it isn't possible to do things as mundane as using public transportation or checking into a hotel. Foreigners in the country are also expected to download this health code tracking system.
Local School and University Restrictions
Although Chinese grade schools and universities cancelled almost all in-person instruction during spring semester 2020, virtually all have resumed in-person instruction.
The resumption of in-person learning does not mean that things have completely returned to normal, however. Many schools have implemented a variety of strict infection control measures. Universities, in particular, have implemented "closed" and "semi-closed" campus management systems, which involve not allowing students to leave campus unless absolutely necessary.
In order to enter campus at many public grade schools and universities, students and faculty need to show identification, have their temperature checked, and present a green health code.
General Visa Guidance from the Chinese Government
The pandemic is currently ongoing, and the situation continues to evolve. We encourage students to check the Chinese Embassy's website (in English or Chinese) for official updates from China's National Immigration Administration. Before attempting to wade through China's official pandemic-related announcements, consider brushing up on your coronavirus-related Chinese vocabulary.
If in the United States, we also encourage you to join the Swift Passport & Visa Services email listserv for ongoing updates (see bottom right corner of Swift's homepage to sign up for email updates).
The Situation at CLI
General Updates
Though this has been a difficult period, CLI continues to thrive as a community and as a Chinese language school. Much of our activity has turned to our online one-on-one language program, and we've been thrilled to welcome international students already within China for our Immersion Program in Guilin and custom travel seminars to destinations in Guangxi.
Unfortunately, we cannot accept students applying to study in China from abroad at this time due to Chinese government travel restrictions (see International Travel into China section above). If you are already in China, however, we can't wait to welcome you to CLI!
Life in Guilin and at CLI has mostly returned to normal, although mask wearing is still quite common and is required in some places. Students arriving in Guilin from other parts of China who are in possession of a green health code (see Green Health Code Requirements section above) are not required to quarantine upon arrival.
As an added precaution, CLI does require all students arriving in Guilin from other parts of China to present a negative COVID-19 nucleic acid test (核酸检测 hésuān jiǎncè) taken within the past 7 days. Students should complete their COVID tests in the city that they are coming from before departing for Guilin as they may also be asked to present their test results at the airport or train station. 
Unlike Chinese universities, CLI has not instituted a closed management system (discussed in the Local School and University Restrictions section above). Therefore, CLI students are free to enter and exit the CLI Center whenever they please.
CLI does not restrict students from leaving Guilin. If students would like to travel on the weekends, they can do so. That said, however, as a result of the pandemic, travel within China is not as convenient as it once was. Students who choose to leave Guilin risk getting caught in the middle of any new outbreaks that may occur.
Each of our program offerings remain active to varying degrees, depending on your current location. Below is a detailed explanation of the current situation for each:
Immersion Program
CLI's Chinese Immersion Program is going strong. While we cannot accept students arriving from outside China at this time, all students who are already in China are welcome to enroll.
Both short and long-term in-person intensive Chinese programs are available and you can start on any Monday of the year. If you are currently in China, we're excited to welcome you to Guilin to learn Chinese.
Study Abroad in China
Unfortunately, we have paused our for-credit Study Abroad in China option at this time. In-person instruction for most of the classes for Chinese students at our partner university, Guangxi Normal University (GXNU), has resumed. However, GXNU is still only holding classes online for international students. Once all in-person classes at the university have resumed, we look forward to restarting our joint study abroad program as soon as possible.
Students interested in studying Chinese at CLI should check out our other programs, including our Immersion Program and our online offerings, which are still in full swing. If interested in attending a modified for-credit program, please contact CLI.
China Seminars
China Seminars are still happening at CLI! We recently hosted several great programs for groups traveling to Guilin from other cities in China, and we are looking forward to hosting several more over the coming months. Contact us for more information or to get started designing your seminar.
Teach English in China
If you are currently in mainland China and would like to teach English in China, we stand ready to assist you. Due to the fact that many foreigners left China at the start of the coronavirus outbreak, there is currently a high demand for foreign teachers at schools and training centers throughout the country.
We partner with schools in both urban Guilin and the surrounding rural areas and would love to help you choose the right teaching position.
Learn Chinese Online
If you aren't able to travel to Guilin to study Chinese in-person, we invite you to study Chinese online with CLI. We have been offering online instruction since our founding in 2009 and have continued to refine our online pedagogy ever since.
As people search for meaningful ways to use their time while quarantining at home, our online enrollment has grown considerably. Studying Chinese online is a great way to improve your Chinese and stay connected with China.
Check Back for Regular Updates
We know many students are eager to return to China to continue their studies. We will continue to update this page regularly to keep you informed about the situation in China and Guilin and we hope to see you again soon! Until then, please stay safe! As always, feel free to reach out to us anytime.
Chinese Vocabulary Related to COVID-19
General
| Character | Pinyin | English |
| --- | --- | --- |
| 新型冠状病毒 | xīnxíng guānzhuàngbìngdú | COVID-19 |
| 疫情 | yìqíng | epidemic |
| 病毒 | bìngdú | virus |
| 恢复 | huīfù | to recover |
| 封城 | fēngchéng | city-wide lockdown |
| 疑似病例 | yísì bìnglì | suspected case |
| 确诊病例 | quèzhěn bìnglì | confirmed case |
| 治愈率 | zhìyùlǜ | cure rate |
| 死亡率 | sǐwánglǜ | mortality rate |
| 湖北省 | Húběi Shěng | Hubei Province |
| 武汉 | Wǔhàn | Wuhan |
| 症状 | zhèngzhuàng | symptoms |
| 传染 | chuánrǎn | to infect |
| 肺炎 | fèiyán | pneumonia |
| 世界卫生组织 | Shìjiè Wèishēng Zǔzhī | World Health Organization |
| 医院 | yīyuàn | hospital |
| 医生 | yīshēng | doctor |
| 重症监护室 | zhòngzhèng jiānhùshì | Intensive care unit (ICU) |
| 海鲜市场 | hǎixiān shìchǎng | seafood market |
| 野味(儿) | yěwèi ('er) | dishes made from wild animals |
| 取消 | qǔxiāo | cancel |
| 口罩 | kǒuzhào | mask |
| 戴口罩 | dài kǒuzhào | to wear a mask |
| 吃药 | chīyào | to take medicine |
| 免洗洗手液 | miǎnxǐ xǐshǒuyè | hand sanitizer |
| 消毒 | xiāodú | to disinfect/to sterilize |
| 洗手 | xǐshǒu | to wash your hands |
| 隔离 | gélí | quarantine |
| 少出门 | shǎo chūmén | go out less often |
| 护目镜 | hùmùjìng | safety goggles |
| 防护服 | fánghùfú | protective clothing |
| 手套 | shǒutào | gloves |
Symptoms
| Character | Pinyin | English |
| --- | --- | --- |
| 鼻塞 | bísāi | to have a stuffy nose/to feel congested |
| 生病 | shēngbìng | to get sick/to be ill |
| 喉咙痛 | hóulóng tòng | to have a sore throat |
| 发烧 | fāshāo | to have a fever |
| 呼吸困难 | hūxī kùnnàn | difficulty breathing/heavy breathing |
| 咳嗽 | késou | to cough |
| ⼲咳 | gānké | dry cough |
Phrases
| Character | Pinyin | English |
| --- | --- | --- |
| 武汉加油! | Wǔhàn jiāyóu! | Stay strong Wuhan! |
| 中国加油! | Zhōngguó jiāyóu! | Stay strong China! |
| 祝你身体健康。 | Zhùnǐ shēntǐ jiànkāng. | Wishing you good health. |
| 你最近怎么样? | Nǐ zuìjìn zěnmeyàng? | How have you been recently? |
| 你的家人最近还好吗? | Nǐ de jiārén zuìjìn háihǎo ma? | Have your family been okay recently? |
| 你不舒服吗? | Nǐ bù shūfu ma? | Are you not feeling well? |
| 希望你早点好起来。 | Xīwàng nǐ zǎodiǎn hǎoqǐlai. | I hope you get better soon. |
| 好好休息。 | Hǎohāo xiūxi. | Rest up. |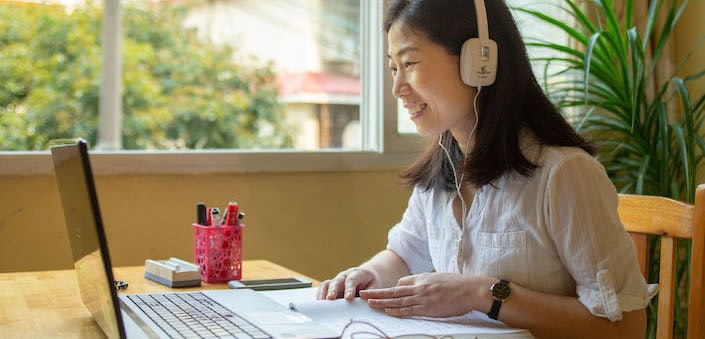 Free 30-minute Trial Lesson
Free 30-minute Trial Lesson
Continue Exploring