Suzhou Travel Guide: A Tour of the Canals, Streets, and Eats of Suzhou
"The City of Canals," "the Venice of China," "a World of Gardens...," and all this a mere 25-minute train ride from Shanghai? Welcome to this most atmospherically seductive of Chinese cities: Suzhou! Delve into must-see gardens and pagodas, find out where to eat, and gain insights into the phenomenal architecture and storied history of this world-class city with the help of our Suzhou Travel Guide.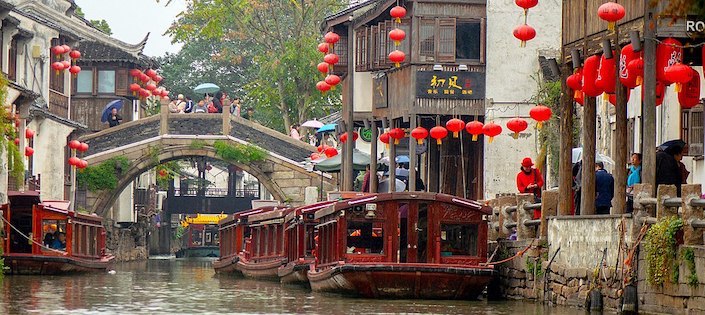 Photo credit: Peter K Burian
Marco Polo Falls in Love
Almost 750 years ago, Marco Polo (马可波罗, Mǎkě Bōluó) experienced a bewildering encounter with "paper money" (at the time an unheard-of absurdity back in Europe) and completed a whirlwind inspection of Suzhou's delicate canals, gardens, and bridges for his boss, the Yuan emperor Kublai Khan. Overwhelmed, he declared Suzhou to be "the Venice of China."
The Yuan dynasty for whom Marco was doing his inspection might be long gone, but the name has stuck (as has the paper money).
In China, Suzhou is legendary for keeping the charm of the old-world alive. The beauty of the city is such that it even features in a well-known proverb: 上有天堂, 下有苏杭 (pinyin: shàngyǒutiāntáng, xiàyǒu Sū-Háng) which can be translated as "above, there is paradise; below, there is Suzhou and Hangzhou."
Read on to discover some of the sights, sounds, and tastes that once made the Venetian explorer's heart beat a little faster.
The Sights
China has more UNESCO World Heritage Sites than anywhere else in the world (tying for first-place with Italy) and Suzhou is part of the reason why. The prudent traveler will have to carefully budget their time to ensure that they manage to hit all the hot spots.
Shantang Street (山塘街; Shāntáng Jiē)
To get a feel for the city's 1200 years of grandeur, you can't go wrong with a walk down Shantang Street. Starting from the banks of the Shantang River and winding all the way to Tiger Hill, the street follows a picturesque canal, and offers the intrepid pedestrian a 3.5 kilometer (a little over 2 miles) smorgasbord of cultural delights.
By day, browsing the bustling snack stalls and art shops in the shade of giant willows is an excellent introduction to the town. By night, the cobbled pathways are illuminated by the gentle red glow of Chinese lanterns.
Shantang Street and its picture-perfect canal are some of Suzhou's central attractions and offer visitors a superb chance to catch a glimpse of the fabled glory of old China.
If you've had your fill of footing it (and if you're not a landlubber!) the next step on your journey should be to hop aboard a boat and enjoy a ride down one of Suzhou's magnificent canals.
Boat Tour on the Grand Canal
Floating down the limpid waters of Suzhou's canals is about as close as you can get to boarding a time machine and flinging yourself back into the Ming dynasty.
In fact, the original Grand Canal predates the Ming dynasty by more than a few centuries, having been constructed during the Spring and Autumn period in 770 BCE.
A trip down this 48 mile (77 km) canal includes a glimpse of dozens of intricate stone bridges, a riverside view of the magnificent temples of Hanshan and the West Garden, and a peak into hundreds of original river lodgings.
Suzhou Light Show
At 8 P.M. on a Friday or Saturday, there's only one place for a would-be Marco Polo to be: the waterfront of Jinji Lake. Here, audiences are treated to a world-class light and water show that is truly something to write home about.
Following the laser-fueled extravaganza, we recommend taking an evening stroll along Suzhou Industrial Park's futuristic waterfront. Surrounded by hulking skyscrapers illuminated by countless synchronized neon bulbs, you'll find it's easy to momentarily forget just how ancient Suzhou really is.
Gardens and Gates
Nine out of 50 of the city's gardens have been awarded the prestigious status of "UNESCO World Heritage Site." These are four that you shouldn't miss during your stay in the city.
Humble Administrator's Garden (拙政园, Zhuōzhèng Yuán)
This 500-year-old UNESCO World Heritage Site was originally the private residence of a local aristocrat who, with the utmost modesty, bestowed upon himself the moniker "Humble Administrator." Despite the name, this sprawling 51,950 square meter (559,185 square foot) network of gardens, pathways, and pavilions is anything but humble—it's majestic.
After a tumultuous career in the capital surrounded at every turn by court intrigue, deceit, and social climbers, an exhausted Imperial Envoy named Wang Xianchen retired to his boyhood home, where he soon decided to pick up gardening. His choice of a hobby would inestimably enrich the world.
In his garden, Wang Xianchen sought to reflect those elements that had been so sorely missing from his working life: balance, repose, and harmony.
The Humble Administrator's garden is a matchless glimpse into traditional Ming dynasty landscaping and is considered to be among the finest gardens in all of southern China.
Lion Grove Garden (狮子林园, Shīzilín Yuán)
This masterpiece was originally constructed in 1342 CE during the waning years of the Yuan dynasty and is also a UNESCO World Heritage Site.
The Lion Grove Garden is a flabbergasting labyrinth of rock formations, caves and stone nooks and crannies. A large number of the rocks it contains are shaped like lions (from whence the garden gets its name).
Although often thronged with sightseers, this garden's natural beauty more than compensates for the crowds.
Lingering Garden (留园, Liú Yuán)
Yet another of Suzhou's extravagant collection of stunning classical Chinese gardens, the Qing-era Lingering Garden is segmented into four unique sections: East, Central, West, and North. Its network of corridors, idyllic pavilions, and the "stone forest" that graces its interior help it live up to its reputation as the most beautiful garden "south of the Yangtze."
Panmen Gate (盘门, Pán Mén)
Although better known for its 2,500 year old city gate and the seven-story Ruiguang Pagoda (瑞光塔, Ruìguāng Tǎ) towering in Buddhist serenity above the premises, the garden that covers the grounds here is equally worth a visit.
An Architectural Wonderland
The breakneck pace of China's transformation and development has come at a great  architectural cost. Despite having been settled for many millennia, most of China's ancient cities are full of buildings that are no more than 30-50 years old.
At times, development has also meant demolition. With its meticulous, almost obsessive, attachment to its heritage, Suzhou is different.
Buildings in Suzhou proper cannot be renovated, much less demolished, without extensive clearance from the local government. And clearance is not forthcoming. For Suzhounese living in the old city, this can mean a lack of easy access to basic amenities like electricity and indoor plumbing.
However for those with an interest in Chinese architecture, this policy means that Suzhou is an almost unparalleled delight full of Song (宋朝; Sòngcháo), Yuan (元朝, Yuáncháo), Ming (明朝, Míngcháo), and Qing (清朝, Qīngcháo) structures.
Keep in mind that many of the ancient architectural marvels of Suzhou's old city can be best appreciated from the vantage point of its fabulous canals.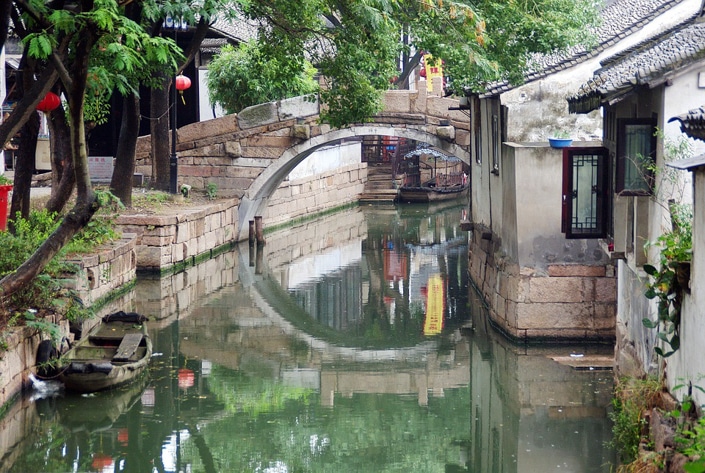 Suzhou's ancient canals are excellent places from which to appreciate the city's traditional beauty.Another reason that Suzhou attracts architecture aficionados is that it is the ancestral hometown of architect I.M. Pei, the mind behind the Louvre's glass pyramid and Hong Kong's soaring Bank of China skyscraper. As such, it houses a lovely (and free!) museum designed by the master himself: Suzhou Museum (苏州博物馆, Sūzhōu Bówùguǎn).
At the museum, you can explore I.M. Pei's floor plan, which fuses traditional Chinese motifs with western innovations. It's possible to spend hours wandering among exhibits that eloquently recount the story of Suzhou, ranging from local embroidery traditions and calligraphy to millennia-old artefacts.
The Sounds
One of the first things that strikes most wanderers in China is the incredibly rich auditory texture of the place. Suzhou shares this general vibe but adds a gentler layer of its own: water lapping against the flanks of the canal, a painter's brush scraping against a canvas, a shopkeeper's hushed explanation of the wares on display in his embroidery shop, or a furtive melody escaping from a traditional Suzhou opera house.
Pingjiang Road (平江路, Píngjiāng Lù)
For those interested in delving further into Suzhou's auditory landscape, Pingjiang Road (平江路 Píngjiāng Lù) is the place to be.
In addition to offering a peaceful alternative to the liveliness of Shantang Street (think bookstores and art shops), Pingjiang Road also offers a chance for the curious to watch a Chinese opera!
If you come in advance, you'll even have the opportunity to observe the performers during the painstaking process of applying their makeup and decking themselves out in traditional Chinese operatic gear.
Then simply find your seat, relax, and steep yourself in the performance.
The type of Chinese opera performed in Suzhou harks back to the 16th Century and is called Kunqu (Chinese: 崑曲, Kūnqǔ). It's an auditory and visual treat.
Suzhou opera is normally sung in Suzhou dialect, so you might not understand everything that's going on. Even so, the ethereal tones of the opera speak for themselves.
The Tastes
The agricultural land that historically fed Suzhou has always been extremely fertile, rich in a host of fruits such as plums, peaches, wax berries, apricots and loquats. This range of ingredients, when combined with Suzhou's long period of commercial prosperity and its proximity to the teeming depths of Lake Taihu, has resulted in the emergence of a dumbfounding diversity of culinary traditions.
Su-style Noodles (苏式汤面, Sūshì tāngmiàn)
Su-style noodles come in two basic types: red and white.
The difference is based on whether you want the unvarnished broth or an extra dash of soy sauce. Try both. It's the complexity of this soup that has earned Su-style noodles their coveted place as one of the crown jewels in the Chinese noodle-tiara.
Most Suzhou noodle joints will offer a myriad of possible toppings including stir-fried meat, pork ribs, shrimp, stir-fried veggies and braised duck. A solid choice is to opt for the white soup with 'large meat' (大肉, dàròu), which will leave a big piece of pork belly floating flirtatiously in mouthwatering broth.
Check out this step-by-step guide to getting your hands on this local favorite (as well as a number of other tasty Suzhou noodle options).
Squirrel Fish (松鼠桂鱼; sōngshǔ guìyú)
The memorable name of this dish is more than enough to lure the adventurous foodie, but even those who aren't looking for an edgy culinary experience will be awed by this yummy representative of Jiangsu cuisine.
Fresh deboned mandarin fish is expertly carved into the shape of a squirrel, then it's coated in batter and deep-fried to miraculous crispness. After getting lathered in sweet and sour sauce, it's served piping hot. The result? If executed correctly, unspeakable tastiness.
A City-sized Time Machine
Ancient canals sparkling with neon lights, more UNESCO World Heritage Sites than it knows what to do with, an otherworldly operatic tradition, and the best bowl of noodles you're likely to find south of the Gobi make Suzhou an imperative stop on any modern-day Marco Polo's itinerary.
If you found this Suzhou travel guide useful, consider checking out CLI's guides to some of the other amazing destinations in China.
Many travelers visit Suzhou as a day-trip from Shanghai. If this sounds like you, check out our guide to the Shanghai Bund to help you get the most out of your time in the city. If you have some extra time in the Yangze River Delta region, consider visiting some other nearby cities and towns like Hangzhou and Wuzhen. For those interested in traditional Chinese gardens, we recommend visiting China's most impressive imperial garden, the Summer Palace in Beijing. And for fans of Chinese history and culture, Xi'an is a great place to start.
一路顺风!
Suzhou Vocabulary
| | Hànzì | Pīnyīn | Definition |
| --- | --- | --- | --- |
| 1 | 马可波罗 | Mǎkě Bōluó | Marco Polo |
| 2 | 上有天堂, 下有苏杭 | shàngyǒutiāntáng, xiàyǒu Sū-Háng | Above, there is paradise; below, there is Suzhou and Hangzhou. |
| 3 | 山塘街 | Shāntáng Jiē | Shantang Street |
| 4 | 拙政园 | Zhuōzhèng Yuán | Humble Administrator's Garden |
| 5 | 狮子林园 | Shīzilín Yuán | Lion Grove Garden |
| 6 | 留园 | Liú Yuán | Lingering Garden |
| 7 | 盘门 | Pán Mén | Panman Gate |
| 8 | 瑞光塔 | Ruìguāng Tǎ | Ruiguang Pagoda |
| 9 | 宋朝 | Sòngcháo | Song dynasty |
| 10 | 元朝 | Yuáncháo | Yuan dynasty |
| 11 | 明朝 | Míngcháo | Ming dynasty |
| 12 | 清朝 | Qīngcháo | Qing dynasty |
| 13 | 苏州博物馆 | Sūzhōu Bówùguǎn | Suzhou Museum |
| 14 | 平江路 | Píngjiāng Lù | Pingjiang Road |
| 15 | 崑曲 | Kūnqǔ | Kunqu opera (traditional opera performed in Suzhou) |
| 15 | 苏式汤面 | Sūshì tāngmiàn | Su-style noodles |
| 15 | 大肉 | dàròu | large meat |
| 16 | 松鼠桂鱼 | sōngshǔ guìyú | squirrel fish |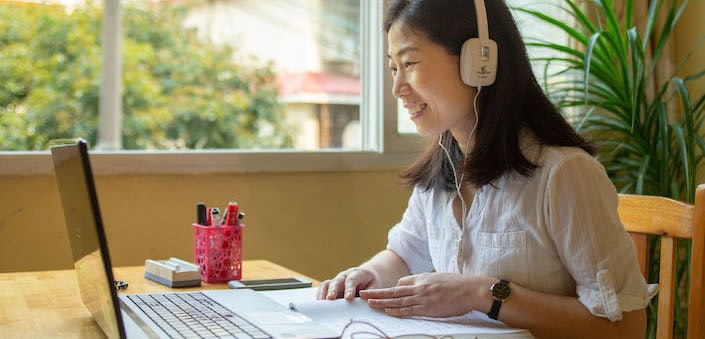 Free 30-minute Trial Lesson
Free 30-minute Trial Lesson
Continue Exploring