Your Guide to Taking the Shanghai-Beijing Bullet Train
Shanghai (上海 Shànghǎi) and Beijing (北京 Běijīng) are the two biggest cities in China, and as such, they're highly connected. Whether you're visiting for business, to pursue your studies, or just to get to know the country better, knowing how to travel between these cities is very important. Taking the Shanghai-Beijing train is an excellent choice for those planning to visit these two metropolises.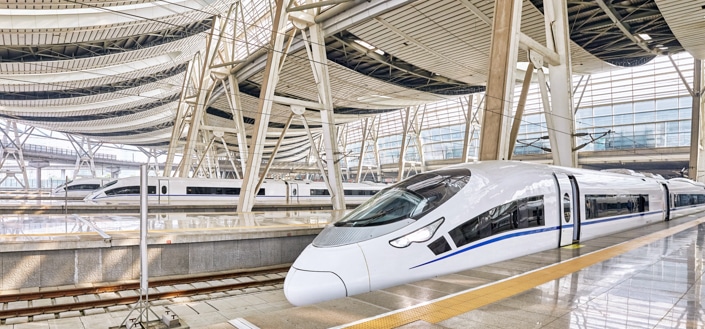 One of the World's Most Impressive Rail Networks
The Chinese railway system is the second longest in the world, covering an impressive 131,000 kilometers (81,400 miles). Due to the country's size, major cities can be very far away from each other, so connecting them quickly and efficiently is essential.
The Shanghai-Beijing train, also known as the Jinghu high-speed railway (京沪线 Jīnghùxiàn), offers an excellent option for all kinds of travelers. It's 1,318 km (819 mi) long, and features some of the fastest bullet trains in the world, with a top speed of 350 km/h (217 mph).
Most fast trains depart and arrive in Shanghai at Asia's largest railway station, the Shanghai Hongqiao Railway Station (上海虹桥站 Shànghǎi Hóngqiáo Zhàn). In Beijing, most depart and arrive at the Beijing South Railway Station (北京南站 Běijīngnán Zhàn).
Always double check your ticket to make sure you are getting on and off at the right station.
Shanghai to Beijing Train Types
Various slow-speed trains, including the classic green type called 绿皮车 (lǜpíchē), are still available in China. While they're inexpensive, they're also much slower and considerably less comfortable than China's newer fast trains. These fast "bullet" trains are readily available at reasonable prices, so we strongly suggest you take one of them for your Shanghai to Beijing train journey.
Every day, over 40 pairs of bullet trains make the journey between Shanghai and Beijing. Because of the high volume of traffic, there's a decent variety of train types to fit any traveler's needs or budget. 
High-speed trains are the fastest and most modern in China, with some of the most impressive facilities on Earth. There are two categories available for the Shanghai to Beijing route: G and D.
While G trains are more advanced, there are a few qualities they share with D trains. For starters, all bullet trains are non-smoking and have air conditioning. They also all have power outlets and space for luggage overhead or in the hallways between cars.
At the end of each car, you'll find a boiled water dispenser, and there is also a dining car serving (somewhat overpriced and not particularly tasty) freshly-cooked food. Bathrooms are also available at the end of each car, with squat and western toilets, although they frequently lack toilet paper and soap.
Both G and D trains are great options for travelers hoping to travel from Shanghai to Beijing or vice versa.
1. G Trains (高铁)
G trains, or 高铁 (gāotiě) in Chinese, are the fastest trains in the country, reaching speeds as high as 350 kph (217 mph) and running during the daytime. Due to their technical prowess, they're the most expensive choice. They are also the best (and only) choice for travelers looking to make the trip from Shanghai to Beijing during the day.
G train costs vary depending on the seating class. You'll find three main seating classes on G trains. In ascending order based on perks and prices, the seat classes are second, first and business. Some G trains also offer a VIP or Superior seating option.
Traveling second class (二等座 èrděngzuò) is the most affordable option on bullet trains, so space is a little on the tight side, with 5 seats per row. Due to the smaller price tag, second class is the most crowded area on the train.
First class (一等座 yīděngzuò) offers four seats per row, making for a more spacious area. The seating is similar to an airplane's, as the seats are reclinable, and each has a little foldable table in its arm. First-class passengers also get a pillow and a footrest.
Business class seats (商务座 shāngwùzuò) are the most luxurious option for travelers on G class trains. This class offers three large, comfortable seats per row. Each row is 2 meters (6.6 feet) apart. The soft leather seats can recline all the way to a flat position.
Passengers in roomy business class have access to free snacks and drinks as well as a power outlet, a reading lamp and a flat-screen TV. A glass door separates the business class car from the others, allowing passengers to enjoy a quiet, private atmosphere.
Many train stations also feature a VIP lounge for business class travelers to wait for their train.
For passengers hoping to enjoy some spectacular views during their train journey, there are also a few "sight-seeing seats" available at the very front of business class carriages featuring large windows for admiring the view.
In addition to the three main classes listed above, some trains also offer seats called VIP or Superior class. They feature three seats in each row and are separated from the rest of the train by glass doors. These seats are usually more expensive than first class seats but less expensive than business class.
2. D Trains (动车)
D trains, or 动车 (dòngchē) in Chinese, are the second-fastest available option for trips between Shanghai and Beijing, and they can reach speeds up to 250 kph (155 mph). However, these take the older route and often won't go faster than 160km/h (100 mph).
D trains offer first and second class tickets, and some trains also offer business class.
Keep in mind that the D trains that run on the Shanghai to Beijing route are all overnight trains that leave in the evening and arrive in the morning. They offer sleeper cars which provide a slower ride for those looking for an all-night travel option.
Travelers hoping to get from Shanghai to Beijing during the day should take a G train instead.
Overnight high-speed D trains are very convenient but can also be pretty expensive, sometimes even more expensive than discount flights. They're quite comfortable, offering basic three-level bunks in the "hard sleeper" (硬座 yìngwò) category and wide and adjustable bunks in the "soft sleeper" (软卧 ruǎnwò) category.
As their name suggests, the "soft sleepers" have softer beds, and are therefore more expensive.
D sleeper trains also have an LCD TV set for each bed, a bedside lamp, wired headphones, and even an adjustable thermostat. The bathrooms on sleeper trains are usually surprisingly clean and comfortable and offer a choice between Chinese and western toilets.
Which Train Should I Choose for My Trip?
The best way to travel between Shanghai and Beijing is definitely on one of the bullet trains mentioned above, as they offer the best price-value ratio. G trains, especially, are about as fast as airplane rides, only cheaper, and both D and G trains offer a variety of different comfort options.
The best way to plan a train trip is to decide on your priorities before buying a ticket. If you're looking to travel for pleasure, it might be a good idea to take an overnight D train. These will allow you to reach Shanghai or Beijing in the morning when you're well-rested. Taking an overnight train will allow you to jump right in and start your day with that long-awaited stroll along the Shanghai Bund or visit to Beijing's Summer Palace.
If, on the other hand, your top priority is speed, then a daytime G train will help you reach your destination quickly.
Budget is also a critical factor, as options depend on how much travelers are willing to spend.
What Are the Schedules for Shanghai to Beijing Trains?
Every day, there are 44 G trains from Beijing to Shanghai and 3 D types. G trains depart at various times throughout the day between 6:43 am to 7:08 pm, and the ride's duration can be between 4 hours 18 minutes to 6 hours and 24 minutes.
Meanwhile, D trains depart at various times between 7:34 pm and 9:17 pm in the evening, and rides can last from 11 hours 49 minutes to 12 hours and one minute.
If you're looking to go from Shanghai to Beijing, there are 42 G trains and 3 D ones departing every day. G trains depart between 06:26 am, and 7:00 pm, and voyages take between 4 hours 18 minutes and 6 hours 20 minutes.
D trains, on the other hand, depart in the evening between 7:09 pm and 9:24 pm, with trips lasting around 12 hours.
You can check train schedules and prices on websites like Trip.com, the English-language version of the popular Chinese travel website CTrip.
How Do I Buy Shanghai to Beijing Train Tickets and How Much Do They Cost?
Depending on the level of comfort and as of this writing in March 2021, prices for G trains range from 553 CNY (US$84) to 1,748 CNY (US$266). Overnight D trains, meanwhile, range from 386 CNY (US$57) to 740 CNY (US$110).
You can buy your tickets online on sites like Trip.com and ChinaTicketOnline. It's also possible to purchase tickets directly at the station, but keep in mind there's usually a long queue. Tickets also tend to sell out early, especially during the holidays. Therefore, buying tickets online and in advance is usually best.
Why Take a Shanghai to Beijing Train Instead of Another Option, Like Flying?
All-around, the Shanghai to Beijing train offers a far more pleasant experience than its airplane equivalent. These are some of the advantages of choosing the railway when moving between China's two biggest cities.
1. Money
Depending on when you're traveling, train ticket fares can be considerably cheaper than plane tickets. If you're looking to travel in the high season, your best shot could be to make the trip by train.
However, if you're traveling in the off-season, flight prices become more competitive, so it's a good idea to check both depending on your dates.
2. Time
The distance between Shanghai and Beijing is 1,214.3 kilometers (754.5 miles). Actual travel time by plane is about 2.5 hours, while travel time by G train can vary between 4.5 and 6 hours.
Technically, traveling by plane is considerably faster, but there are a few factors to take into account. For starters, the Beijing and Shanghai airports are somewhat far from the actual cities, so getting to and from them can take up some time.
Also, you need to check-in at the airport around two hours before your flight's scheduled time. Plus, weather conditions are more likely to delay flights than train rides.
Meanwhile, train stations are normally more accessible since they tend to be inside the city limits, often in very central areas or directly downtown. You can also board your train less than half an hour before it departs the station, instead of having to wait around for a long time as is necessary at the airport.
As an added plus, trains in China are quite punctual, and delays are far less common than in air travel.
There are also many overnight trains available. These trains  take a little longer to reach their destination, but they are quite comfortable and pleasant, and taking them can allow you to save a night of hotel expenses.
All things considered, the difference in the time it takes to take a train versus a plane isn't that big - in fact, depending on delays, you might get to your destination quicker if you travel by train.
3. Experience
Air travel can be constraining. Due to security, travelers may have to spend quite some time waiting in line. Security concerns have also led to limits on the use of electronic equipment at different points during the trip, and for many, the overall experience of flying can be a little claustrophobic.
Trains are far more relaxed, allowing travelers to move freely between cars and use their devices at all times. Passing through train security is also faster and less cumbersome than the process of airport security.
The train experience has another lovely advantage: the sights. Looking out the window while passing some of the most impressive landscapes in China is a pleasant and relaxing experience.
Keep in mind that the Shanghai to Beijing train can run as fast as 350 km/h (217 mph), making it the fastest passenger route in the world. In itself, that's an impressive enough reason to want to experience it first-hand.
A Trip to Remember
All in all, traveling by train is by far the best choice for those who want to get from Shanghai and Beijing. In particular, the G and D trains on this route offer a variety of affordable, fast and comfortable choices for visitors from all walks of life.
Train travel is a popular travel method among Chinese people. Thus, taking a train provides a great way to not just observe but also participate in an important facet of everyday life in mainland China.
Looking out the window and watching the landscape change from urban to rural to urban again also provides valuable insight into the pace and scope of China's modernization.
Train travel also provides a great opportunity to practice your Chinese by chatting with your fellow passengers. In order to better prepare for your trip, consider learning some Chinese travel phrases. You can also consider learning to say "hi" in Chinese and finding out how to say your name in Chinese. Doing so will ensure that you know how to introduce yourself to whoever happens to be sitting next to you on your next train ride. 
If you're looking for something to see once you've reached Beijing, check out our article on the Summer Palace. Once you've had your fill of Shanghai's skyscrapers, you should also consider taking a day-trip to neighboring Wuzhen Water Town or Suzhou, where you can feast your eyes on some of China's finest traditional architecture.
Wherever your travels take you, we wish you 一路顺风 (Yīlù shùnfēng; Bon voyage)!
Chinese Train Vocabulary
| Hànzì | Pīnyīn | Definition |
| --- | --- | --- |
| 火车 | huǒchē | train |
| 火车站 | huǒchēzhàn | train station |
| 铁路 | tiělù | railway |
| 上海 | Shànghǎi | Shanghai |
| 北京 | Běijīng | Beijing |
| 火车票 | huǒchēpiào | train ticket |
| 上海虹桥站 | Shànghǎi Hóngqiáo Zhàn | Shanghai Hongqiao Railway Station |
| 北京南站 | Běijīngnán Zhàn | Beijing South Railway Station |
| 绿皮车 | lǜpíchē | green train |
| 高铁 | gāotiě | G Train (China high-speed train) |
| 动车 | dòngchē | D Train (China high-speed train) |
| 二等座 | èrděngzuò | second class seat |
| 一等座 | yīděngzuò | first class seat |
| 商务座 | shāngwùzuò | business class seat |
| 硬卧 | yìngwò | hard sleeper |
| 软卧 | ruǎnwò | soft sleeper |
| 出差 | chūchāi | go on a business trip |
| 旅游 | lǚyóu | travel (usually for pleasure) |
| 风景 | fēngjǐng | scenery |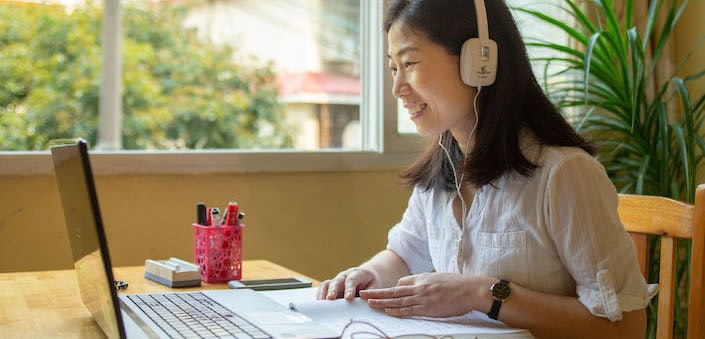 Free 30-minute Trial Lesson
Free 30-minute Trial Lesson
Continue Exploring