Teach English in China: The Ultimate Step-by-Step Guide
Love teaching and learning? Looking to spice up your life with a little adventure? Hoping to make money while taking advantage of generous vacation time to explore a new continent? Then teaching in China might be for you. Read on to learn about how to teach English in China.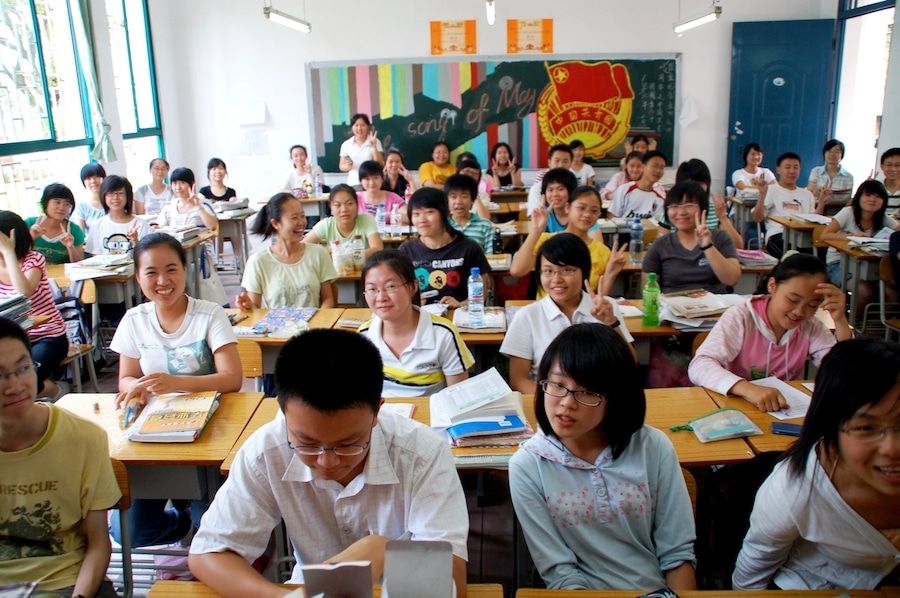 Getting started
Moving abroad to teach is a big step. Before embarking on this great adventure, there are a range of important considerations, as detailed below. You'll also need to determine whether you're eligible to teach in China.
Why teach English in China?
There are many great reasons to teach English in China. Teaching English abroad is an amazing way to gain professional experience while seeing the world and expanding your horizons. Although it's possible to teach almost anywhere, China is one of the most interesting places in the world to be right now. Its booming economy and enormous, education-obsessed population make it an ideal place to gain overseas teaching experience.
Many people enjoy teaching English in China because it offers:
High demand for English teachers: In today's China, English is an important skill. It's a required subject in Chinese public schools and many students need a high score in English to do well on the high-stakes Chinese college entrance exam (高考 or gāokǎo). English skills are also a must for the growing number of Chinese students who choose to attend high school and/or university abroad. These facts translate into a huge market for teaching English as a foreign language (EFL).
A range of professional opportunities: China is a huge country that offers an unbelievable variety of teaching options. You can teach in a modern global metropolis or a tiny rural village. You can gain valuable professional experience teaching two-year-olds at a training center, middle schoolers at a government-run public school, or adults at a university. Whichever setting you choose, interacting with your students will give you unprecedented insight into modern Chinese society.
The chance to make and save money: The cost of living in most parts of China is still quite low. Therefore, you're likely to be able to live comfortably on your salary while still having enough money left over to both travel and save. The cost of living in big cities like Beijing and Shanghai is relatively high, but salaries are also higher. With some careful planning, you'll be able to save money no matter where you're based.
Generous vacation time: Teachers in China enjoy generous vacation time, which is great if you've caught the travel bug and yearn to explore otherworldly places like Yangshuo or Guilin, historical cities like Xi'an or Shenyang or any of the countless other amazing destinations in China and Asia. The sheer size and geographic diversity of China and its neighboring countries mean you'll never run out of new and amazing places to explore.
Many opportunities to improve your Chinese: Although you'll usually be expected to only use English in the classroom, you'll have ample opportunities to practice your Chinese skills once class is over. This is especially true if you choose to teach in a smaller city like Guilin, which features a more laid back pace of life.
A great way to explore other job opportunities in China: Many long-time China expats started out as English teachers. If you already have experience in another field, teaching English in China may be a great way to get your foot in the door while you look for other opportunities.
Requirements
To teach English legally in China, you'll need to obtain a work (Z) visa. In recent years, Chinese visa requirements have become stricter than in the past. Qualifications can vary slightly depending on the institution and geographic location. Big cities like Shanghai and Beijing tend to be more stringent.
General requirements for obtaining a Z visa to teach English in China include:
Bachelor's degree (any subject): The first requirement is that you hold a Bachelor's degree from any 4-year college or university in any subject. If you're applying for a more competitive EFL position, having a degree in something like English Literature might be helpful, but it is by no means necessary.
Native English speaker: For the past several years, China has only recognized teachers who hold passports from the following seven countries as "native speakers": Australia, Canada, Ireland, New Zealand, South Africa, the United Kingdom, and the United States.
Clean criminal background: The third requirement is that you provide a clean criminal background check which must be authenticated by both the Chinese authorities and the authorities in your home country before it can be used (more on in the "Visa Process for EFL Teachers" section below).
Two years' work experience or a 120-hour TEFL certificate: The final requirement is that you have either two years' teaching experience or a TEFL certificate. Only one or the other is required, but you're likely to get bonus points if you have both. TEFL certificates can be obtained by taking a course either online or in person. The minimum requirement for TEFL in China is now 120 hours.
Note that some cities and/or schools may have minimum and maximum age requirements for teachers. These vary by location and can sometimes be flexible, so it's best to ask your prospective employer about them directly.
Picking the right teaching position
If you have all the required qualifications, then it's time to start thinking about where and whom you'd like to teach!
Choosing a city
If you've never been to China, choosing where to teach can be a daunting task. Although you might be tempted to go to a city you've heard of like Shanghai or Beijing, it's best to keep an open mind and consider the pros and cons of the various available locations before making your choice.
The most important factor when it comes to deciding where you want to teach is the reason you decided to teach English in China in the first place.
If your main motivation for teaching English is making money, then you should teach in a big city like Shanghai or Beijing. These cities offer the highest salaries, although the cost of living is higher there as well.
Living in big cities can be quite comfortable. You'll have access to Western-style food, bars and nightlife, as well as international medical clinics. China's amazing fast train network will allow you to travel from one megacity to the other with ease. Many people will speak good English and it will be fairly easy to integrate with active expat communities.
If you're interested in teaching English for the cultural experience or because you hope to learn Chinese, then teaching in a smaller city or even a rural setting is best. In big cities, you may struggle to find anyone willing to speak Chinese with you, but that isn't a problem in smaller cities and rural areas. Teaching positions in 3rd and 4th-tier cities, like Guilin, offer the absolute best language immersion experience, because most people in the community won't speak English.
Note that salaries in smaller cities are quite low by Western standards, but cost of living is also significantly lower. As a result, many English teachers in smaller Chinese cities end up being able to save more money each month than they would on a lofty salary in a major international city with equally or even loftier cost-of-living levels.
Culture shock can also be a challenge for some in smaller cities or rural settings. Yet others thrive in these novel environments—the newness and endless places to explore is nothing short of energizing and exhilarating.
Not having anyone to speak English with in an off-the-beaten-path location can be difficult, and you may feel isolated at first, but you're certain to come away with much better Chinese, a much better understanding of contemporary Chinese culture, and many new friends. At CLI, we of course recommend teaching English in Guilin!
School type: Public, Private, or… Other?
Once you've decided where you'd like to teach, you'll need to consider what type of school you'd like to work for.
Public Schools
In China, the term "public school" is generally used to refer to Chinese government-run primary, middle and high schools, as well as government-run universities. These jobs tend to offer the lowest salaries, although the exact amount can vary widely depending on location.
Private Schools
The term "private school" is used to refer to after-school training centers, non-government run schools and universities, as well as a plethora of international schools.
Training schools usually require teachers to teach evenings and weekends. They may focus on providing students with oral English practice, on teaching business English, or on helping students prepare for exams like TOEFL or IELTS.
International schools are often owned and/or operated by foreigners and frequently offer IB, AP or A-Level courses. The salaries at international schools are often comparable to or even higher than what teachers make in many Western countries. These positions are quite sought-after and often involve subject teaching rather than oral English instruction.
Unfortunately, you're unlikely to be able to land a job in an international school without an official teacher certification as well as teaching experience in your own country.
Keep in mind that your work schedule will likely be more demanding at an international school than at a training center or public school. Most international schools require a 40-hour workweek, while other options are more likely to only require a 16 or 20-hour workweek.
Other: Companies and Online Education
In addition to traditional school-based English teaching jobs, there are also some more unusual opportunities available with various private companies. For example, some teachers have found short-term summer camp or winter camp work.
There is also a growing market for online English teachers. Those with degrees from top-ranked universities may also want to consider pursuing jobs in the extremely lucrative and competitive field of education consulting at boutique consulting firms like Elite Scholars of China (ESC).
Our Recommendation
As an aspiring EFL teacher, your best bet is to focus on getting a job in either a public school or a language training center. These types of institutions are often in search of foreign English teachers and tend to have a more streamlined hiring process, particularly if you work through a partner like CLI or seek employment with a relatively high-tier or high-end school.
Consider class size
One of the biggest differences between teaching in public versus private schools or training centers is class size. Keep in mind that public school classes can be quite large: sometimes, you'll have more than 60 students per class section.
Class sizes at international schools tend to be smaller and more manageable (around 20 students). If that still sounds like too many for you, you can consider teaching at a training school, where you may end up with small groups of around 5-10 students. Such settings allow for far more direct teacher-student interaction.
Choosing a grade level: Preschool to graduate school and beyond
Next, you'll need to choose the grade level you wish to teach. The experience offered at each grade level is quite different—we encourage you to consider the following closely and, as always, reach out to us if you have specific questions!
Preschool, Kindergarten and Primary School
English is a mandatory subject in China. Parents are aware that their children will need to learn English sooner or later, and they understand that students who start early have an advantage. Thus, there's a huge market for English classes aimed at very young children.
Getting children to have fun and enjoy learning English is often the main goal when teaching children at this level. Therefore, including lots of interactive games, songs and activities is essential.
Generally, for this age range your goal will be to get students to participate and practice basic vocabulary and sentence structures. You may even find that in addition to teaching English, you also end up teaching basic art and dance skills.
When teaching very young students, you'll usually be paired with a Chinese teaching assistant who will help with translation and classroom management.
Teaching younger students requires a considerable amount of energy and stamina. Young students have very limited attention spans, so it helps to prepare a variety of short activities to keep them engaged.
Middle and High School 
Students in Chinese middle schools are usually 12 to 15 years old, and high school students are usually 15 to 18. Both age ranges tend to have better English abilities, especially in large coastal cities.
Students at this level typically know a lot of vocabulary words and have a decent grasp of English grammar. However, due to the Chinese educational system's emphasis on rote memorization, students may still be quite shy about speaking. Therefore, you'll need to be very patient and encouraging when teaching these groups.
As a foreign English teacher, you'll usually be expected to help students practice their oral English, rather than actively teach them English literature or grammar. Thus, many of the tips regarding teaching younger children still apply at this level.
Students need to have structured lessons with varied, fun activities that will get them interacting and speaking with each other. Small group activities work well for this. Be sure to move about the room to make certain students are actually speaking English amongst themselves.
Note on Terminology: In Chinese, the middle and high school grade range is typically referred to collectively as 中学 (zhōngxué), which, confusingly enough, translates literally to "middle school." In fact, 中学 (zhōngxué) encompasses both middle and high school. Thus, some English teachers arrive in China believing they signed a contract to teach middle schoolers, only to end up at a high school.
Be sure to clarify with your prospective employer whether you'll be teaching 初中 (chūzhōng or "junior high school," the equivalent of "middle school" in most Western countries) or 高中 (gāozhōng or "senior high school," our equivalent of "high school"). In China, 初中 (chūzhōng) covers grades 7, 8 and 9, while 高中 (gāozhōng) spans grades 10, 11 and 12. 中学 (zhōngxué), as discussed above, is a catch-all term for both levels, covering grades 7-12.
University 
There are certainly perks to teaching at the university level, including older students, fewer class hours, and more nods of approval from the local population.
University students are generally more independent and have higher English levels and longer attention spans than their younger counterparts. This means your students can be easier to teach and are more likely to appreciate nuanced topics.
It's possible to give university students advanced assignments, such as semester-long projects and in-class presentations. That said, however, aspiring teachers should keep in mind that university teaching jobs in China often offer salaries which are quite low compared to similar positions in Western countries. All told, though, the experience is very much worth it.
Adult Students
If high-energy teaching and hands-on classroom management aren't really your style, you may prefer teaching adults. This is possible at certain English training centers that focus on providing classes for working adults looking to improve their English abilities.
If you prefer to work with adults, be sure to make that clear when negotiating with your school. Continuing education training centers will likely be the way to go.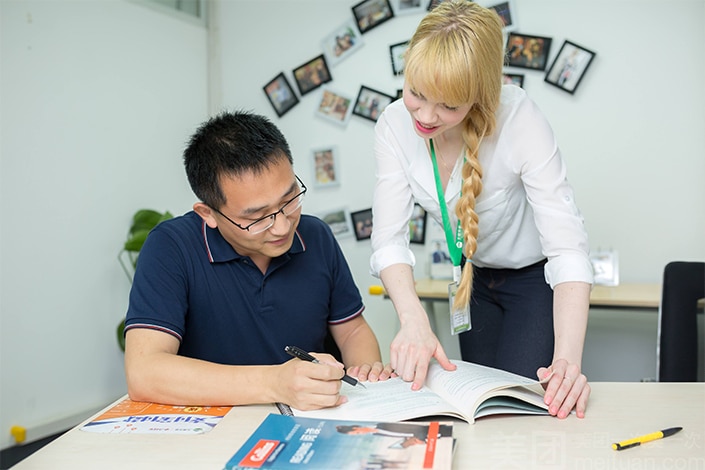 Contacting schools yourself versus utilizing a service
Once you've decided where and whom you'd like to teach, it's time to start identifying job opportunities. To do so, you can either consult job boards and reach out to schools yourself or utilize a service that provides attractive opportunities, visa assistance, airport pick-up, program orientation, 24/7 in-country support, and more.
One great aspect of teaching in China is that there's no shortage of job opportunities. Unfortunately, however, the sheer number of options can quickly start to feel overwhelming.
If you're planning to teach in a big city, you may be able to get away with contacting schools directly because you'll be able to find far more opportunities at large, established companies and big-name local and international schools.
If you plan to teach in less well-known schools or in a smaller city or rural area, however, it may be better to use a teacher placement service to act as an intermediary between you and the schools. Such services can put you in touch with good opportunities you might not otherwise find.
Be vigilant, though! Many untrustworthy and downright unscrupulous teacher placement agencies operate in China today. Therefore, it's imperative that you thoroughly research the placement service you plan to use before trusting them to find you a job. A poorly-chosen placement service can make your life difficult before and during your time in China, while a well-chosen placement service can remain a reliable resource throughout your teaching contract.
CLI's Teach in China program leverages its local network—the seeds of which date back to our co-founder's arrival in Guilin in 2001—to help you find attractive opportunities at reliable, trustworthy schools. This is especially useful for teachers hoping to teach in smaller cities like Guilin or for those looking for jobs in the countryside.
How to obtain a work visa to teach English in China
Once you've received an offer from a school, be sure to carefully read and, if necessary, negotiate your teaching contract before signing on with a school. Consult the US State Department website for some good advice on what should be included in your contract.
Once you've negotiated and signed a contract, it's your employer's responsibility to help you apply for a Z visa before you depart your home country en route to China.
As visa requirements change frequently and can vary by province and institution, be sure to carefully follow your employer's instructions. Be prepared for the visa process to take longer than expected.
For a general idea of what to expect, we've outlined the process for you below.
Step 1: Gather your documents
To start the visa process, you'll need to gather the following items:
University degree
TEFL certificate (not always required)
Background check
Passport (with at least 6 months of remaining validity)
Résumé or CV
Passport photos (recent, 2"x2")
Reference letter(s) from previous employer(s)
Medical check (not always required before entry; definitely required within one or two weeks of arrival)
Step 2: Authenticate your documents
Next, you'll need to authenticate your university degree, background check and, if required, your TEFL certificate.
In general, getting your documents authenticated involves three steps: getting the documents notarized, having them authenticated by the State Department, foreign affairs department or equivalent in your country of origin, and having them authenticated by the Chinese embassy or consulate in your home country.
This process can be confusing and difficult to accomplish on your own. It also differs depending on your country of origin. Thus, it's usually best to pay an agent to help authenticate your documents. Talk to your school or service partner (e.g., CLI) to see if your particular employer can reimburse these costs.
Step 3: Email documents to your school or provider and wait
Once your documents are ready, email copies to your school or service partner. They'll apply for a work permit invitation and employment license on your behalf from within China.
Step 4: Submit visa application to Chinese Consulate, obtain Z visa, and fly to China!
Once your invitation documents are ready, you'll need to fill out a Z visa application form and take it to the nearest Chinese embassy or consulate along with your invitation documents, passport, several 2"x2" passport photos, and the right amount of money to pay the visa fee, which varies depending on your nationality.
It's best to consult the website of the Chinese embassy in your home country for the exact requirements.
After your Z visa has been issued, you're ready to fly to China! Make sure to bring all of the original documents that you prepared in Step 1 above (including your original diploma) with you to China. You'll need them later!
Important Note: Getting your Z visa is not the end of the work visa application process! The Z visa is only good for a single entry into China and will expire 30 days after arrival. Once you're in China, you'll need to convert the Z visa into a residence permit (外国人居留许可 wàiguórén jūliú xǔkě). Your employer or service provider (e.g., CLI) will help with this process.
Step 5: Register with the police and get a medical check
Upon arrival in China, you'll need to register with the local police station and get a Registration Form of Temporary Residence (住宿登记表 zhùsù dēngjì biǎo).
If you live in a hotel, you'll be registered automatically (so long as the hotel is licensed to accept foreign guests). If you live in an apartment, you'll need to go to the correct neighborhood police station to register yourself. Once again, your employer or service provider will help you complete this step.
There are some documents you'll need to bring in order to register with the police, and you may even need to bring your landlord. Requirements vary by locality.
In addition to registering your residence, you'll also need to undergo a medical check (体检 tǐjiǎn) at a designated medical facility in the city where you plan to teach.
Step 6: Have your employer submit your documents to the local immigration office
Once you've obtained your Registration Form of Temporary Residence and medical check certificate, your employer or service provider will submit them to the local immigration office to help you apply for your residence permit. They'll also need to submit the originals of all the documents you originally provided to get your Z visa and various other documents of their own, such as their business or school license.
Your residence permit can take several weeks to process. Since your Z visa is single entry, you must be careful not to leave Mainland China while you're waiting for your residence permit. If you do, you won't be able to re-enter without starting the whole visa process over again from scratch! Note that traveling to Hong Kong, Macau or Taiwan requires exiting Mainland China and renders single-entry visas void.
Step 7: Obtain your residence permit
Once your residence permit is processed, you can breathe a sigh of relief because the visa process is finally over! Your Z visa is now officially cancelled and replaced with a residence permit.
You'll now be able to enter and exit China at will using your multiple-entry residence permit up until the date it expires, typically within a short time after the end of your teaching contract.
Important Note: It's important to stay on good terms with your Chinese employer. If you plan to stay in China and eventually switch employers, you'll need a letter from your previous employer vouching for the fact that you worked for them and, if you leave before your contract expires, releasing you from employment. Without such a letter, you'll be unable to get another visa, which means you'll be unable to legally work for another employer in China.
Honorable mention: Scams, visa problems, and how to avoid them
It used to be very easy to get a job teaching English in China. In the past, there were few requirements, and even then they were rarely enforced. All that has changed dramatically in recent years, however.
The Chinese government has begun cracking down on illegal employment and many English teachers have run afoul of the law. Unfortunately, while the laws have become stricter, the onus is on the foreign teacher to obey the laws, which are not always clear.
If you're caught teaching without the proper paperwork, you may be fined, blacklisted, and/or deported. Thus, it's important that you familiarize yourself with the possible pitfalls you may encounter while teaching English and partner with a reliable school or service provider.
Meeting all the requirements to bring on a teacher with a valid Z work visa is expensive and time-consuming for schools. Therefore, many schools are willing to hire illegal teachers on tourist (L) or business (M) visas who don't meet the requirements to work in China.
Because of this situation, you must be on your guard when looking for positions in China. If an employer seems ready to hire you no matter what and tells you that teaching on anything other than a Z visa is all right, you should start looking for another opportunity.
Likewise, if your employer tells you it's acceptable to come to China on a different visa and then switch to a Z visa once you arrive, you should be suspicious. Teaching on anything other than a Z visa and accompanying residence permit is illegal. Such a suggestion should be treated as a red flag that may indicate the school isn't actually licensed to employ foreigners.
With so many English teaching jobs available, it's possible to completely avoid shady employers who are unwilling to help you obtain a Z visa through the proper channels.
Now that you're in China
You've made it to China! Now what? Things will definitely be different, but that's (at least) half the fun! Get ready to experience a whole new culture, both in and out of the classroom!
Посмотреть эту публикацию в Instagram
Classroom culture
Chinese culture has its roots in Confucianism, a belief system that places a great deal of emphasis on education and encourages respect for teachers (老师 lǎoshī). Because children have been taught to respect authority from a young age, they may be better behaved than their Western counterparts. This isn't always the case, though!
Some Chinese students can be quite rambunctious, so you'll need to work to earn their respect by always coming to class on time and being prepared. Creating detailed lesson plans and routines is a must, especially if you don't yet have considerable teaching experience. Planning too many activities is better than planning too few.
Most schools offer modern teaching facilities equipped with projectors, whiteboards and computers with speakers for listening practice. Many (but not all) schools will also provide you with the textbook they want you to use, but it's still up to you to plan your lessons around the existing content.
If you don't yet speak Chinese, don't worry! In fact, as an English teacher, you won't be expected to speak any Chinese. If you do speak Chinese, you may be surprised to find that your employer actually discourages you from speaking it with your students. This is because they want to provide students with an immersive English-language environment.
Life outside the classroom
The first thing you'll need to secure after moving to China is an apartment. Luckily, most schools and service providers will provide you with one rent-free as part of your contract. If they don't, you can always ask them for help finding one.
Your school or service partner will also normally help you set up a Chinese phone number. Once you have one, we recommend downloading WeChat, which is China's most popular messaging app.
Keep in mind that due to the so-called Great Firewall, there are many restrictions on the Chinese Internet. Be prepared for the fact that most of the sites you're used to accessing back home, including Google, Facebook and Gmail, will be blocked in Mainland China. Because of this, we highly recommend that you research and install some workarounds before leaving your home country.
Before arriving in China, it's also a great idea to make sure you're familiar with Chinese table manners. Likewise, if you happen to be a vegetarian, you might want to brush up on some essential Chinese vocabulary for vegetarians to make sure you don't accidentally end up ordering a table full of meat dishes during your travels.
The next thing you may want to do is start learning Chinese! While it's certainly possible to live and teach in China successfully for many years without speaking any Chinese, learning Chinese will make your life in China much easier and more fulfilling.
Brush up on the basics before you leave home by consulting our list of the top 12 ways to say "hi" in Chinese. If you're looking to do some more substantial pre-departure preparation, consider signing up for a course on Yoyo Chinese, a virtual Chinese language learning platform.
You can also consider making use of school vacations to participate in a face-to-face Chinese language immersion program, which is a great way to jumpstart your Mandarin learning journey.
If you're too busy for in-person lessons, consider learning Chinese online. It's also a good idea to download a Chinese dictionary app such as Pleco, which can help immensely when it comes to basic day-to-day Chinese-language communication.
Last but not least, don't forget to brush up on your knowledge of Chinese culture by checking out our articles Chinese traditional medicine, tea or Chinese time zones (Nota bene: there aren't any!).
Get ready for the experience of a lifetime!
Teaching English in China is a life-changing experience. As an EFL teacher, you can gain professional experience, build lifelong friendships, enhance your language skills, save money, and travel the world.
Identifying reliable teaching opportunities can be daunting at first, but with careful thought, planning, and preparation, you'll be able to find a school that's a great fit for you.
Remember that you can always consider utilizing a teacher placement service like CLI's Teach English in China program.
Interested in exploring careers in China outside the education sector? Then check out our comprehensive guide to working in China for some tips on which sectors to consider and how to approach the job search process, Chinese style.
Good luck, and we look forward to seeing you in China!
Teach English in China: Useful Chinese vocabulary
| Hànzì | Pīnyīn | Definition |
| --- | --- | --- |
| 老师 | lǎoshī | teacher |
| 英语 | Yīngyǔ | English |
| 英语老师 | Yīngyǔ lǎoshī | English teacher |
| 外教 | wàijiào | foreign teacher |
| 学校 | xuéxiào | school |
| 学生 | xuéshēng | student |
| 幼儿园 | yòu'éryuán | kindergarten |
| 小学 | xiǎoxué | primary school |
| 初中 | chūzhōng | junior high school (middle school) |
| 高中 | gāozhōng | senior high school |
| 中学 | zhōngxué | literally "middle school;" often appears in names of high schools |
| 大学 | dàxué | university |
| 高考 | gāokǎo | the Chinese college entrance exam |
| 私立学校 | sīlì xuéxiào | private school |
| 公立学校 | gōnglì xuéxiào | public school |
| 国际学校 | guójì xuéxiào | international school |
| 培训机构 | péixùn jīgòu | training school |
| 作业 | zuòyè | homework |
| 学习 | xuéxí | study |
| 考试 | kǎoshì | exam or test |
| 合同 | hétóng | contract |
| 护照 | hùzhào | passport |
| 签证 | qiānzhèng | visa |
| 外国人居留许可 | wàiguórén jūliú xǔkě | residence permit |
| 出入境 | chū rùjìng | Entry-Exit Bureau; Immigration ffice |
| 住宿登记表 | zhùsù dēngjì biǎo | Registration Form of Temporary Residence |
| 体检 | tǐjiǎn | health check |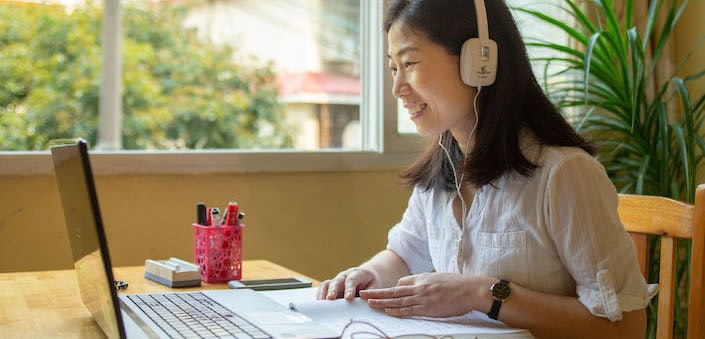 Free 30-minute Trial Lesson
Free 30-minute Trial Lesson
Continue Exploring