The Li River: One of Earth's Most Beautiful Wonders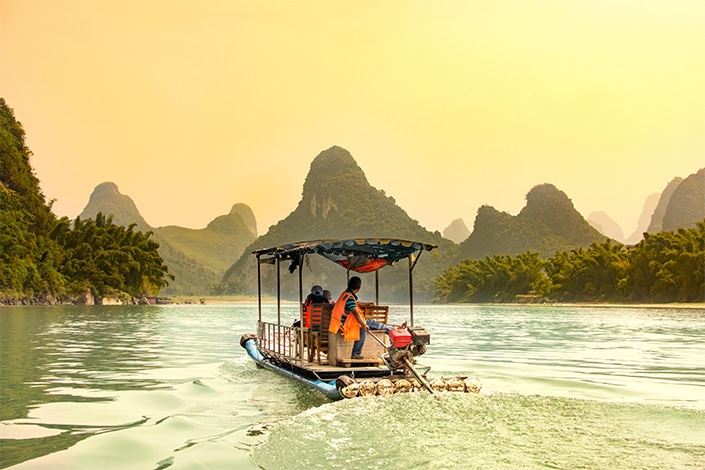 The Li River (漓江 Líjiāng), situated in Guangxi Province, is one of the most spectacular destinations in China. Spanning roughly 80 kilometers (50 miles), the Li River runs through the heart of Guangxi, connecting beautiful downtown Guilin with the riverside town of Yangshuo.
The Li River was first recognized for its cultural significance in 1982, when China's State Council deemed the Lijiang River Scenic Zone a place of scenic and historic importance.
Tens of thousands of karst mountains surround the Li River and its connected cities. The byproduct of millions of years of water erosion and weathering, these karst hills are among the oldest and most beautiful natural wonders in China.
A Look Around the Li River
There are many attractions along the Li River and the easiest way to enjoy them is by taking a cruise. While cruising the Li, you can relax on the boat deck to admire countless breathtaking views.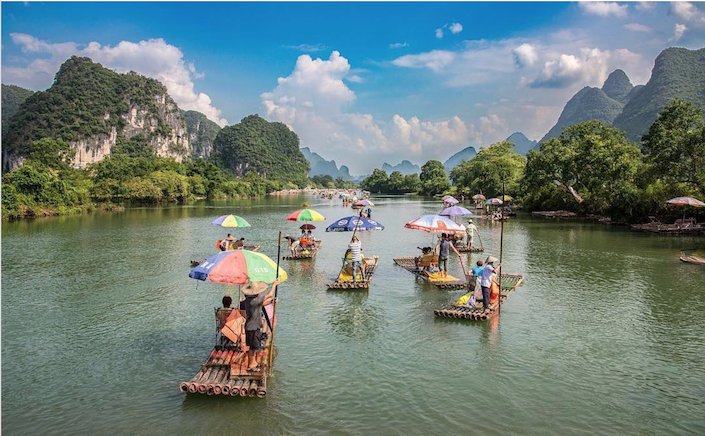 Li River cruises are usually over 40 miles (64 kilometers) long. You can expect to spend four to five hours on the boat and the cruise is usually split into three different sections, although different cruise companies may start at slightly different points along the standard route.
If you choose to take a Li River cruise, here are some of the highlights you can look forward to on each leg of the trip:
First Section: Guilin to Ox Gorge
Elephant Trunk Hill (象鼻山 xìang bí shān): Known for its similarity in appearance to an actual elephant trunk, this karst mountain makes for a great photo opportunity while traveling up the Li River.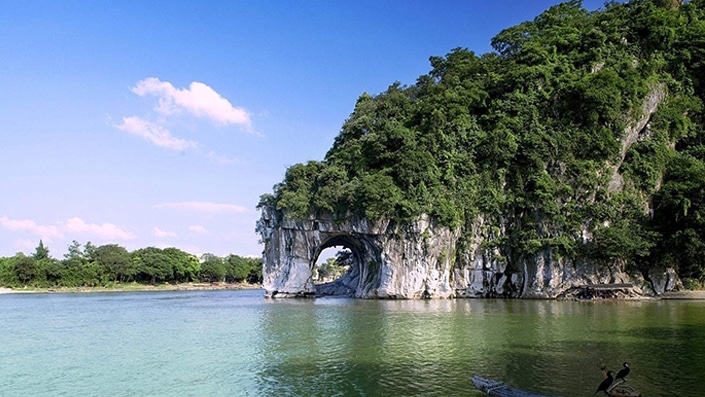 Those who enjoy a more hands-on experience will be glad to hear that Elephant Trunk Hill is also climbable: for 75 CNY (approx. 10 USD) travelers may purchase an entry ticket to the attraction, allowing access to gorgeous panoramic views of Guilin once at the top!
Daxu Ancient Town (大圩古镇 dà xū gǔ zhèn): As you travel further along the Li River, you'll pass the ancient town of Daxu on the east bank. Founded almost 2,000 years ago, Daxu was one of the most important market towns in the region during the Ming Dynasty. Much of the town's original ancient architecture has survived intact.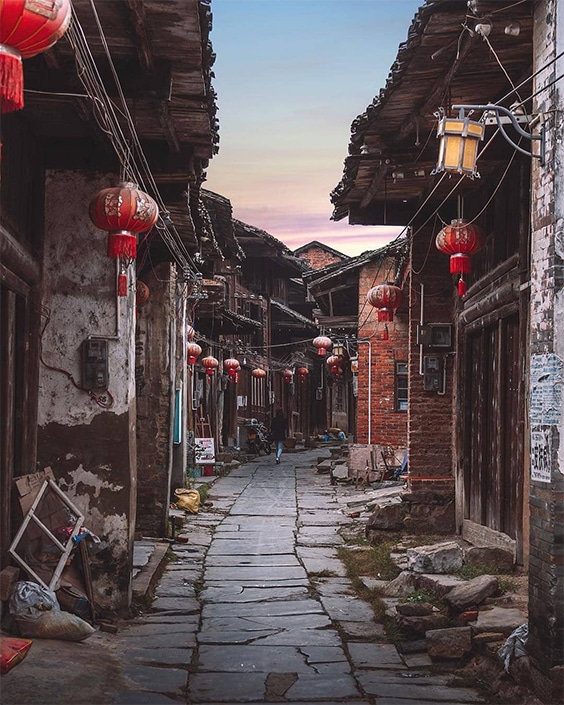 Today, Daxu is known for its traditional wooden houses with black tile roofs and its ancient flagstone streets. You won't be able to explore the town during your cruise but if you have more time in the area, you can consider returning for a day trip.
Second Section: Ox Gorge to Water-Dropping Village
Nine Horse Fresco Hill (九马画山 jiǔ mǎ huà shān): Also called Mural Hill or The Painted Hill of Nine Horses, this is a large stone cliff that is clearly visible from the decks of passing boats on the Li River.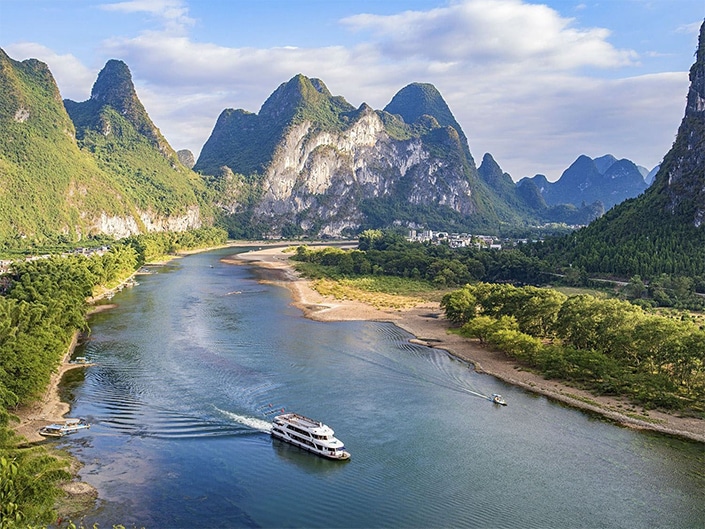 The exposed rocks on the cliff face resemble nine horses in various poses. Legend has it that the mischievous Monkey King, a character in the classic Chinese novel Journey to the West, was in charge of watching the horses in heaven when they escaped. A painter spotted the horses drinking water beside the Li River.
Intending to paint the scene, he startled the horses, which ran into the waterside cliff and remained etched there for eternity. In the past, it was said that a person who could spot all nine horses on the cliffside was destined to achieve the highest score on China's ancient imperial exam.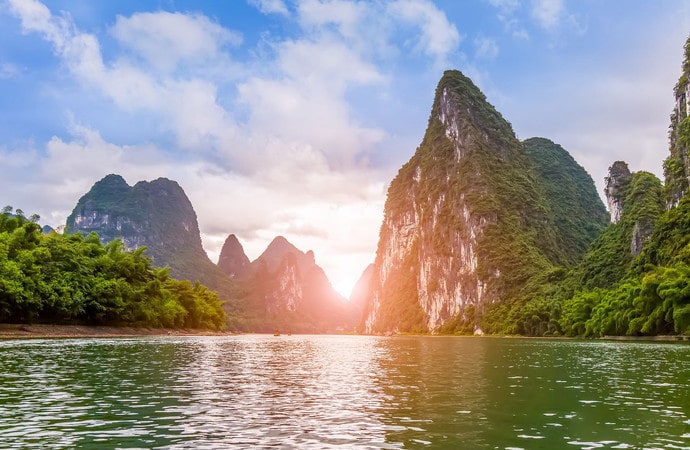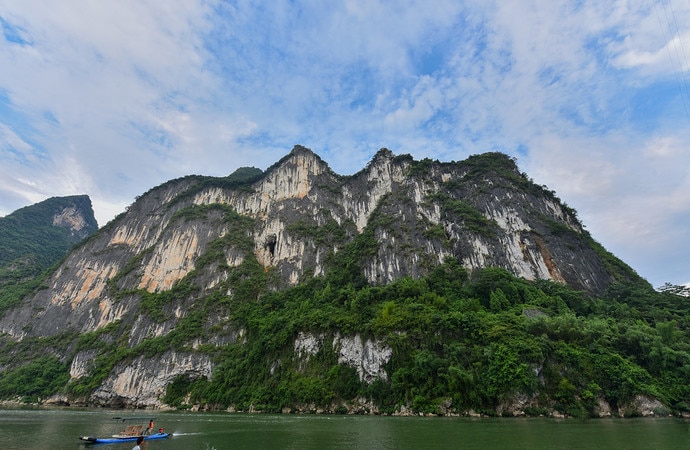 Yellow Cloth Shoal (黄布滩 huáng bù tān): Located near Xingping Town, the scenery in the area around the Yellow Cloth Shoal is certainly the most famous and arguably the most spectacular of all the breath-taking sights the Li River has to offer.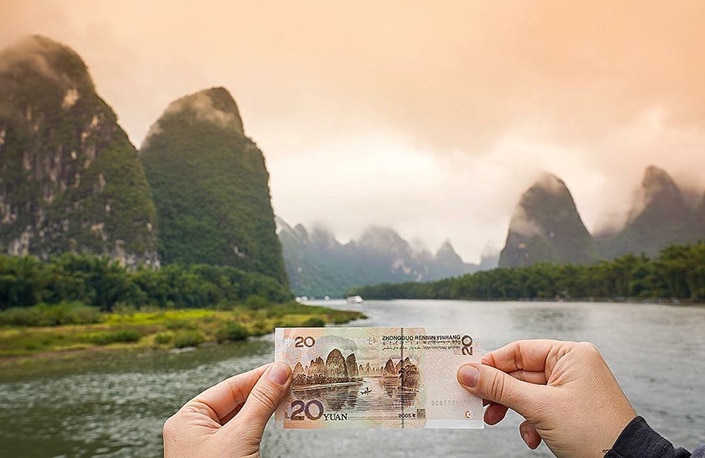 The scenery here is featured on the back of China's 20 CNY banknote. The Yellow Cloth Shoal gets its name because of a large, yellowish rock which lies flat under the water like a piece of cloth. This part of the river is particularly well-known for the way the seven peaks on either side of the shoal cast reflections on the water.
When it isn't raining, the water here is usually calm and flat like a mirror, making the reflections especially clear and impressive.
View this post on Instagram
Third Section: Water-Dropping Village to Yangshuo
Xingping Ancient Town (兴坪古镇 xīng píng gǔ zhèn): The ancient town of Xingping features many well-preserved Ming and Qing-era structures, including ancient houses, traditional temples, and an opera stage thought to be the oldest in Guilin.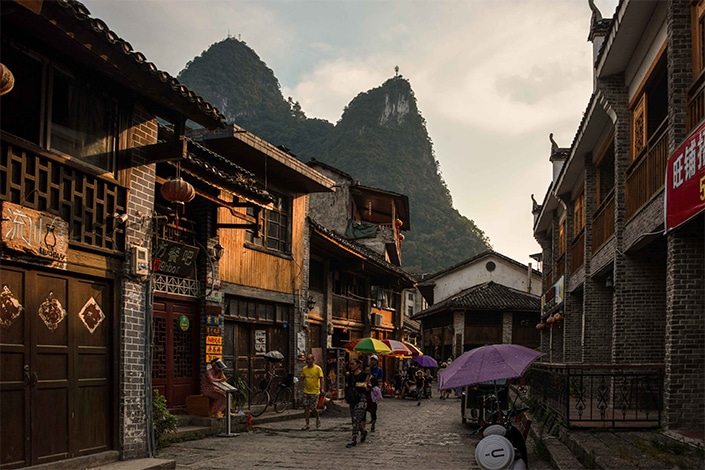 Xingping is one of the best places from which to take photographs of Li River scenery and it's also a good starting point for those who wish to take a Li River bamboo raft trip. From here, it's also possible to visit Xingping Fishing Village, which gained international recognition after former U.S. president Bill Clinton and his wife Hillary visited in 1998.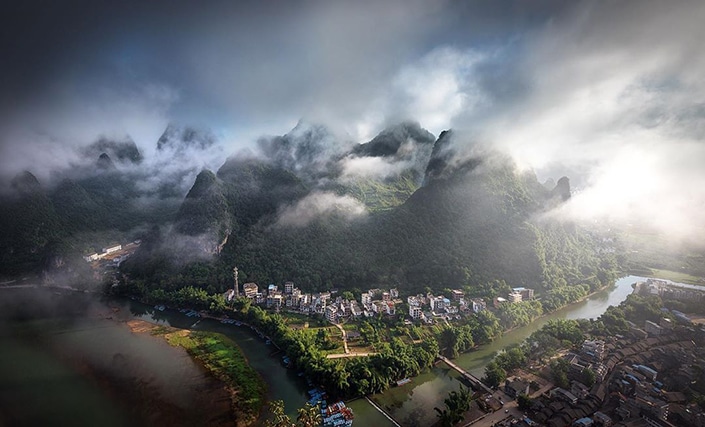 Li River cruises usually pass Xingping without stopping, but it's worth doubling back for a visit on your own once you reach Yangshuo.
Yangshuo (阳朔 yáng shuò): Li River cruises end at Yangshuo, a scenic town that offers a wide range of activities for travelers, whether it's strolling down bustling West Street, biking through the surrounding countryside, or exploring some nearby caves.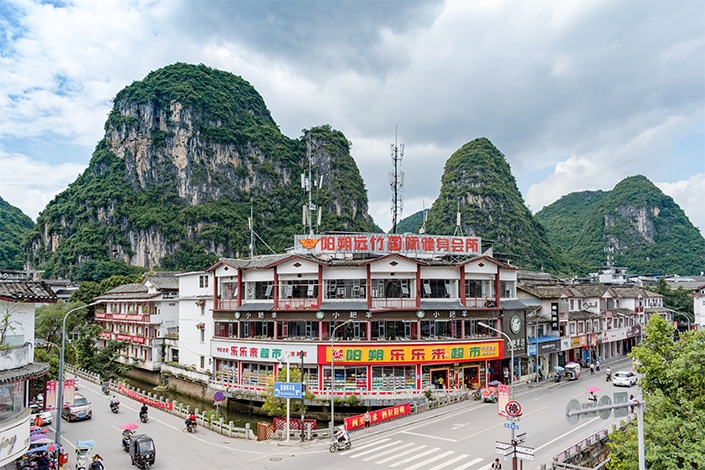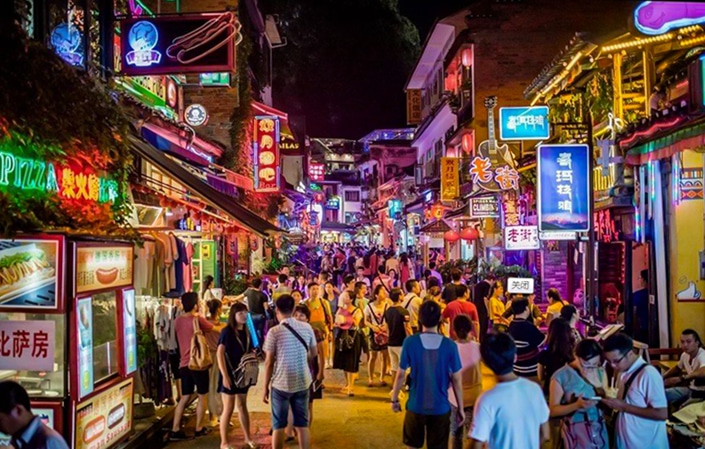 Best Time of Year to See the Li River
The best time of the year to visit the Li River is in early fall, from September through October. This is due to Guilin's gorgeous fall weather which is usually cool and dry with some sunshine. Although cruises are also possible in late fall, they're sometimes cut short when the water level is too low for the boats to operate.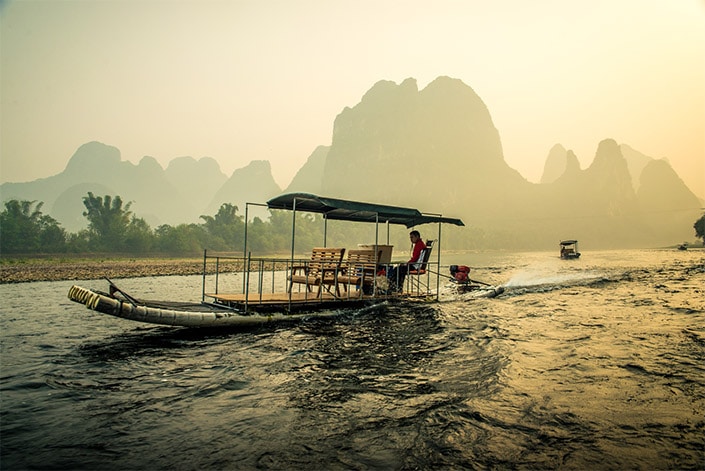 Late summer is also a good time to take a cruise since it's typically possible to enjoy sunny weather, but keep in mind that travelers may experience some downpours due to the monsoon season, which runs from April through August and typically peaks in May and June.
Visiting during the rainy season isn't all bad, however. Guilin's spring or post-rain summer is misty, so the river's water and the karst mountain's lush peaks will appear to be shrouded in a veil of mist as if they were part of a traditional scroll painting.
Regardless of the weather, the pictures taken while visiting the Li River are sure to mesmerize.
Booking a Li River Cruise
There are several ways to explore the Li River, but most boil down to two options: by boat or by foot. Travelers who prefer a more leisurely approach may choose to explore the Li River by booking a luxury cruise or a bamboo raft trip.
Keep in mind that both options can be booked online or in person at the departure point of Zhujiang Pier (竹江码头 zhú jiāng mǎ tóu) in Guilin. Some cruise lines also depart from Mopanshan Passenger Wharf (磨盘山客运码头 mò pán shān kè yùn mǎ tóu), but these are usually aimed at domestic tourists and may not always offer English-speaking guides.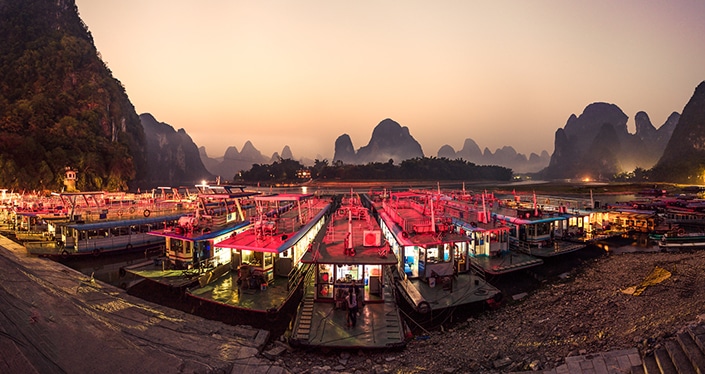 A Li River cruise can be either planned or spontaneous, although cruises often sell out during peak travel season. Remember to bring your passport both when booking tickets and on the day of the cruise.
For those who don't speak Mandarin, there are many travel companies like China Highlights which offer English speaking staff. Such companies can provide detailed descriptions of each cruise package and even help you book the one most suited to your liking.
Getting advice from travel companies can be especially helpful if you aren't sure about something like whether you should spend nearly 400 CNY (58 USD) on a morning cruise to Yangshuo or take a shorter and less expensive night cruise around central Guilin for 185 CNY (27 USD). For travelers interested in cruise options:
Four-star cruise from Guilin to Yangshuo
Pick-up: Zhujiang Pier (竹江码头 zhú jiāng mǎ tóu), Guilin
Drop-off: Shuidongmen Pier (水东门码头 shuǐ dōng mén mǎ tóu), Yangshuo
Average price: 400 CNY (58 USD)
Length: 4-5 hours
Amenities and notes: A four-star cruise utilizes the best and newest cruise boats. All feature modern facilities, spacious seating, and an upper deck for amazing views. This cruise type also serves a buffet lunch. Although three-star cruise options are also available, the four-star cruise is the most recommended method of transportation for travelers.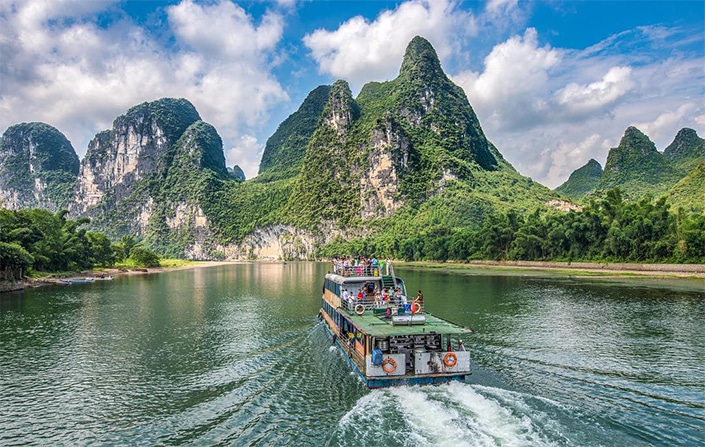 Two Rivers Four Lakes Cruise
Pick-up: Jiefangqiao (Liberation) Pier (解放桥码头 jiě fàng qiáo mǎ tóu) or Riyuewan Pier (日月湾码头 rì yuè wān mǎ tóu) in the daytime plus Wenchangqiao Pier (文昌桥码头 wén chāng qiáo mǎ tóu) at night
Drop-off: One of the three piers listed above. Your exact drop-off pier will depend on your tour company, the time of day and your original departure pier
Average price: 190 CNY (27 USD)
Length: 1-2 hours
Amenities and notes: The "Two Rivers Four Lakes" cruise option, called 两江四湖 (liǎng jiāng sì hú) in Chinese, gives you the chance to see some of the best scenic spots around downtown Guilin. The "two rivers" are the Li River (漓江 lí jiāng) and the Peach Blossom River (桃花江 táo huā jiāng). The "four lakes" are Wooden Dragon Lake (木龙湖 mù lóng hú), Banyan Lake (榕湖 róng hú), Chinese Fir Lake (杉湖 shān hú) and Osmanthus Lake (桂湖 guì hú). Keep in mind that this cruise does not go to Yangshuo like the classic Li River cruise outlined above. This cruise is offered either during the day or at night.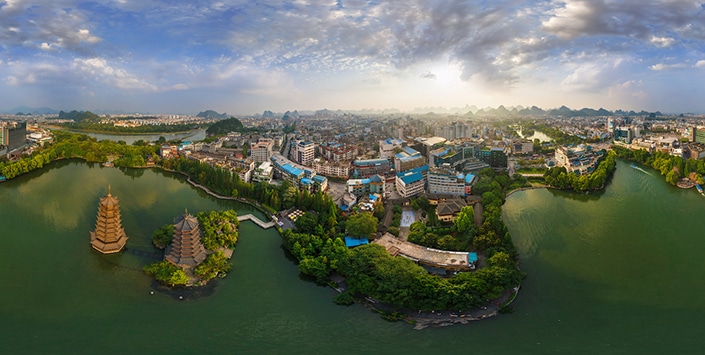 Li River Bamboo Raft Trip (Xingping Village to Nine Horse Fresco Hill)
Pick-up point: Xingping Pier (兴坪码头 xīng píng mǎ tóu)
Drop-off: Xingping Pier (兴坪码头 xīng píng mǎ tóu)
Average price: Dependent on the raftsman, but typically 40 CNY per seat (6 USD)
Length: 1 hour
Amenities and notes: The bamboo raft (竹筏 zhú fá) trip is generally considered more intimate compared to the cruises, as travelers raft through villages alongside the Li River, occasionally stopping on the riverbank for local snacks. Though the scenery is guaranteed to be beautiful, this option is sometimes not recommended. Quality of service and pricing is not guaranteed and is decided by your individual raftsman.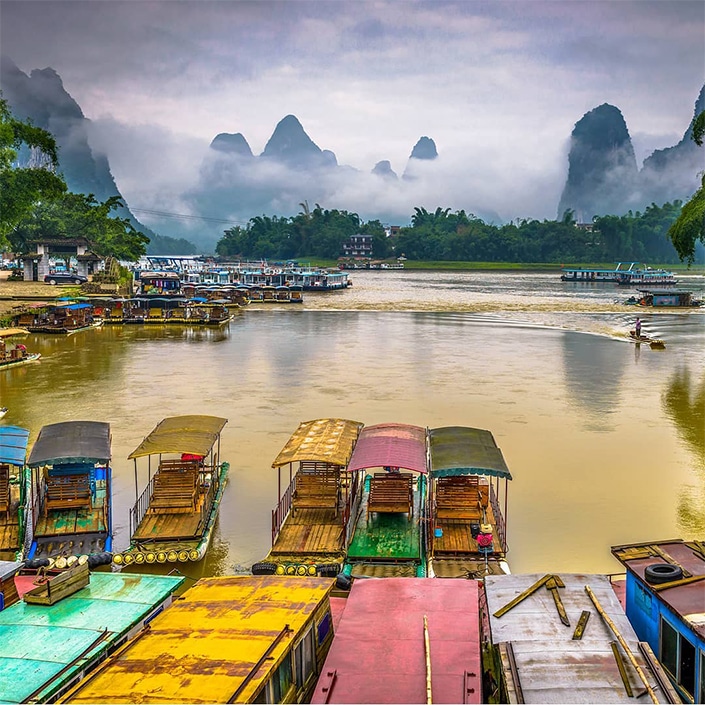 Li River Hiking and Bike Tours
For visitors looking for a more adventurous way to explore the Li River, there is always, of course, the option to hike or bike between Guilin and Yangshuo. This is a lengthier trip but allows travelers the opportunity to savor more of the natural splendor of the Guangxi countryside.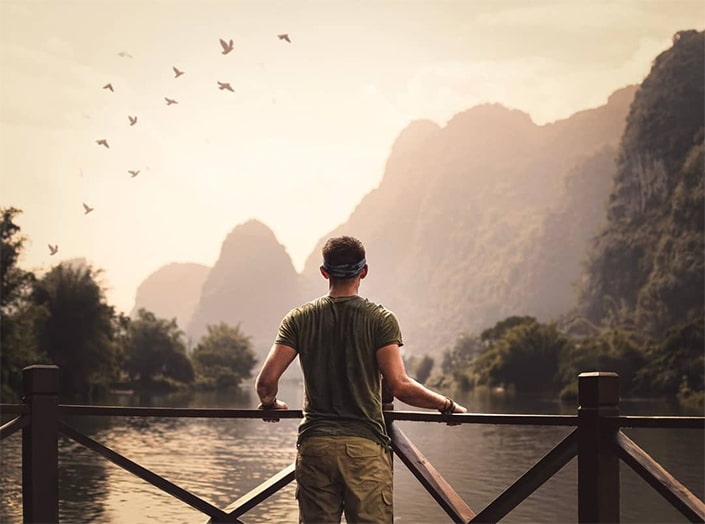 We recommend the 13.5 km (8.4 miles) hike from Quanjiazhou (全家洲 quán jiā zhōu) in Yangshuo to Xingping. Along this route, travelers are able to hike along the riverside at a leisurely pace and witness the beautiful countryside landscape. The hike takes about 3.5 hours.
Bike tours are also available through private companies and can include a three or four-star cruise with the ticket price. The most common package includes a Li River cruise from Guilin to Yangshuo, then a private bike tour in Yangshuo with a local guide.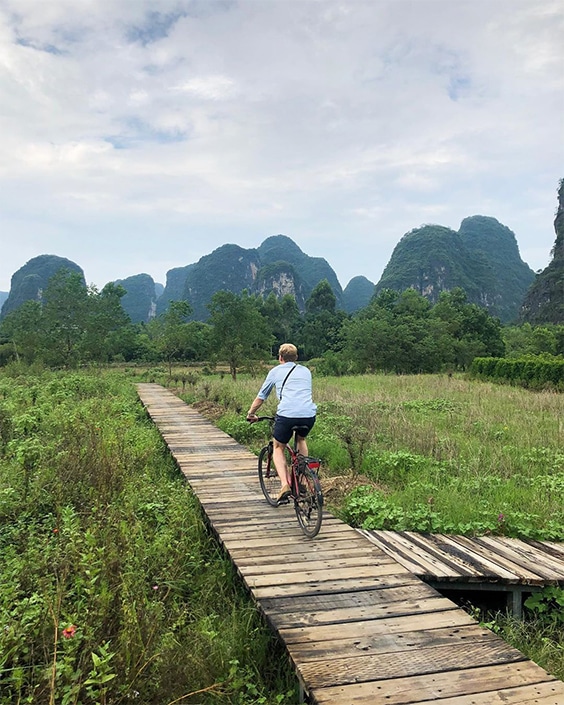 The bike tour experience lasts about 12 hours, but may vary with weather conditions. Ticket prices range from 760 CNY (109 USD) to 1,190 CNY (170 USD) and include hotel pickup and transportation from the cruise boat to the bike rental location with the help of your guide.
Seeing the Li River is a once in a lifetime experience
Regardless of the method of transportation, all visitors can experience first-hand the awe of standing in front of towering karst mountain peaks ready to be climbed, and of adventures yet to be had. The Li River is a beautiful destination by itself, and just visiting it and surrounding areas is enough to make any trip to China more than worthwhile.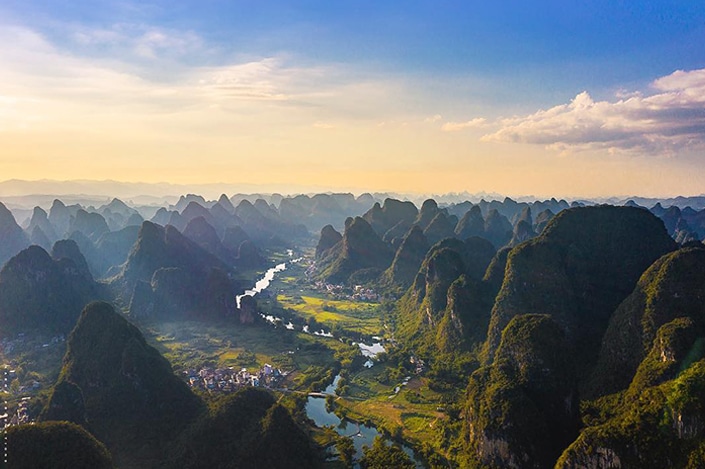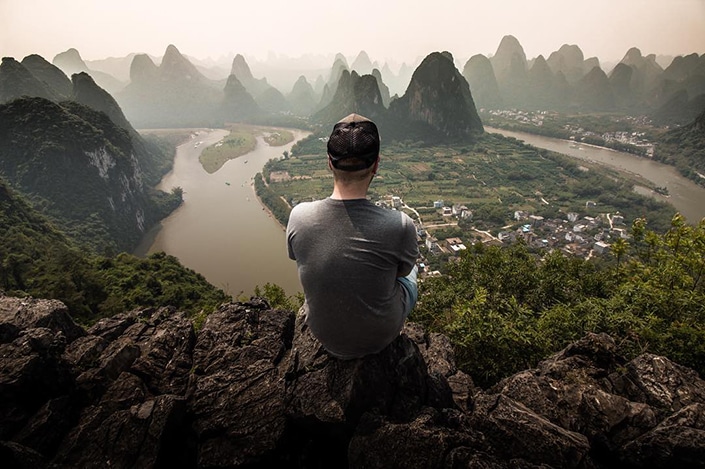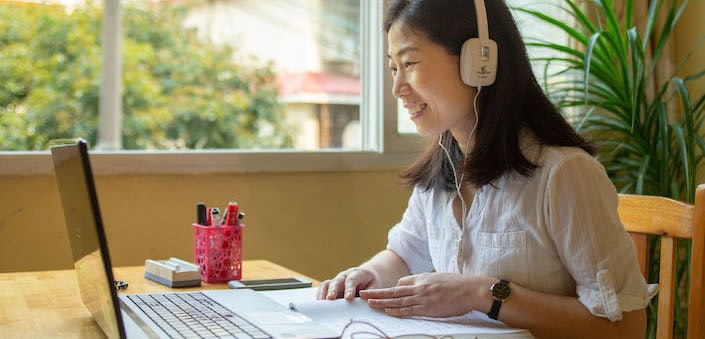 Free 30-minute Trial Lesson
Free 30-minute Trial Lesson
Continue Exploring