Discovering the Dragon's Backbone: Your Guide to the Longsheng Rice Terraces
You may have heard of the Yellow Mountains of Anhui and the stone columns of Hunan, but what about the Longsheng Rice Terraces of Guangxi? Located just northeast of Guilin, the Dragon's Backbone Terraces of Longsheng are among China's most majestic landscapes. This is your ultimate guide for things to do in Longsheng in 2023.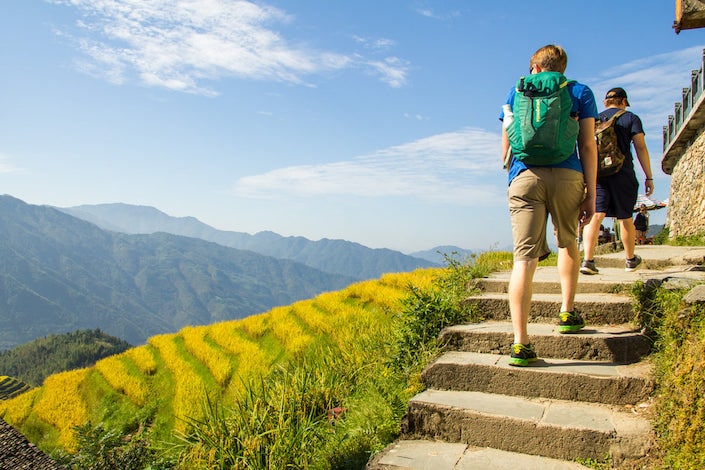 What are the Longsheng Rice Terraces?
The Longsheng Rice Terraces (龙胜梯田 Lóngshèng Tītián), one of southern China's slightly lesser-known natural wonders, are situated in Longji Town (龙脊镇 Lóngjí Zhèn), Guangxi Zhuang Autonomous Region (广西自治区 ​​Guǎngxī Zìzhìqū) approximately 100 kilometers (60 miles) outside of Guilin. Rising over nearly 800 meters (2,600 feet) above sea level, these terraced paddy fields resemble cascading, grassy steps and were originally constructed by farmers during the Yuan dynasty.
Not only are the rice terraces an agricultural curiosity and hiking haven, the area is also one of the best places in China to learn about Guangxi's indigenous groups, sample regional cuisine, and enjoy a break from city life.
An agricultural history
Rice terraces are commonly found across Asia, usually in rural areas with steep, hilly terrain. They are formed through an agricultural technique that involves flattening hillsides into even walls and steps of earth, which are then used to grow rice and other crops that require high volumes of water.
This platform formation helps keep soil intact as water is channeled from nearby rivers or drainage basins into a complex series of irrigation canals which funnel it into each paddied terrace.
A laborious but efficient farming technique, terracing doesn't require advanced technology and is particularly common in developing countries and regions.
Ethnic minorities in Longsheng
The Guangxi terraces were constructed by China's Zhuang and Yao ethnic minority groups during the Yuan (1271-1368 CE) and Qing (1644 to 1911 CE) dynasties, during which they fled into the mountains to escape socio-political conflict and needed to continue farming despite the harsh new terrain.
Members of these ethnic groups still account for most of Longsheng's local residents. The Zhuang ethnic group, known in Mandarin as 壮族 Zhuàngzú, is China's largest ethnic minority group with an estimated 18 million members, many of whom live in Guangxi and neighboring Yunnan Province. In Longsheng, it is common to meet Zhuang people while hiking past their homes, which are built upon wooden stilts rather than flat on the ground.
Another sizable ethnic group in Longsheng is the Yao minority, or 瑶族 (Yáozú). Nicknamed the 红瑶长发女 (hóng Yáo chǎng fā nǚ; long-haired red Yao women), many Yao minority females, particularly those of the ethnicity's "red" branch, are well-known in China and abroad for their stunningly long hair.
As is customary, Yao women cut their hair only once in their lifetimes on their eighteenth birthdays. Unmarried Yao women keep their hair wrapped up in a headscarf, while married women wear their locks wound in a turban-like bun.
The Miao (苗族 Miáozú) are another group in Longsheng known for their bright clothing and silver jewelry, which they wear even while farming.
Like all of China's distinct indigenous groups, the Zhuang, Yao, and Miao peoples each have their own dialects, culinary styles, and artistic customs. A trip to the rice terraces presents a unique opportunity to engage with locals and immerse yourself in China's cultural diversity.
Top experiences in Longsheng
Since there's no shortage of things to see and do in Longsheng, most visitors plan their itineraries in advance to make the most of all that this enchanting landscape has to offer. Some guests visit the area on a single day trip from Guilin, while others make it a multi-day destination.
Upon arriving in Longsheng's scenic area, you'll purchase a ticket in the entrance office for 80-100 RMB. Then, you'll have a choice of where to head next.
Ping'an Village
The easiest village to travel to within Longsheng is Ping'an (平安村 Píng'ān Cūn), located a short drive past the main ticket office. Ping'an is mostly inhabited by Zhuang people and was the first township in the terraces to be designated as a tourist site by the local government.
After entering Ping'an and climbing through the paddied fields along stone steps that wind between stilted wooden farm houses and rustic tea shops, hikers can choose between the village's two scenic platforms, Seven Stars Around the Moon and Nine Dragons and Five Tigers, for a panoramic view of the terraced mountains and pastoral villages below.
View this post on Instagram
Dazhai Village
Another twenty-minute drive past Ping'an lies the more remote Dazhai (大寨村 Dàzhài Cūn), which is home to the stunning Jinkeng Terraces, visible from several lookout points throughout the village. Unlike Ping'an, Dazhai also boasts a gondola, so trekking up the terraces isn't the only option for visitors hoping to admire the landscape from greater heights.
It is also possible to hike between the two villages, which takes between 4-6 hours and will lead you past another more remote hamlet, Tiantou Village (田头寨 Tiántóu Zhài). Because a series of farming trails shoot off from the main pathway, this hiking route is somewhat difficult to navigate.
If you get lost, feel free to ask locals for help by saying "去平安, 怎么走 (Qù Píng'ān, zěnme zǒu; Which way to Ping'an?)" or "'去大寨, 怎么走 (Qù Dàzhài, zěnme zǒu; Which way to Dazhai?)." Alternatively, hire a local guide to escort you during your intervillage trek for about 100 RMB.
Hot springs
Trekking through the terraces isn't the only way to appreciate the natural splendors of Longsheng. During cooler months, many visitors opt for a soak in the natural mineral baths of Longsheng Hot Springs National Forest Park (龙胜温泉国家森林公园 Lóngshèng Wēnquán Guójiā Sēnlín Gōngyuán), located about 20 miles past the central ticket office.
Surrounded by dense forests, these outdoor hot spring pools are brimming with minerals like strontium, lithium, iron, zinc and cuprum, which are said to possess healing properties. A relatively off-the-beaten-track destination, the hot springs are usually quiet and uncrowded, especially on weekdays.
Yao Tribe Long Hair Performance
For anyone hoping to explore the cultural side of Longsheng, the long hair performance in Huang Luo Village makes for an entertaining morning activity. During the show, Yao ladies' demonstrate the rituals of caring for their famous long manes, and men and women come together to perform traditional songs and dances.
Although it's arguably a touristy activity, buying a ticket to the show is also a considerate way to support local performers, many of whom depend on the local travel industry to earn a living.
Be sure to ask about the 长发表演 (chǎngfā biǎoyǎn), or long hair performance, at the Longsheng ticket office since performances usually only take place during busier months.
What to eat in Longsheng
Dining in Longsheng is an opportunity to feast your senses on fresh, locally-sourced ingredients and aromatic regional spices of Guangxi. Proud of their culinary customs, Longsheng residents will tell you that the secret to their good physical health and longevity is their clean and nutritious food. You won't be hard pressed to find a satisfying, home-cooked meal at one of the many restaurants throughout Longsheng.
No matter where you choose to dine, be sure to order the 竹筒饭 (zhútǒngfàn), or bamboo rice, a speciality dish made from glutinous rice mixed with peanuts, pork and bamboo shoots roasted in a bamboo tube over a small fire. Bacon lovers should also try the 腊肉 (làròu), or thinly sliced pork prepared in an in-home smokery.
Chilli peppers, wild mushrooms and tangerines are among the area's most important crops, so look out for these staple foods if you have a chance. A mug of fragrant Longji tea (龙脊茶 Lóngjí chá) or a glass of local 糯米酒 (nuòmǐjiǔ), sweet home-made rice wine, will make delightful compliments to your meal.
Where to stay in Longsheng
While it's definitely possible to visit Longsheng as a day trip from Guilin, you're better off spending a night or two among the terraces to appreciate the full experience. After nightfall, the tranquility of the terraces is stunning, and sunrise the next morning is certainly worth waking up early for.
There are plenty of options for accommodation in the villages, since running a guesthouse or restaurant is the occupation of choice for many locals. Below are a few of our top choices for where to spend the night in Longsheng.
Budget
Long Ji International Youth Hostel
Located in the heart of Ping'an Village, Long Ji International Youth Hostel is a simple but cozy hostel featuring shared dormitories and private double rooms.
Like most guesthouses and private homes in Longsheng, it resembles a rustic wood cabin and boasts a spacious outdoor patio. A bunk bed in one of the hostel's shared, mixed-gender rooms is likely the cheapest bed you can find in the area.
Price Range: $5-20 per night
Dragon's Den Hostel
Dragon's Den Hostel is another comfortable, wallet-friendly choice for your overnight stay in Longsheng.
Because it is situated in remote Tiantou Village (a forty-minute hike from Dazhai and several hours from Ping'an), this backpacker hub is optimal for budget travelers hoping to immerse themselves in nature and trek through the terraces as much as possible during their stay in Longsheng.
The hostel features shared dorms and private rooms, as well as a simple farmhouse restaurant.
Price Range: $5-20 per night
Mid-Range
Longji Vita Hotel
Travelers seeking solid, mid-range accommodation in Ping'an should consider the Longji Vita Hotel, a locally-run guest house constructed in Longsheng's signature log cabin style.
Each room features a balcony and swinging love-seats that overlook the surrounding mountains, creating the perfect environment to sip tea and appreciate the terraces in an atmosphere of privacy and comfort after a long day of exploring.
Price Range: $50-60 per night
Ridge Inn
On the slightly-more-posh end of Longsheng's mid-range hotel selection is the charming Ridge Inn.
Family-run and managed by friendly locals, Ridge Inn's decor is particularly rustic, boasting a garden lounge, sleek timber furniture, and a pastoral, farmhouse atmosphere. The inn is centrally located in Ping'an Village and serves a scrumptious Chinese/Western-style breakfast.
Price Range: $45-60 per night
Upscale
Baike Boutique Hotel
Baike Boutique Hotel is an upscale boutique hotel located close to the entrance of Ping'an Village.
It is the accommodation of choice for travelers who prefer minimal hiking and are seeking a deluxe Longsheng experience.
Baike features a full-service bar and restaurant, extra-soft plush beds, and large, floor-to-ceiling windows, bringing the beauty of the terraced mountains right to your bedroom.
Price: $85-130 per night
Rice View Lodge
Undoubtedly the most luxurious hotel in Longsheng, Rice View Lodge is nestled in the mountains several miles from Dazhai.
Accessible by private car, this architectural wonder is recommended for travelers ready to pamper themselves and enjoy the finer details of a deluxe Longsheng hotel experience. Its sleek rooms feature hot tubs, balconies, an array of modern amenities, and all the indulgent comforts one could dream up.
The only downside? Rice View Lodge offers such a perfect stay, you may never want to leave.
Price: $200-250 per night
How to get to Longsheng
The terraces are located high in the mountains and unreachable directly by train or flight, so traveling into the area requires some advance planning.
By bus
Catching a public bus is a cheap and direct way to travel from Guilin to Longsheng.
For visitors journeying to Ping'an, head to the Guilin Qintan Bus Station (桂林琴谭客运站 Guìlín Qíntán Kèyùn Zhàn) and catch the bus to the Longsheng County (龙胜县 Lóngshèng Xiàn) station, which takes about 1.5 hours and costs 40 RMB. From there, you'll transfer to another bus heading to the Ping'an Village entrance (平安停车场 Píng'ān Tíngchēchǎng), which takes an hour and runs about 20 RMB.
If you're going to Dazhai instead, catch a direct bus at the Guilin Hong Kong Hotel (桂林香江饭店 Guìlín Xiāngjiāng Fàndiàn), Guilin North Railway Station (桂林北站 Guìlín Běi Zhàn) or ​​Guilin West Railway Station (桂林西站 Guìlín Xī Zhàn). The bus journey takes about 2.5 hours and costs around 70 RMB.
By private car with driver
Hiring a private driver is another convenient (albeit more costly) option and most cab drivers in Guilin are willing to drive travelers to and from the terraces for several hundred RMB if reserved in advance.
If you have a Chinese or international drivers license and experience traversing China's winding country roads, renting a car and driving to the terraces on your own is sure to be an adventure.
Remember that no matter which method you choose, cars and buses alike can only take you as far as the entrance to Ping'an or Dazhai village. In order to arrive at your accommodations and the multiple scenic outlooks in each area, you'll usually need to hike for at least twenty minutes up the terraces' stone pathways.
When to visit Longsheng
One of the best aspects of visiting Longsheng is that its landscape transforms along with the changing seasons so that each time of year unveils a new face of the terraces.
Spring
In the spring, heavy rainfall throughout Guangxi turns Longsheng's stepped fields into reflective, mirror-like ponds, creating a sight that's much sought after by photographers visiting from far and wide.
Temperatures range from 11 to 27 degrees Celsius (50-80 degrees Fahrenheit) with sudden downpours particularly common, so be sure to pack waterproof gear if visiting between March and June.
Summer
In the summer months, when the rice grown in Longsheng is nearing maturation, the temperate, subtropical climate brightens the landscape into an effervescent green. Temperatures are hottest from June through September, with highs of 33 degrees Celsius (91 degrees Fahrenheit) during the day.
However, nights can feel significantly cooler, so be sure to bring plenty of layers when venturing around Longsheng during the summertime.
View this post on Instagram
Autumn
Harvest season, which falls from mid-September to mid-October, is the peak period for visiting the terraces, partly due to the comfortable weather. During these few weeks, the terraced rice plants are long and golden, and the atmosphere is especially cheerful as villages bustle with farmers preparing for the autumn harvest.
Winter
Winter months tend to be cold and dry with temperatures as low as 5 degrees Celsius (41 degrees Fahrenheit). While crops generally aren't harvested at this time of year and therefore the terraces are somewhat less aesthetically pleasing, one upside is that the area is less crowded.
The misty weather common in winter also gives the region an otherworldly and mysterious appearance. Although snowfall is rare, lucky winter guests may have the chance to witness enchanting snow-covered terraces when visiting from December through February.
Make the most of your travels
In addition to admiring the landscape, one of our favorite aspects of visiting Longsheng is interacting with the friendly residents. Before heading out on your adventure, brush up on your survival Chinese in order to make the most of your travels and build meaningful connections with the people you meet along the way.
Better yet, consider joining CLI's Immersion Program in Guilin and visiting Longsheng as a weekend getaway during your stay.
The CLI team looks forward to welcoming you to Guangxi!
Longsheng Rice Terraces vocabulary
| Hànzì | Pīnyīn | Definition |
| --- | --- | --- |
| 广西壮族自治区 | Guǎngxī Zhuàngzú Zìzhìqū | Guangxi Zhuang Autonomous Region |
| 龙胜 | Lóngshèng | Longsheng |
| 梯田梯田 | Lóngjí Tītián | Longji Rice Terraces |
| 徒步路径 | túbùlùjìng | hiking trail |
| 少数民族 | shǎoshù mínzú | ethnic minority |
| 壮族 | Zhuàngzú | Zhuang ethnic minority |
| 瑶族 | Yáozú | Yao ethnic minority |
| 苗族 | Miáozú | Miao ethnic minority |
| 红瑶长发女 | hóng Yáo chǎngfā nǚ | long-haired Red Yao women |
| 表演 | biǎoyǎn | performance |
| 温泉 | wēnquán | hot spring |
| 民宿 | mínsù | inn |
| 竹筒饭 | zhútǒngfàn | bamboo rice |
| 腊肉 | làròu | Chinese smoked pork |
| 龙脊茶叶 | Lóngjí chá | Longji tea |
| 糯米酒 | nuòmǐ jiǔ | rice wine |
| 一路平安 | Yīlù píng'ān | safe travels (a fixed Chinese phrase) |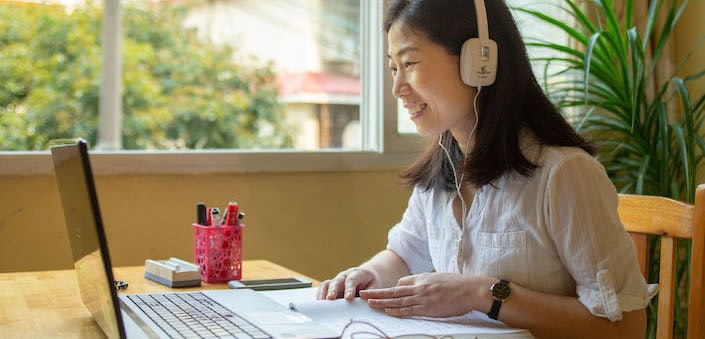 Free 30-minute Trial Lesson
Free 30-minute Trial Lesson
Continue Exploring