Discover the Magic of Guilin Rice Noodles: A Culinary Journey Through Flavor and Tradition
Guilin rice noodles, or 桂林米粉 (Guìlín mǐfěn), is the ultimate dish to try in CLI's beautiful home city of Guilin. These straightforward yet filling noodles are served in a variety of ways.
To enjoy the complete gastronomic experience, you'll need to understand how mifen (pronounced like English "me fun") is best enjoyed, learn the key ingredients and familiarize yourself with useful Chinese phrases. Read on to learn more about Guilin rice noodles!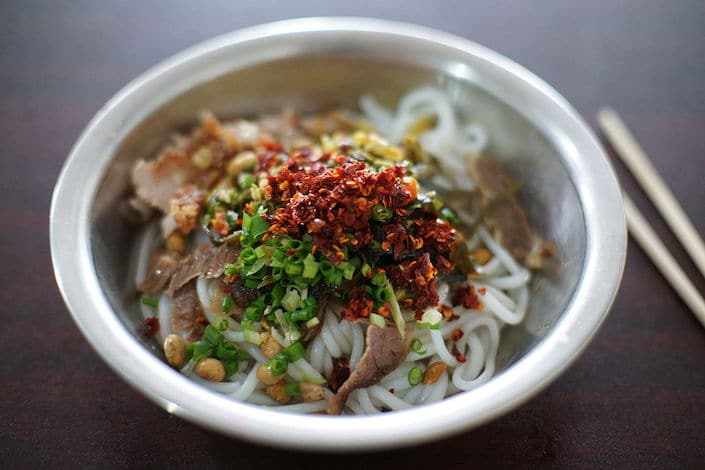 History of Guilin Rice Noodles
An essential part of daily life for modern Guilin residents, rice noodles have been a staple of the local diet for thousands of years. As legend has it, the dish was first enjoyed over 2,000 years ago during China's Qin dynasty (221 BCE), an era in which many of the nation's basic geographic boundaries and administrative systems were established.
In an effort to unify the country's various kingdoms, Emperor Qin Shi Huang dispatched thousands of troops from northern China to the southern borderlands of present-day Guangxi. There, the soldiers defended against local warring tribes and constructed the Lingqu Canal, an impressive waterway used to transport supplies within the region and strengthen the frontier. It was in this context that Guilin rice noodles were born.
Rice, noodles or both?
Accustomed to eating wheat which grew more vigorously in the dry terrain of northern China, the Qin soldiers weren't big fans of the south's rice-heavy diet. In order to appease their palates, a local general ordered the army cooks to transform common rice flour into long noodles, which were served in a bowl of medicinal soup flavored with Chinese herbs to cure the soldier's ailments.
This new dish quickly became popular and, over two-thousand years later, remains so beloved in the region that it's almost synonymous with the city of Guilin itself. Today, mifen restaurants can be found on just about every corner in Guilin, with some open 24 hours. Noodles cost a very reasonable 3-10 RMB a bowl.
Both cheap and satisfying, it's no wonder that these tasty noodles are enjoyed by locals and visitors alike. 
View this post on Instagram
Crafting the Perfect Bowl
When it comes to savoring the ultimate bowl of mifen, there's more than just noodles involved. In fact, this flavor-packed meal includes quite a few ingredients.
The noodles themselves, which are made of rice flour, water and vegetable oil, are complemented by equally important condiments including gravy, meat and toppings. When combined, these key ingredients melt together in perfect harmony to create a seriously satisfying meal.
Serve 'em up
So, how are rice noodles served and how does one best enjoy them?
When you arrive at any mifen restaurant, first thing's first; you'll walk right up to the counter and order your noodles. The server will first ask how many 两 (liǎng, a bundle equal to about 50 grams) of rice noodles you'd like — two is standard, while hungry noodle-lovers might opt for three.
At this stage, you may also choose to purchase add-ons such as a hard boiled egg (卤蛋, lǔdàn) or tofu skin (豆腐皮 dòufupí). Additionally, while rice noodles are typically round, they can also be enjoyed flat 切粉 (qiēfěn), so you may be asked which shape you'd like depending on the restaurant.
Upon paying, you'll be handed a ticket with your order information. Give the ticket to the next attendant, who will place a bundle of fresh noodles into a long sieve ladle and dip them into a vat of boiling water to heat them up. The noodles will then be transferred to your bowl and passed to the next stage of the assembly line for gravy and meat.
The gravy (卤水, lǔshuǐ), a brown brine sauce, is considered the soul of the bowl and, while the secret recipe varies from shop to shop, it is typically flavored with some combination of Chinese herbs and meat.
After dolloping a spoonful of gravy onto the noodles, your chef will likely add crispy meat (usually thin cuts of pork and/or beef). Some restaurants will also sprinkle in a few deep-fried soybeans before delivering the warm bowl to you.
All the accoutrements
Now, it's your turn to add toppings and broth. The toppings, included in the price of your mifen, are usually stationed next to the counter in various self-serve bowls.
Fixings may vary and generally include pickled vegetables (raddish, bamboo shoots and green beans are most common), sliced green onions, cilantro, roasted peanuts and chili flakes — remember to review the full mifen vocabulary list at the bottom of this article to prepare yourself before dining!
Once you've added all the accoutrements, it's time to soak your noodles in soup (usually a light, pork-based broth) from the metal container by the toppings bar as your final step.
View this post on Instagram
Sit Back and Savor
While you're welcome to savor your own bowl however you see fit, you'll notice that locals typically mix all the ingredients together and take a whiff of the noodly aroma before digging in.
Most people start with the meat slices and noodles, then slurp up the remaining broth which has now become extra flavorful after soaking up all those scrumptious toppings.
For anyone who's added a few extra chili peppers, don't forget to wash down your noodles with a glass of cool 豆浆 (dòujiāng, soy milk) to ease the spice!
The Complete Recipe
Is your mouth watering yet? Fortunately, thanks to the high number of Guangxi locals immigrating abroad and globe-trotting travelers visiting Guilin, mifen restaurants can now be found in many major cities across the world.
Still, there's something satisfying about cooking up a dish on your own, so why not try making mifen at home? Head to your local Asian supermarket to pick up all the ingredients and try recreating this beloved dish from the comfort of your own kitchen.
The following recipe serves two hungry diners (check out the original recipe here).
Ingredients
1 lb or 500 grams of rice noodles (dried or fresh) 

Bone broth or plain water for boiling 

½ cup of pickled veggies according to your preference

Chopped cilantro 

Chopped scallions

Fresh ground chili peppers

A handful of fried soybeans or peanuts 

10 slices of thinly sliced, pre-braised beef or pork shank soaked in braising sauce
Directions
After the rice noodles are boiled, fluff them up in a colander to separate them, then divide the noodles into two bowls.
Next, pour some of your broth into each bowl based on your preferences for dry or soupy noodles.
Add the braised meat sauce, meat slices, and remaining ingredients equally between bowls, then toss and enjoy!
This recipe is just one simple way to prepare a delicious bowl of Guilin rice noodles at home.
Regional Variations
While traditional mifen may be all the rage across Guangxi, many cities in this autonomous region have come up with their own take on the classic dish. If you're craving more of a flavor adventure during your travels around Guilin, check out the below variations on the classic rice noodles.
Liuzhou: 螺蛳粉 (luósīfěn)
Nicknamed the world's smelliest noodle, luosifen (螺蛳粉 luósīfěn) hails from Guilin's neighbor to the north, 柳州  Liǔzhōu city. Famous for its strong, sour scent, which is mouth watering to some and compared to the stench of old gym socks by others, luosifen is truly a one-of-a-kind dish due in part to its unusual main ingredient: snails.
While your average bowl of luosifen may not include the snails themselves (those deluxe goodies usually cost extra), the broth is made by slowly simmering the shells and meat. This unique odor, paired with the secondary ingredient of pickled bamboo shoots, makes the dish a true culinary adventure.
Add peanuts, sour radish, black fungus, string beans, and crispy tofu skin for the ultimate local experience.
Nanning: 老友粉 (lǎoyǒufěn)
Translating directly as "Old Friend Rice Noodles," laoyoufen (老友粉 lǎoyǒufěn) are unique to Nanning, the capital of Guangxi Zhuang Autonomous Region.
The origin story of this special dish is one rooted in friendship: in the 1930's, an elderly man visited his favorite tea house everyday. After he didn't show up for several days due to illness, the owner of the tea house decided to cook him up a bowl of hot-and-sour noodles consisting of black beans, chili pepper, minced garlic, pickled veggies and fermented soybeans.
The spicy dish helped the man recover quickly, a fact which was celebrated in the official name that commemorates their friendship. Beloved today for its cold-busting capabilities, this flavor-rich soup is both hearty and soul-warming.
Rice Noodles in Guilin: Our Top Restaurants
Is your stomach grumbling yet? Whether it's breakfast, lunch or dinner, you can never go wrong with a satisfying bowl of mifen when visiting Guilin. Fortunately, you won't have to look far to find a decent restaurant to indulge your cravings.
Since you may be overwhelmed by the sheer number of choices, check out our top picks for the best restaurants in town, listed below in no particular order:
1. Laodongjiang Rice Noodles 老东江米粉 (Lǎodōngjiāng Mǐfěn)
Laodongjiang 老东江米粉 (Lǎodōngjiāng Mǐfěn) is one of the best known rice noodle restaurants in Guilin and you'll be hard pressed to find a local who doesn't know it.
Busy from morning until night, it's famous for serving up a thicker gravy and is conveniently located across from Seven Star Park on the corner of the bustling Shijiayuan, another delicious food street worth strolling down before or after your meal.
Address: No. 3, Shijiayuan Road, Qixing District. 七星区施家园3号
2. Chongshan Rice Noodles 崇善米粉 (Chóngshàn Mǐfěn)
This rice noodle-chain restaurant is a good choice for both first-time travelers and seasoned mifen-lovers because it keeps things simple without sacrificing flavor.
A chain restaurant since 1986, Chongshan 崇善米粉 (Chóngshàn Mǐfěn) has at least four locations in Guilin. The central branch is located next to KFC on Yiren Pedestrian street downtown.
Address: No. 5 Yiren Rd Pedestrian St, Xiufeng District. 秀峰区依仁路5号
3. Minggui Rice Noodles 明桂米粉 (Míngguì Mǐfěn)
Minggui 明桂米粉 (Míngguì Mǐfěn) is another traveler-friendly but delicious option that will leave you hungry for another bowl.
With a location just down the street from the CLI Center, Minggui is a favorite of CLI students and offers plenty of delicious add-ons like pickled eggs, tofu skin and breadsticks. What could be better? Minggui is open 24 hours, making it perfect for a late night snack.
Address: No. 45 Lijiang Rd., Seven Star District. 七星区漓江路 45号
4. Qingyun Soup Noodles 青云汤粉 (Qīngyún Tāngfěn)
Unlike the other options above, Qingyun 青云汤粉 (Qīngyún Tāngfěn) always serves their rice noodles in a savory, warming broth and is an excellent choice for a cold, rainy day.
It's situated near the main Guilin train station in a historic neighborhood called 铁西 Tiexi, so you can truly enjoy the city's local flair while dining.
Address: No.22 Second West Road, Xiufeng District. 秀峰区环城西二路22号
An Unmissable Treat
We hope you enjoyed learning about Guilin rice noodles as much as we enjoyed sharing them with you! Remember, no trip to Guilin is complete without devouring at least a few bowls of mifen along the way, so be sure to indulge yourself when traveling or studying in Guilin.
If you're not currently in China but ready to continue your journey virtually by learning about Chinese language and culture with a native speaker, CLI's online language lessons can help bring the flavors of China right to you.
Now, who's up for some noodles?
Essential Guilin Rice Noodle Vocabulary
| Hànzì | Pīnyīn | Definition |
| --- | --- | --- |
| 桂林米粉 | Guìlín mǐfěn | Guilin rice noodles |
| 请来一碗米粉,二两! | Qǐng lái yī wǎn mǐfěn, èr liǎng! | I'll have a bowl of rice noodles (two bundles)! |
| 加一杯豆浆 | jiā yī bēi dòujiāng | add a glass of soy milk |
| 加个卤蛋 | jiā gè lǔdàn | add a braised egg |
| 加个豆腐皮 | jiā gè dòufupí | add some tofu skin |
| 不放肉! | bù fàng ròu | don't add meat |
| 不放猪肉! | bù fàng zhūròu | don't add pork |
| 切粉 | qiēfěn | flat rice noodles |
| 葱花 | cōnghuā | chopped onions |
| 酸豆角 | suāndòujiǎo | pickled string beans |
| 酸菜 | suāncài | pickled cabbage |
| 酸笋 | suān sǔn | pickled bamboo shoot |
| 酸萝卜 | suān luóbo | sickled radish |
| 辣椒 | làjiāo | chilli pepper |
| 香菜 | xiāngcài | cilantro |
| 卤水 | lǔshuǐ | gravy (used in mifen) |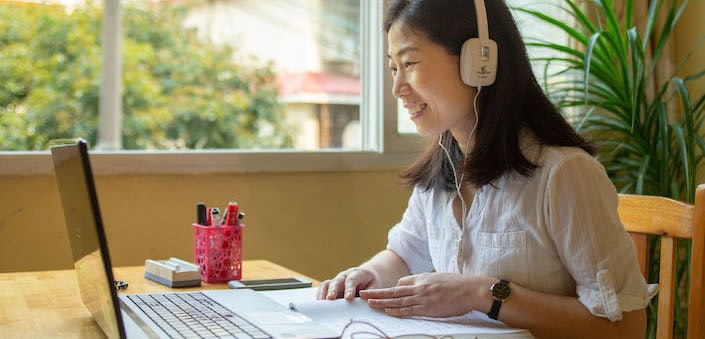 Free 30-minute Trial Lesson
Free 30-minute Trial Lesson
Continue Exploring