Guilin's Seven Star Park: Everything You Need to Know
Sprawling across almost 300 acres, Seven Star Park is the perfect spot to discover the natural landscape and distinct culture of Guilin. This urban park is home to an array of hikeable karst mountains, imperial era antiquities, and ethereal limestone caves. Check out our guide to ensure that you make the most of all that this popular park has to offer.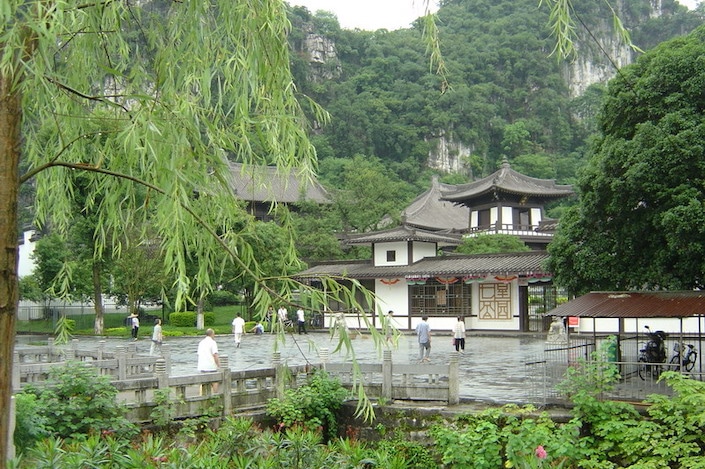 What is Seven Star Park?
Known in Chinese as 七星公园 (Qīxīng Gōngyuán), Seven Star Park is the largest park in Guilin. It covers an area of approximately 120 hectares, or 297 acres, the equivalent of about 225 football fields. This sprawling park is located in central Guilin on the east bank of the Li River (漓江 Líjiāng), less than one mile from the city's downtown area. 
Seven Star Park is named after seven grassy karst peaks nestled within its perimeter. Seen from above, these seven summits resemble the outline of the 北斗七星 (Běidǒuqīxīng), or the Big Dipper. Jungly and viridescent, nearly 85% percent of the park's landscape is covered in lush vegetation. 
Many of Seven Star Park's karst hills also contain natural stalagmite and stalactite caves, which are hollow tunnels formed through gradual erosion of soluble rockbed by acidic rain water over the course of millions of years. 
In addition to an abundance of stroll-worthy peaks and caverns, the park also boasts sprawling meadows, ancient bridges, Buddhist temples, an outdoor rock climbing wall, and even a small zoo. 
Seven Star Park isn't just a top-rated bucket list destination for domestic and international travelers, however. It's also a bustling social hub for Guilin locals. In fact, some of the park's most frequent visitors include local families, retirees, and students relaxing during their free time. 
A walk back in time
Seven Star Park first became a destination for travelers to Guilin during the Sui (581-618 CE) and Tang (618-907 CE) dynasties. Inscriptions from Tanqian, a prominent Buddhist monk and meditation leader who lived during the Sui era, remain engraved at the entrance of the park's renowned Seven Star Cave (七星岩 Qīxīngyán). 
During the Anti-Japanese War, much of the park's infrastructure and many gardens were destroyed. A memorial commemorating the three generals and nearly eight hundred revolutionaries who were killed while hiding out in the park's limestone caves during the war serves as tribute to this tragic part of Guilin's history. 
After the end of the Chinese Civil War, efforts to restore the park began in the 1950s and the ancient Qixing Cave opened to the public as an official tourist attraction in the spring of 1956. 
Throughout the second half of the twentieth century, bridges, statues, and other attractions inside the park were constructed and refurbished, gradually sculpting the contemporary urban oasis that continues to welcome visitors today.
Beware the wild monkeys!
Abundant, diverse flora and unique karst formations aren't the only wild aspects of Seven Star Park waiting to be discovered. In fact, one of the most memorable experiences to be had here is an encounter with the famous macaque monkeys (猴子 hóuzi), originally introduced to the area in the early 1990s. 
While you're not guaranteed to come across a monkey during your visit, lucky visitors may witness a few scampering across the karst cliffs. Try hanging out at Seven Star Park around dinner time to catch the monkeys on the prowl for their next meal.  
The notorious macaques of Seven Star Park are generally not threatening and usually avoid contact with people. However, they are by no means gentle or cuddly, and many visitors carrying food within the park have been approached by the creatures at their most hostile and hungry moments.
In order to keep the peace, guests in the park are asked to keep their distance from the monkeys and avoid provoking them. 
View this post on Instagram
What to see at Seven Star Park
What with all the monkeys, karst peaks, caves, and fun hang-out spots, 七星公园 (Qīxīng Gōngyuán) has more than enough activity going on to keep you occupied all afternoon. Read on for a few of our top picks when it comes to things to see and do inside Seven Star Park. 
Putuo Mountain 普陀山 (Pǔtuóshān)
Rising from the depths of Putuo Mountain (普陀山 Pǔtuóshān), one of the park's major mountains, are four of the park's seven karst "stars." These karst peaks are named after the real stars of the Big Dipper asterism: 天枢 (Tiānshū), 天璇 (Tiānxuán), 天玑 (Tiānjī) and 天权 (Tiānquán). 
A trek up the pedestrian-friendly stone walkways of Mt. Putuo will lead you past several shady pavilions and reveal stunning, panoramic views of the surrounding cityscape. 
The mountain is also home to a Tang dynasty Buddhist temple dedicated to the Avalokitesvara Bodhisattva. 
Check out CLI's video for a 360-degree look into the Qixia Temple at Putuo Mountain: 
Seven Star Cave 七星岩 (Qīxīngyán)
Seven Star Cave, also called Seven Star Rock or Qixia Cave, is ranked among Guilin's top six scenic areas and serves as an emblem of Seven Star Park and the city in general. 
During the Sui and Tang dynasties, poets wandering about the cave in search of artistic inspiration nicknamed it 神仙洞府 (Shénxiān Dòngfǔ), or "the residence of the gods."
Situated in the heart of Putuo Mountain, the cave is sectioned into three layers that stretch across an 800-meter tunnel. Visitors are able to tour the middle stratum, in which limestone pillars and mantels, each corresponding to an imaginative myth, are illuminated by multicolored light installations. 
Guihai Stone Forest 桂海碑林 (Guìhǎi Bēilín)
In China, it is widely accepted that the country's two most remarkable stele forests — that is, collections of inscribed stones, often used to mark graves or commemorate the accomplishments of the deceased — can be found in two locations: Beilin Museum in Xi'an and Guihai Stone Forest of Seven Star Park in Guilin. 
Guilin's Guihai Stone Forest is composed of roughly two hundred engraved stone tablets dating back to the Tang, Song, Yuan, Ming and Qing dynasties, the oldest of which was likely inscribed around 894 CE. 
The calligraphic inscriptions provide brief historical accounts of the political and economic circumstances during their respective periods. One famous tablet, for example, mentions the challenges of the elite ruling class during the late Northern Song dynasty.  
Park visitors may freely explore the steles, which are preserved in the 龙隐岩 (Lóngyǐnyán), or Longyin Cave, and an attached exhibition hall.
Planning your visit
Ready to start planning your journey to Seven Star Park? Ensure a smooth and successful experience by keeping the below travel tips in mind. 
Getting to Seven Star Park
Seven Star Park is located centrally in Guilin and is relatively easy to get to from any point in the city. The park has a few entrances, so the route you take to get there depends on which point you'd like to enter from. 
Travelers generally choose to arrive at the main entrance, or 正门 (Zhèngmén) located on 自由路 (Zìyóulù), and that's where a cab driver will usually drop you off unless you specify otherwise. 
See below for the four gates and their corresponding bus routes: 
正门 (Zhèngmén) on 自由路 (Zìyóulù): Bus No. 10, 11, 14, 18, 25, 30 and 31 

后门 (Hòumén) on 七星路  (Qīxīnglù): Bus No. 14, 25, 28, 30, and 31 

北门 (Běimén) on 栖霞路 (Qīxiálù): Bus No. 10 and 24 

桂海碑林大门 (Guìhǎi Bēilín Dàmén) on 龙隐路 (Lóngyǐnlù): Bus No.14, 25, 28, 30, and 31
Best times to visit
Boasting a warm, subtropical climate, Guilin's Seven Star Park is a fine destination at any time of year. The park is open every day of the year, except for some major Chinese holidays. 
If you're considering the best time to plan your visit, remember that autumn is widely considered the best season to travel to Guilin, since the weather is usually dry and temperatures are mild. 
In the winter months, Guilin temperatures can drop to around 12°C (53°F). Although this might sound warm to some visitors, high levels of humidity can make the air feel especially cold, so be sure to pack your coat and maybe even a few sweaters.
View this post on Instagram
Spring and summer in Guilin are known for being hot and humid, with average temperatures of 28°C (82°F) in the hottest summer months. Light, breezy clothes, sunglasses, and sunscreen are recommended for travelers heading to Seven Star Park during the hotter months. 
Sudden rain storms sometimes occur, particularly during May and June. Travelers visiting during these months would be wise to bring an umbrella and raincoat with them when exploring Seven Star Park.
Hours & tickets
Seven Star Park is open from 6 AM to 7:30 PM from March to November and 6 AM to 6:30 PM from December to February. Note that certain attractions within the park may close one hour earlier than the park itself. Most visitors spend two or three hours exploring the park. 
General entrance tickets to the park cost 55 RMB, though this doesn't include access to certain special attractions which are sold separately. For example, tickets for the Seven Star Cave cost 45 RMB, and tickets for the zoo cost 70 RMB. 
It is possible to get discounted tickets if you're traveling with a group or local tour guide, and it is also usually free to enter the park in the early morning or after dusk.   
Studying in China? Flash your student ID for a half-price ticket to Seven Star Park any time of day. Better yet, if you're studying in Guilin, prove it and you'll be able to enter the park for free!
View this post on Instagram
Live like a local in Guilin
Remember, there's a difference between being a tourist (游客 yóukè) and a traveler (旅行者 lǚxíngzhě). In order to take a deep dive during your adventures and experience a side of China that many tourists overlook, aim to spend as much time as possible immersed in the local community.
Consider visiting Seven Star Park early in the morning. That's when most locals head to the park to play cards, take part in exercises like tai chi or dancing, or just mingle with friends and neighbors. In order to get the full experience, head to the park around 7 AM to get an authentic glimpse of daily life in Guilin and maybe even meet some 当地朋友 (dāngdì péngyǒu), or local friends!
View this post on Instagram
Seven Star Park, a stone's throw from CLI
Speaking of immersion, did you know that the CLI Center is only a hop, skip and a jump from Seven Star Park? During your travels in Guilin, stop by CLI to meet our team of local and international educators and take the opportunity to get to know this one-of-a-kind city from those who know it best. 
Remember, no matter where you're headed, your travels in China will be more enriching if you have the cultural and linguistic skills needed to understand the things you'll see and the people you'll meet!
The following video was produced by the CLI team at Seven Star Park:
Seven Star Park Vocabulary
| 汉字 | Pīnyīn | English |
| --- | --- | --- |
| 七星公园 | Qīxīng Gōngyuán | Seven Star Park |
| 北斗七星 | Běidǒuqīxīng | Big Dipper |
| 朝代 | cháodài | dynasty |
| 猴子 | hóuzi | monkey |
| 公共 | gōnggòng | public |
| 碑 | bēi | monument; stele |
| 山峰 | shānfēng | mountain peak |
| 岩洞 | yándòng | cliff; rock |
| 寺庙 | sìmiào | temple |
| 散步 | sànbù | to go for a walk |
| 爬山 | páshān | to climb a mountain |
| 休闲 | xiūxián | leisurely |
| 游客 | yóukè | tourist |
| 旅行者 | lǚxíngzhě | traveler |
| 当地人 | dāngdìrén | local people |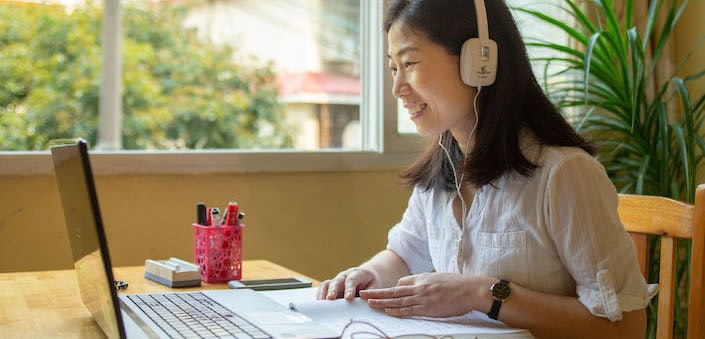 Free 30-minute Trial Lesson
Free 30-minute Trial Lesson
Continue Exploring