Guide to Guilin's Elephant Trunk Hill
CLI's home city of Guilin boasts some of the most spectacular scenic attractions in China, and Elephant Trunk Hill is ranked high among them. Nestled on the banks of the Li River, this charming hill deserves a place on your itinerary during your next trip to Guilin.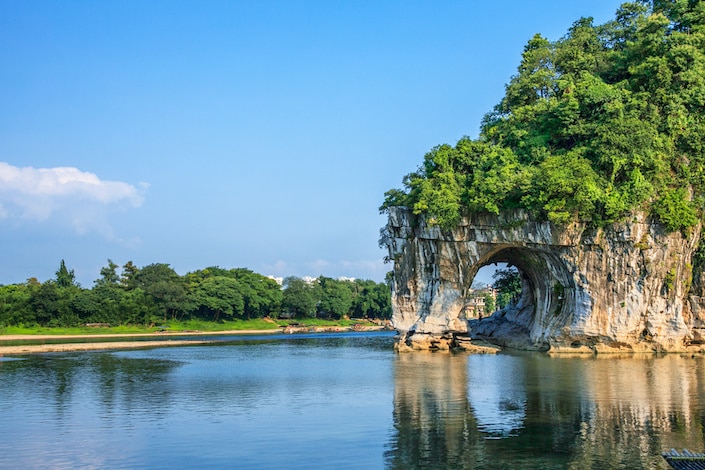 Flexible Scheduling, Affordable Pricing ✈️ ⛩️
Enroll in our Chinese language school in Guilin, China and learn Chinese through guided conversation and daily practice. Progress with your dedicated team of Chinese teachers online or in person.
CLI is a center for Chinese language and cultural studies in Guilin, China.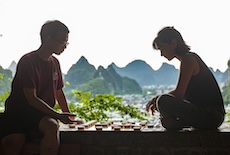 What is Elephant Trunk Hill?
Elephant Trunk Hill, or 象鼻山 (Xiàngbíshān; literally, "Elephant Nose Mountain"), is a natural karst rock formation situated along the junction of the Peach Blossom River and Li River in downtown Guilin. It is located about five kilometers from the CLI Center.
The top of Elephant Trunk Hill is approximately 200 meters above sea-level. It got its name because it looks like an elephant drinking water, with parts of the rock resembling the animal's trunk, legs and back.
Surrounding the elephantine formation itself is the greater Elephant Trunk Hill Park (象鼻山公园; Xiàngbíshān Gōngyuán) which was officially established as a public attraction in 1986, though it is thought to have been visited by tourists as early as the Tang dynasty.
Today, the park is considered emblematic of the city and is one of the first attractions that many travelers visit when exploring Guilin.
The legend of the Elephant God
Like many of Guilin's iconic karst mountains, Elephant Trunk Hill is associated with a legend explaining how it got its unique shape.
Most myths suggest that Elephant Trunk Hill is the embodiment of a divine elephant who resided in heaven with the Jade Emperor (玉皇 Yùhuáng), a celestial ruler often considered to be the first incarnation of God in traditional Chinese theology.
One version of the legend states that the Jade Emperor rode the elephant to Earth, either to conquer or simply pay a visit to the human world. Upon arriving in beautiful Guilin, the elephant was so awe-struck by the area's majestic rivers and mountains that he decided to stay forever.
Angered by this decision, the Jade Emperor threw his blade into the elephant's back as the elephant was drinking river water, turning him to stone. The pagoda that now sits atop the hill is said to be what remains of the emperor's sword.
Another version of the rock's origin myth states that the elephant became seriously injured as a result of carrying the Jade Emperor to Earth. Luckily, he was nursed back to health by impoverished but kind-hearted Guilin farmers.
In order to show his gratitude, the elephant donated his life to serving mankind, remaining on Earth where he serves as a protector for all that visit his resting place in the park.
The basics of karst geology
Karst mountains like Elephant Trunk Hill are made from water soluble limestone rocks that have been gradually eroded by acidic rain water over millions of years. Check out this video to learn more about how Guilin's otherworldly karst mountains were forged:
Regardless of how the monumental Elephant Trunk Hill came to be, it remains celebrated today as a signature piece of Guilin's unique topography. The hill's beauty helps contribute to the continued truth of the famous saying, 桂林山水甲天下 (Guìlín shānshuǐ jiǎ tiānxià); Guilin's scenery is the best on Earth!
What to do at Elephant Trunk Hill
During your visit to Guilin, it's worth setting aside time to explore Elephant Trunk Hill. In addition to admiring the rock formation itself, the surrounding park is home to charming stone pathways, tranquil bridges and elephant-themed statues that make for great photo-ops.
Water-Moon Cave 水月洞 (Shuǐyuèdòng)
Upon arriving at the hill, most visitors first notice the Water-Moon Cave, a 12-meter high, semicircular opening in the rock that represents the space between the elephant's trunk and legs.
During your visit, trek over to the mouth of the cave and spend some time cooling off in the shade of the elephant's rocky trunk, where you'll find several classical Song and Tang dynasty poems inscribed on the walls in Chinese characters.
Puxian Pagoda 普贤塔 (Pǔxiántǎ)
Erected during the Ming dynasty (1368-1644), the Puxian Pagoda is a two-story brick tower that sits atop the hill and can be reached by a quick hike up the hill's stone steps.
As mentioned above, the legend of Elephant Trunk Hill proclaims that the tower is actually the sword once thrown into the elephant's back by the angry Jade Buddha.
Yunfeng Temple 云峰寺 (Yúnfēngsì)
The Yunfeng Temple is another destination located within Elephant Trunk Hill Park. This temple is one of the most well-known temples in Guilin. It was originally built during the Tang dynasty (618-907) when it served as the home of Jianzhen, a prominent Chinese monk who helped spread Buddhism in Japan.
Later on, the temple served as a meeting place for soldiers during the Taiping Rebellion and was eventually reconstructed in the late 19th century.
Planning your visit
Ready to start planning your journey to Elephant Trunk Hill? Ensure a smooth and successful visit by keeping the below guidelines in mind.
How to get to Elephant Trunk Hill
Elephant Trunk Hill is located in downtown Guilin about a twenty-minute walk from Guilin Railway Station (桂林火车站; Guìlín Huǒchēzhàn). The park is about the same distance from the city's central walking street, Zhengyang Pedestrian Street (正阳步行街; Zhèngyáng Bùxíngjiē).
If you're traveling on foot, just type 象鼻山 or Elephant Trunk Hill into your smartphone navigator to help you find your way.
Any taxi driver in Guilin will know how to get to the park, so just show them these characters: 象鼻山. You can also do your best to pronounce the pinyin: Xiàngbíshān. Remember that depending on where you're coming from, a taxi ride from most places in the Guilin urban area to Elephant Trunk Hill park will usually cost you about 10-25 RMB.
Elephant Trunk Hill is also easily accessible by public bus, which generally costs 1-2 RMB per ride. Just hop on public bus line 2, 16, or 23 or Sightseeing Bus 1 (旅游观光1号线 Lǚyóu Guānguāng 1 Hàoxiàn) to the 象山公园站 (Xiàngshān Gōngyuánzhàn) — you can't miss the park entrance across from the bus stop.
When to visit
Elephant Trunk Hill is open to visitors year-round and makes for a pleasant activity no matter the season.
Autumn is an optimal time to visit Guilin due to milder temperatures and drier weather. During winter months, temperatures may drop to 12°C (53°F), so be sure to bring warm clothes as the moisture-rich air can sometimes make even mild temperatures feel rather bone-chilling.
Since spring and summer can be somewhat hot and humid, with average temperatures of 28°C (82°F) in the peak of summer, remember to bring plenty of breezy clothes and sunscreen.
Because Guilin has a subtropical climate, sudden rain storms sometimes occur, particularly during spring months, so it's a good idea to bring an umbrella and poncho out with you if you're exploring Elephant Trunk Hill in May or June.
Early risers should consider heading over in the morning to witness the hill at its most majestic and beat the daytime crowds. Evenings after sunset are also a good time to visit the park as you can enjoy a dazzling, special effects light show along the rocks, which adds to the festive ambience.
View this post on Instagram
Hours & tickets
Elephant Trunk Hill Park is open from 6:30 AM - 9:30 PM from April-November and 7:00 AM- 9:30 PM from December-March. Most visitors spend about one hour in the park.
General admission to the park costs 55 RMB and is free for children under 1.2 meters (3.9 feet). Note that boat and raft rides available in the park are not included in the entrance ticket.
Nearby sights in Guilin
While you're in the area, be sure to stop by these nearby destinations to soak up more of Guilin's unique atmosphere and landscape.
Two Rivers, Four Lakes 两江四湖 (Liǎngjiāng Sìhú)
The Two Rivers, Four Lakes scenic area is a waterway system comprised of the Li and Peach Blossom Rivers, and Fir, Banyan, Osmanthus and Wood Dragon lakes. Emerging from the waters of the Fir Lake are the famed Sun and Moon Pagodas (日月双塔; Rìyuè Shuāngtǎ), another landmark that's symbolic of Guilin.
Just a stone's throw from Elephant Trunk Hill, this area is perfect for a post-dinner stroll and is also an ideal spot for people watching. Perhaps best of all, walking around this labyrinthine canal system is completely free!
Seven Star Park 七星公园 (Qīxīng Gōngyuán)
Sprawling across almost 300 acres, Seven Star Park is the largest park in Guilin and has a number of hikeable karst mountains, attractions and even wild monkeys!
It's best to visit in the morning for the full local experience, as many Guilin residents congregate in the park to exercise and mingle. The park is usually free to enter in the early morning and after dusk.
Jinjiang Princes' Palace 靖江王城 (jìngjiāng wángchéng)
Known by some as China's second Forbidden City, the Jinjiang Princes' Palace was built to be the official residence of Zhu Shouqian, grandnephew of the Ming dynasty's founding emperor.
The site later became the headquarters of Sun Yat-Sen, an important political figure in Chinese history who helped overthrow the Qing dynasty.
Today, the palace is one of the three campuses of Guangxi Normal University and an ideal spot to admire the grandeur of imperial Chinese architecture.
Guilin, home of CLI
While you're in Guilin, we invite you to join the CLI community by taking a Chinese lesson with our instructors as part of your travel itinerary. Remember, your adventures in the Middle Kingdom will be more rewarding if you have some Chinese language skills under your belt.
No matter when you plan to head to China, don't forget to take a selfie at Elephant Trunk Hill and enjoy the ethereal beauty of CLI's one-of-a-kind hometown, Guilin.
Elephant Trunk Hill vocabulary
| 汉字 | Pīnyīn | English |
| --- | --- | --- |
| 象鼻山 | Xiàngbíshān | Elephant Trunk Hill |
| 公园 | gōngyuán | park |
| 玉皇 | Yùhuáng | Jade Buddha |
| 大象 | dàxiàng | elephant |
| 喀斯特地貌 | kāsītè dìmào | karst topography |
| 地质 | dìzhì | geology |
| 桂林山水甲天下 | Guìlín shānshuǐ jiǎ tiānxià | "Guilin's scenery is the best on Earth" (a famous Chinese saying) |
| 旅游 | lǚyóu | tour |
| 行程 | xíngchéng | travel itinerary |
| 打卡 | dǎkǎ | to check in at a famous landmark or attraction via social media |
| 名胜古迹 | míngshèng gǔjī | historical sites and scenic spots |
| 买票 | mǎi piào | to buy a ticket |
| 自拍 | zìpāi | selfie; to take a selfie |
| 爬山 | páshān | to hike a mountain |
| 气氛 | qìfēn | atmosphere; mood |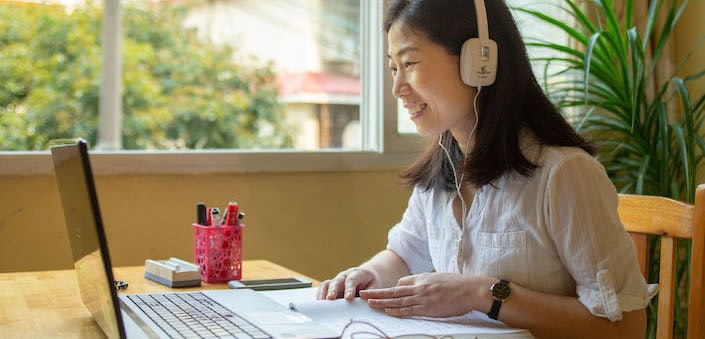 Free 30-minute Trial Lesson
Free 30-minute Trial Lesson
Continue Exploring