Ultimate Guide to Social Media in China
Utilizing China's home-grown social media platforms is an excellent way to gain insight into the complex and always fascinating world of modern Chinese culture. This is particularly true if you find yourself traveling or living in China. We invite you to consult CLI's Ultimate Guide to Social Media in China to learn about each of the various social media platforms in use in China today.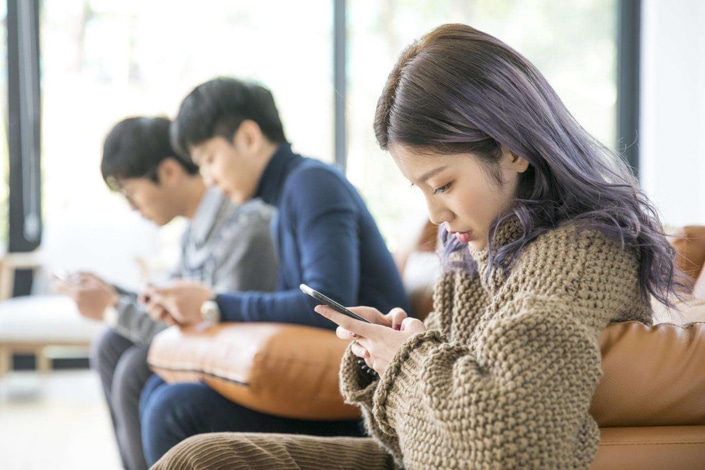 Flexible Scheduling, Affordable Pricing ✈️ ⛩️
Enroll in our Chinese language school in Guilin, China and learn Chinese through guided conversation and daily practice. Progress with your dedicated team of Chinese teachers online or in person.
CLI is a center for Chinese language and cultural studies in Guilin, China.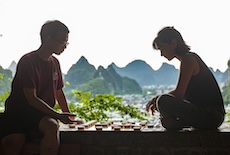 Nowadays, more and more aspects of daily life in China take place online.
Whether you're looking to chat with friends, watch videos, meet new people, transfer money, pay your bills, recharge your phone, or pretty much anything else, don't worry. In China, there's an app for that!
WeChat | 微信 | Wēixìn
Despite its name, which translates word-for-word to "micro message," WeChat is the all-in-one holy grail of Chinese social media.
If you've ever lived or traveled in China, you know just how ubiquitous and essential it is. Since its release in 2011 by Tencent (腾讯网, Téngxùnwǎng), WeChat now has over a billion active users per month, hailing both from within China and abroad.
Not only can you use WeChat to send text messages and make phone calls like any other telecommunication app, but crucially it's also used daily by countless netizens for the following functions:
transfer files

share and upload photos and videos

upload, share and view "stories" (much like Instagram)

share real-time location with friends

pay for goods

transfer money

recharge your phone's data and voice plan

invest in financial instruments

identify charities and donate money

monitor your health

book plane and train tickets

buy movie tickets

book hotels

and more!
We're not kidding. WeChat is often referred to as a "super app." Check out the following video from the New York Times to gain more insight into what we mean.
On WeChat, you can also subscribe to "Public Accounts" or "公众号" of authors, podcasts, retail stores, and more to receive their latest publications, discounts, and any other information via push feeds.
With WeChat's "wallet" feature, you can pay for products in shops, restaurants, or online (and even pay utility bills and top-up mobile phones). You can transfer money to other users, order food, book a taxi, buy train and plane tickets, or even rent a public bike!
As you can see, the list is quite extensive, and digital wallets and QR codes have paved the way for a digital payment revolution in China. In fact, sending virtual red envelopes during the Chinese New Year has largely replaced the tradition of giving real red envelopes as gifts.
If any single app can be deemed essential for those who engage with China, it's WeChat.
Sina Weibo | 新浪微博 | Xīnlàng Wēibó
Launched by Sina Corporation in 2009, Weibo is a social media platform that's extremely popular in China and has over 550 million active users per month (AUM).
Similar to Twitter, Weibo is a micro-blogging platform used by everyday netizens as well as celebrities and influencers.
Much like Instagram and YouTube, it's also a place for influencers to share, promote, and sell products. Many users like to follow their favorite artists to keep up to date with their latest work.
DouYin | 抖音 | Dǒuyīn
Better known by its Western brand name TikTok, DouYin gained international popularity in 2018 when it joined forces with Musical.ly, a Shanghai-based social media service that has since been phased out and merged under the TikTok corporate umbrella.
For those old enough to remember, TikTok is very much similar to Vine, an American short-form video hosting app where users could create short looping video clips.
TikTok has stepped things up a notch by providing many different effects, filters, and music choices for users to add to their maximum-60-second videos.
As you may have heard, TikTok has become a flashpoint in US-China relations as the US government in early August 2020 moved to severely limit access to the app in the American market. This is discussed in more detail in our guide's "Chinese Social Media Controversies" section below.
Zhihu | 知乎 | Zhīhū
Very much like the Quora of the Western world, Zhihu is a community question-and-answer website (and app) used by Sinophones to search for expert advice and gain knowledge and insight into different topics.
Initially, Zhihu was only available to a select group of users by invitation and referral. This "invitation-only" blogging platform ensured that only verified experts were able to host discussions to attract new users (who then had to apply and wait to be approved).
Even today, these verified experts have "official accounts," allowing users to interact with experts and companies in a wide range of industries.
Although it's not as international as Quora, Zhihu has over 220 million active users and is considered a highly intellectual space. Their target audience consists of people who enjoy long articles and engaging in serious discussions.
Fun fact: The name 知乎 (Zhīhū) means 'Do you know?' in classical Chinese, which we think adds an additional intellectual flair!
Tencent QQ |  腾讯 | Téngxùn
TencentQQ is amongst the oldest instant messaging software creations in the Chinese digital world. Launched in 1999, it was (and still very much is) used as an instant messaging service.
Since QQ is also owned by Tencent, you may be wondering how it is different from WeChat. QQ is much more like MSN Messenger (later named Windows Live Messenger, for those who are old enough to remember), and it's mainly a social networking tool used by Chinese high school and university students.
WeChat on the other hand is for a more "grownup" audience and is widely utilized in the professional workplace.
Video websites
There are many alternatives to video sites such as YouTube in China, with the most popular ones being Tudou, Youku, and iQIYI. They all offer premium content that you can subscribe to on a monthly, quarterly, or annual basis. The subscription fees are extremely affordable and typically only cost about 5 to 10 CNY a month!
You can use any of these sites to watch Chinese TV shows and films. The great thing is that all Chinese TV shows are subtitled (in Chinese and sometimes even in English), so you can use it to improve your Chinese.
Dating apps
With the latest studies indicating that modern Chinese singles are highly dissatisfied with their relationship status, it comes as no surprise that the Chinese digital market is saturated with many dating apps. Some of the most popular romantic apps include:
Momo 陌陌 (Mòmò)

Tantan 探探 (Tàntàn)

Qing Chifan 请吃饭 (Qǐng Chīfàn)

YiDui 伊对 (Yī Duì)
Most of these apps provide a Tinder-like swipe interface, whereas YiDui prides itself on its video-first approach to matching users.
Chinese Social Media Controversies
Despite the large collection of incredibly useful apps and websites, social media in China has attracted much international criticism and controversy.
Censorship
Over the years, several Chinese social media platforms have been heavily scrutinized for their strict censorship practices aimed at anything political.
While in the West sites like Twitter and Facebook are often utilized to engage in political discussion and to organize rallies, Mainland Chinese social media users are on the receiving end of a variety of strategies and tactics to limit and discourage open political discussion.
For example, WeChat utilizes a combination of automated and human censorship mechanisms which use blacklisted keyword filters that automatically block the delivery of any messages containing "politically sensitive" references that do not fall in line with government regulations.
With increasingly well-honed censorship algorithms, even images and files are under surveillance. This article by CitizenLab details WeChat surveillance and even the monitoring of accounts registered outside of China.
$37.89

Through years of investigation James Griffiths gained unprecedented access to the Great Firewall and the politicians, tech leaders, dissidents and hackers whose lives revolve around it.
We earn a commission if you make a purchase, at no additional cost to you. 12/06/2023 15:30 pm EST.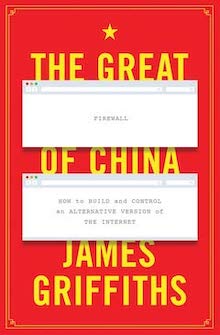 Banned apps and political tensions
Anyone who has ever traveled to China can tell you that many of the websites and apps that we are accustomed to in the West are blocked in China. You will need to use a workaround to access Google, Facebook, Instagram, Twitter, the New York Times, the Wall Street Journal, and many others.
China's policing of Western apps started with a ban on Facebook in 2009, and Twitter and Google were blocked soon after, which then paved the way for a series of restrictions on foreign websites and apps.
More recent examples of Chinese censorship include the expulsion of three Wall Street Journal reporters, who were accused of "racially discriminatory language" in an opinion piece published on February 3rd, 2020.
However, we are now seeing a role reversal with an increasing trend of Chinese apps being banned by other governments. For example, due to increasing political tensions that recently boiled over at a disputed China-India Himilayan border, India banned 59 Chinese apps, citing data, security, and privacy issues.
As discussed earlier in this guide, the US government is also considering various means of limiting access to WeChat and TikTok.
The US and India are not the only countries expressing security concerns. Other countries such as Russia and Australia fear that many Chinese digital products violate privacy rules since they adhere to the strong censorship and interception protocols set by the Chinese government.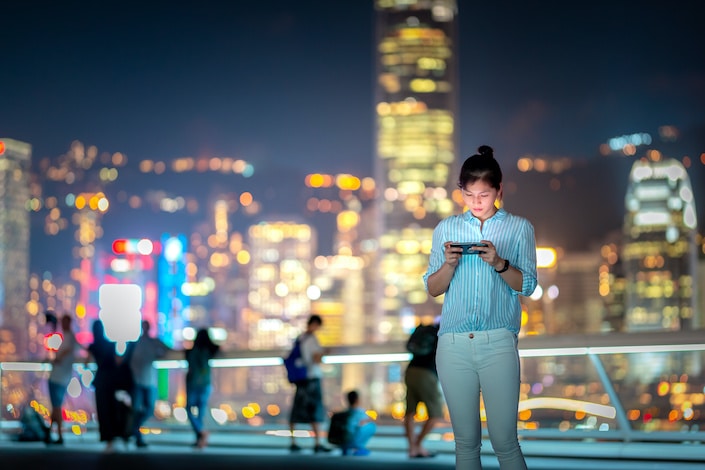 "Made in China:" A Source of National Pride
Although many foreigners prefer to find ways to continue accessing blocked sites and apps when in China, the majority of the Chinese population is quite happy to stick to their own creations.
Instead of following and adapting to the Western social media landscape, China has decided to pave its own way and create its own products, making influential moves in the world's digital market.
With its domestic netizens in mind, Chinese social media is created by and for the Chinese. It reflects and caters to the Chinese market's priorities of usefulness, convenience, and affordability.
With China's seemingly ever-growing economic might, many countries are now catering to Chinese consumers and even using Chinese social media to promote their products.
For example, many retailers across the world now accept WeChat Pay and AliPay as a method of payment and even provide QR codes which when scanned can showcase the given company's products.
In many ways, China's increasing economic clout has meant that many foreign businesses have no choice but to cater to the Chinese market in order to reap the benefits of its consumer power.
Over the years, China has made rapid advances in technology. A pioneer with its own creations, China's so-called super apps have rightfully become a source of national pride.
Interested in learning more about life in modern China? Check out our article on Chinese standards of beauty or read up on the latest Chinese podcasts and TV shows to get your Chinese pop culture fix.
Chinese Social Media Vocabulary
| Chinese | Pinyin | English |
| --- | --- | --- |
| 社交媒体 | shèjiāo méitǐ | social media |
| 发表 | fābiǎo | to publish |
| 信息 | xìnxī | news, information |
| 上传 | shàngchuán | to upload |
| 照片 | zhàopiàn | photo |
| 点赞 | diǎnzàn | to "like" (a post, photo etc) |
| 订阅 | dìngyuè | to subscribe |
| 留言 | liúyán | to comment |
| 平台 | píngtái | platform |
| 视频 | shìpín | video |
| 注册 | zhùcè | to register |
| 用户名 | yònghùmíng | username |
| 密码 | mìmǎ | password |
| 输入 | shūrù | to enter (text in typing) |
| 账号 | zhànghào | account |
| 编辑 | biānjí | to edit |
| 回复 | huífù | to reply |
| 分享 | fēnxiǎng | to share |
| 帖子 | tiězi | post |
| 状态 | zhuàngtài | status |
| 通知 | tōngzhī | notification |
| 关注 | guānzhù | to follow |
| 加为好友 | jiā wèi hǎoyǒu | to add as a friend |
| 邀请 | yāoqǐng | to invite |
| 探索 | tànsuǒ | to search |
| 表情 | biǎoqíng | emoji |
| 传送 | chuánsòng | to send/delivery |
| 软件 | ruǎnjiàn | app |
| 检举 | jiǎnjǔ | to report |
| 群聊 | qúnliáo | group chat |
| 朋友圈 | Péngyǒuquān | Moments (WeChat "news feed") |
| 流行 | liúxíng | popular |
| 很红 / 红起来了 | hěn hóng/ hóng qǐláile | popular; to become popular |
| 资料 | zīliào | data |
| 隐私 | yǐnsī | privacy |
| 审查 | shěnchá | censorship; to censor |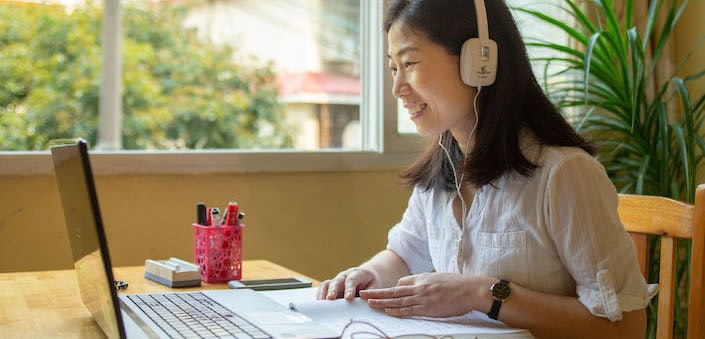 Free 30-minute Trial Lesson
Free 30-minute Trial Lesson
Continue Exploring