Join Dayong, a CLI team member since 2009, as he learns about Master Huang's journey into tàijíquán. While watching the video, follow along in the below transcript for the Chinese characters, pinyin, and English translation. You can also use this link to download a PDF containing the interview transcript and vocabulary list.
Jump to the vocabulary list.
Taijiquan Interview Transcript
Dayong (00:05 - 00:11)
请问...你可不可以简单地自我介绍一下?
Can you please briefly introduce yourself?
黄师傅 (00:12 - 00:24)
大家好!我叫黄剑,桂林人,是陈氏太极拳第十三代传人,现在呢三十七岁。谢谢!
Hello everyone! My name is Huang Jian, I'm from Guilin, a learner of the thirteenth generation Chen-style Tai Chi, and am thirty-seven now. Thank you!
Dayong (00:26 - 00:35)
黄老师黄师傅,哎,那您什么时候开始学习了这个太极拳?
Master Huang, when did you begin learning Taiji?
黄师傅 (00:36 - 01:01)
刚开始接触太极拳那应该是九五年,那个时候中央电视台放了那个简化的陈氏太极拳那个教学视屏,我大概看了一下就对它产生了一种兴趣,然后直到两千年的时候我才正式找了一个老师学习那个陈氏太极拳。
I began learning Taiji around 1995, at that time CCTV broadcasted a simplified Chen-style taijiquan instructional video. I was instantly taken from the moment I saw that video. From then until 2000 I was officially looking for a Chen-style Tai Chi teacher.
Dayong (01:03 - 01:21)
那这个中国有中国的功夫,有什么少林的功夫,什么长拳啊,什么别的武术,咏春,您这个当时选择的时候有没有想过为什么没选功夫或者咏春啊?
China has it's own Kung Fu culture, for example Shaolin Kung Fu, ChangQuan, and others like Wing Chun. Have you ever wondered why you didn't choose Wing Chun, Kung Fu, or another form of martial arts?
黄师傅 (01:22 - 02:22)
这个问题很多人也问过我,作为我的性格来说我特别喜欢太极,为什么喜欢太极呢?因为中国文化也可以说包涵在太极里面,太极阴阳、折叠,脉脉相接,刚柔,这一切地一切地包涵中国古老的那个哲学的,当然对于个人来说我比较喜欢太极拳那个缓慢柔美而且富有那个艺术舞蹈性的那种动作,刚开始想法很简单,然后就迷上。也可能是因为当时也是电视台热播的太极宗师,给我一种很深的感触,所以说就那么一瞬间你知道的,就像看见一个新的女孩子一样,从此一发不可收拾。
I've been asked this question many times in the past. Personally, I believe my personality best pairs with Taiji. I enjoy it because the art of Taiji holds a great amount of Chinese culture. The components of Taiji Yin and Yang, folding, tenderness phase, rigidness, all this together with an ancient Chinese philosophy. Of course, for me personally, I prefer the slow, gentle, and full art of dance actions in Taiji. In the beginning, I was only a little interested in the art, but after a while I was hooked. It may have been because the Taiji Master series playing on TV moved me. At that moment, it was just like falling in love with a new woman, and I can't stop practicing Taiji for a second.
Dayong (02:24 - 02:31)
那您是否记得就是说自己的第一位师傅怎么认识的呢?
Do you remember how you met your first Taiji teacher?
黄师傅 (02:32 - 03:32)
哦,那是这样的,因为当时看了那个视屏,然后去图书馆、新华书店翻一下那相关的书籍,但是呢,一个人苦于没有老师指点,也是(事半功倍)。在有一天在我上班的时候,我看见一个有休息的那个小亭子里面有一个老人家在打太极拳,当时我也知道那个太极拳可能不是我所喜欢的那一种,然后我就去问,我就跟他交流了一下,比划了几个动作,然后那老人说那是陈式太极拳,在西山公园,桂林的西山公园有一个老师,姓刘,刘老师在里边教陈式太极拳,我可以去那边看一下,然后第二天我就去直接找过去了,就这样逐渐慢慢地从零的基础接触到一个老师,慢慢地到现在。
Oh, it was like this… Because of the CCTV broadcast, I began going to the library and Xinhua bookstore to take a brief look at related books. But it was much less effective for me to learn without the guidance of a teacher. So, one day on the way to work I saw an elderly person practicing Taiji in a small pavilion. I knew that it may have not been the style I was interested in, but I went over to talk with him, show him a few moves. The old man told me that my moves are from Chen-style Taiji. The old man told me there is a teacher named Liu in Guilin Xishan Park who teaches Chen-style Tai Chi, I could go learn from him. The next day I went directly to Guilin Xishan park to see this man. From then on, with the help of this new teacher, I slowly and gradually went from zero to where I am now.
Dayong (03:33 - 03:38)
哦...那从那个时候到现在有多少年了练太极拳?
Oh, how many years has it been since you began to learn Taiji?
黄师傅 (03:39 - 03:43)
两千年到现在差不多有十六个年头了。
It's been almost sixteen years, from 2000 until now.
Dayong (03:45 - 04:01)
那您说这个第一位师傅是这样知道在西山公园这样认识,他对您的这个生活或者说这个一些选择一些态度上有没有什么影响?
So, you met your first teacher in Xishan park. Has he had any influence on your life or your attitude?
黄师傅 (04:03 - 06:40)
你这问题问得挺好,这个当时我很年轻,也就是初出茅庐初出社会,打太极拳包括老师有了人生的轨迹和我的那个人生的处世哲学,还有为人处世和人打交道的那个方面得到很大的提升。以前性子比较急,年轻人嘛,都是火气比较大,然后做事情就毛毛躁躁,然后从学了太极拳以后性格变了,凡是看某些事情的时候三思而后行,考虑清楚了以后再去做,一定要沉稳,给人家感觉到一种很柔和,很好接触的那种感觉,这是太极拳对我人生的一种最直接的影响,然后呢太极拳呢对我身体的各方面影响呢,我记得我年轻的时候可能也是不注意饮食或者是生活习惯,也有一点点那些不是很大的毛病,就是比如说...不怕你见笑可能有点便秘,而且我不怎么出汗,因为我父亲一到夏天的时候他老跟我说我的体温比较高,但是也不是发烧,但是也不出汗,就降不了体温,那自从打太极拳以后,从扎马步比如说我们站的混元桩,关键我是在那个大热天,三十五六度,平时我都不怎么出汗的,一扎下去全身的汗冒出来了,就像那个气,那个汗气啊那个水蒸气啊,全部蒸发出来,把我的汗腺打通了,我呢突然有一天我发现包括我这个上下楼梯,跑步,登山,比平时都有很大的提高,就无意识当中的把自己的身体调节好了,也就是这方面对身体特别有好处,后来我看了下那个书籍,查阅了相关的那个太极拳跟医学的相关的关系的那个书籍的时候,我发现它太极拳呢对那个肠胃功能呢有特别好的好处,然后我想可能也就是肠胃功能不好导致的原因。然后得到一点好处了进而就更激发自己对太极拳的兴趣,慢慢地一步一步就走到今天。
This is a great question. I was very young at the time and just entering the real world. The Taiji philosophy has definitely affected the path of my life, as well as improved the way I interact with others in my professional and personal life. Before practicing Taiji, I was short-tempered and careless. But since then, my character has changed. Now, I always think twice before doing something, I am calm, I give people a very gentle feeling, one that is easy to connect with. Taiji has had a direct impact on my life. Regarding the effects to my body, I remember when I was young I didn't focus on any of my life's habits. At the time, I actually had a few small problems, but am a little afraid you may laugh at it ... constipation. I remember my father telling me my temperature was always relatively high during the summer months. But, when I began practicing Taiji, I began sweating a lot during the summer and my stamina improved. I started to feel the improvement when I was climbing up stairs, running and hiking. I am in good condition now. After doing some research regarding Taiji, by reading related books, I found out that practicing Taiji is good for the Gastrointestinal system. The health benefits boosted my interests in Taiji, and gradually I got to where I am today.
Dayong (06:42 - 06:46)
这个真的是感觉像在听故事一样,不知道能不能亲眼见到你....
Listening to you is really like listening to a story, I really can picture it with my own eyes.
黄师傅 (06:46 - 06:54)
这个本人亲身经历,没有雷同,也不是纯属虚构。
This is my personal experience, there is nothing similar, nor is it fictional.
Dayong (06:54 - 07:17)
那现在开始做老师做师傅教学生,然后您今天上午有提到在您以前的时候整个人心无旁骛啊,一心一意,那很多人在这个网上可能会看到很多动作,但是真正打太极拳的时候您在想什么呢?
You are a teacher now. This morning you had mentioned how concentrated you were. After this video is published many people will see you practicing Taiji on the internet. What are you thinking of when you practice?
黄师傅 (07:17 - 08:57)
打太极拳呢,很静,何为静呢?就是说你刚才提到的心无旁骛,但是我们要做到绝对地静,脑袋一点东西都不想,这种感觉很难去做得到,就是完全入境的,但是我们可以只想一件事从起势的时候就不要想其他的杂事了,你就想着怎么完成这套拳,在动作这么烦杂又这么艰苦的过程当中能保持你的脑袋的清醒,脑子里的清醒,然后再一心一意的想着打好一套拳别出一点差错,因为这套太极拳、说我们这套太极拳的八十三式,实际上如果你真的区分下去有六七百个动作,那么在这么多的动作的情况下,你还能在这么大的运动量这么大的情况,保证你不出一点差错,那需要你绝对的"守心"。何为"守心"呢,就是思想不要开小差你也想到这个动作,把它打下去。
然后这样的时候,在这一大清早,空气特别好的时候,安安静静地打上一遍两遍甚至三遍的时候,对你的脑袋,脑子里面好像一种清洗的作用,会让你整个一天精神焕发,然后保证你工作生活都有条不紊、积极,很清楚。
When you are practicing Taiji, you are also practicing inner peace. You just mentioned being concentrated. What we are really searching for is absolute silence, to have not one thought on our minds. This kind of feeling, absolute silence, is very difficult to obtain. But, we can start by thinking of just one thing, Taiji, and block out everything else. You just need to think about perfectly executing the entire Taiji routine. By keeping your thoughts on this complicated and arduous process, you can find clarity. Wholeheartedly thinking about the next move and consciously preventing mistakes, you can find clarity. Chen-style Taiji is comprised of 83 movements, in fact you really need to distinguish between around six to seven hundreds of unique movements. So, within all these movements and situations, you really need to remain focused in order to prevent from making mistakes. Staying focused is having your mindset fully on the movements, not allowing small mistakes to slip in.
In the early morning, when the air is especially clear, you can peacefully practice the Taiji movements once, twice, or even three times. This practice helps to clear your mind, gives you spirit throughout the day, and brings calm and clarity to your work.
Dayong (08:58 - 09:00)
这么多?
That much?
黄师傅 (09:01 - 09:05)
不多,这只是其中的一点好处。
Not much, this is just one small part of the benefits.
Dayong (09:07 - 09:27)
那现在每天都还在继续练习这个太极拳,您说这个如果天气下雨的话,您也就是养成了这种运动的习惯,还在继续。他们说这个老人在练习的时候您会给出什么意见呢?
You currently practice Taiji everyday, even when the weather is bad and it's raining, you keep the momentum up. What kind of advice would you give to elders who want to practice Taiji?
黄师傅 (09:27 - 11:04)
练习的,老人家练太极拳,因为老人家的骨质呢比较疏松,身体的素质当然也比不上我们年轻人,而且呢,太极拳是传统的套路。传统套路有什么好处呢?它不会局限于条条框框,你可以根据自己的实际情况,我们可以分为中、高、低这样的。比如说我们像年轻人,我们为了锻炼身体,自己的强度,我们可以坐低下去,那复合力比较大。老人家呢,应该保护好膝盖,站高一点打,然后保证那一太极拳打下去心不跳呼吸不急促,但是汗流浃背,达到了健身的效果就可以了。对于老人家的练太极拳的最重要的一个温馨的提示呢,就是膝盖不要过脚尖,一定要保护好膝盖,这是最重要的。然后呢,太极拳,套路只是其中的一部分。我们还可以还有很多那种桩功,丹田内转功,七七八八的,很多很多那些功法。就是我们下雨天,站在阳台上面的时候我们就可以抱个混元桩,"手劲","十二点上位","意守丹田"来晨练它,这样也是锻炼它。而且在这种桩功入境的时候,它又是一种很奇特的感受,方法很多的。
For elderly people who practice Taiji, most of them have different levels of Osteoporosis, their physical health is certainly poorer than the younger people who practice. But, Taiji is a traditional exercise. What are the benefits of being traditional? It won't leave from convention. When practicing, you can act according to your personal situation. We can have people practicing in novice, intermediate, and advance levels. For example, if you are younger you may be practicing Taiji as a means of exercise, or to build strength. In this style you can squat lower, with more power. However, if you are an older person, you need to protect your knees and stand taller. You need to not get too excited and control your breathing. In this form you will still sweat and get the results you want. However, the most important thing for elderly people to be reminded of when practicing Taiji is that they should squat in proper form in order to protect their knees. They should always keep their knees from going out past their toes.
In Taiji, the form is only one part of the martial art. There are also many static movements, single static movements, that are not usually preferable. But, when the weather is poor we can stand on the sundeck and practice static movements like "Shou Jing", "Standing like a Post (Hun Yuan Zhuang)", clear our minds. When you are performing these movements, it can also be an extraordinary experience. There are many ways to practice Taiji.
Dayong (11:04 - 11:12)
好的好的。基本上呢,我就都大概明白您的意思了。好,谢谢您啊!
That's great. I know what you mean. Thank you.
黄师傅 (11:12 - 11:18)
不用谢,很高兴为你们解答了太极拳的基本的东西。
You're welcome. I'm very glad to speak with you about Taiji.
Dayong (11:18 - 11:19)
谢谢谢谢啊!
Big thanks!
Vocabulary List
| Hànzì | Pīnyīn | Definition | Part of Speech |
| --- | --- | --- | --- |
| 陈氏太极拳 | Chénshì tàijíquán | Chen Style Tai Chi | n. |
| 接触 | jiēchù | come into contact with; get in touch with | v. |
| 中央电视台 | Zhōngyāng Diànshìtái | CCTV | n. |
| 产生 | chǎnshēng | to give rise to; bring about; | v. |
| 少林的功夫 | Shàolín gōngfū | Shaolin Martial Art | n. |
| 长拳 | zhǎngquán | Longfist Martial Art | n. |
| 咏春 | yǒngchūn | Wing Chun Martial Art | n. |
| 缓慢柔美 | huǎnmàn róuměi | slow, soft and graceful | adj. |
| 一瞬间 | yíshùnjiān | a split second | n. |
| 一发不可收拾 | yīfàbùkěshōushí | things that have happened can hardly be controlled | expression |
| 事半功倍 | shìbàngōngbèi | get twice the result with half the effort | idiom |
| 初出茅庐 | chūchūmáolú | to venture out into society for first time | idiom |
| 人生的轨迹 | rénshēng de guǐjī | life's path | n. |
| 处世哲学 | chǔshì zhéxué | one's life philosophy | n. |
| 为人处世 | wéirén-chǔshì | one's attitude towards life | expression |
| 打交道 | dǎjiāodào | come into contact with; have dealings with | v. |
| 毛毛躁躁 | máomao zàozào | imprudently; obtrusively | adv. |
| 三思而后行 | sānsī ér hòu xíng | think thrice before you act; look before you leap | expression |
| 不怕你见笑 | bùpà nǐ jiànxiào | not afraid of making a fool of oneself | expression |
We welcome you to learn Chinese online with CLI's team of amazing Chinese teachers! Don't forget to follow CLI on Twitter, Instagram, and Facebook. 下次见!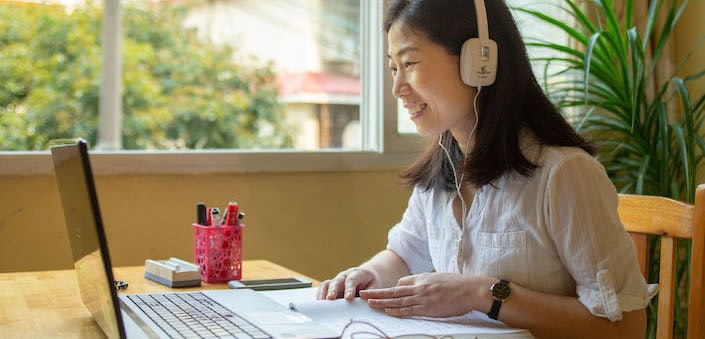 Free 30-minute Trial Lesson
Free 30-minute Trial Lesson
Continue Exploring