CLI Perspectives: Of Mountains and Mifen
In this July 2021 installment of CLI Perspectives, Immersion Program student Isabel Floyd takes us on an educational journey from the skyscrapers of Shanghai to the comfortable living of Guilin, China.
Of Mountains and Mifen
By Isabel Floyd, CLI Immersion Program student
I took the slow train to Guilin. Well, actually, it was the fast train to Guilin, but an 8-hour train ride from Shanghai feels a lot slower when you know it could have been a 2-hour flight. Still, 8 hours on the train gave me a lot of time to think.
I reflected on how far I'd already come in the last year, moving from the US to Shanghai in the middle of the pandemic, starting a new job and beginning my studies of Chinese. I thought about how far I'd yet to go and of all the things I wanted to be able to talk about in Chinese but couldn't. I wondered what my month in Guilin would be like. Most of all, I thought about what a good person I was for limiting my carbon footprint by taking a train instead of a flight.
First glimpses of the city
When the train finally arrived, I was greeted at the station by a friendly driver holding a CLI sign. It was a hot June day, and I was grateful to hop into her nice cool car.
As we made our way towards my homestay, I looked out the window and admired the city. Guilin was like no other place I'd ever seen. I was surprised to see how the urban landscape simply molded around the little tree-covered mountains that pop up everywhere inside the city.
When I arrived at my homestay, Lao Lao, the grandmother of my host family, greeted me warmly and helped me get settled in. As my stay in Guilin progressed, Lao Lao's cooking and the warm family environment of her home became one of my favorite parts of my experience in Guilin. I spent many nights at the kitchen table, working through my homework with Lao Lao's help, or singing songs with Duo Duo, her granddaughter.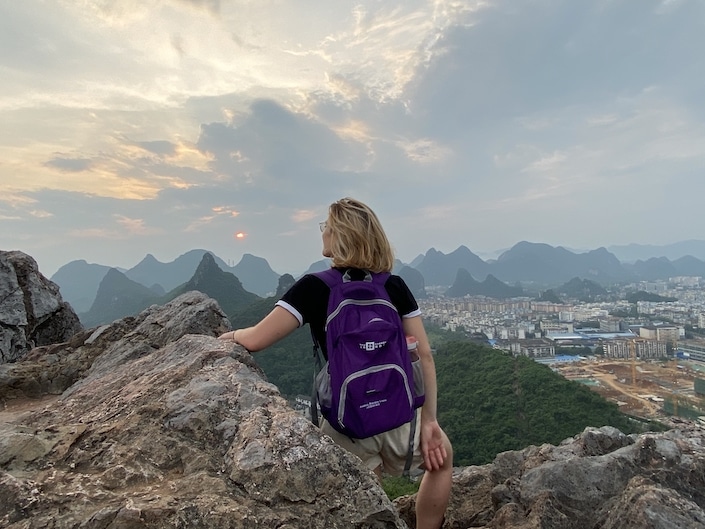 Daily life is better with mifen
I quickly settled into a comfortable routine. Every morning, I would get up early and go for a run down to Chuan Shan, the hill that was right near my homestay. I'd scramble up the steep hill, and take in the breathtaking views of the city for a few minutes, sometimes chatting in Chinese with local people who also liked to start their day with a hike.
After heading back to my homestay for a shower, my next stop was my neighborhood Guilin Mifen shop. The shop proprietor came to recognize me quickly, and would know to dish out er liang of steaming rice noodles coated in savory lushui and topped with some crunchy fried nuts and a few succulent pieces of meat. At only 5 kuai 5 mao a bowl, this was a delicious AND affordable part of my daily routine.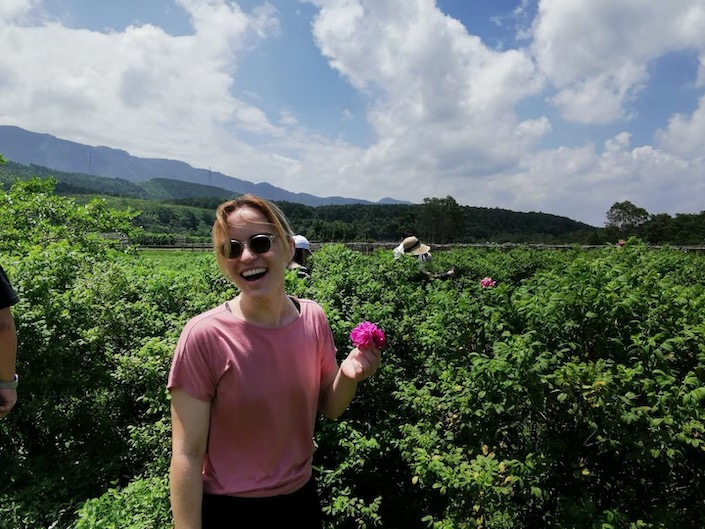 Linguistic and cultural immersion at CLI
Next, I'd hop on a Hellobike shared electric scooter to scoot over to CLI for my classes. I liked to get there a bit early and relax or do homework in my favorite classroom, Yunnan.
In my four hours of one-on-one lessons a day, my teachers worked to keep a balance of different kinds of activities. My goal was to make it through the HSK 3 textbook by the end of my month in Guilin, but that left plenty of time for conversation practice, reading storybooks, learning about Chinese culture and food, and practicing how to write characters.
I improved a lot in all aspects of my Chinese during my time in Guilin, but I think the most noticeable growth was in my listening skills. Before, I found it very hard to follow even simple conversations. Now, after a month of immersion in Guilin and rigorous lessons, I'm able to pick up the meaning of many conversations I overhear around me.
In the evenings after classes, I'd spend some more time relaxing, doing homework or joining an activity. From weekend trips to Yangshuo to afternoon events like calligraphy and tea tasting, CLI arranged a lot of engaging activities that helped to make my time in Guilin extra-memorable. Though I had come to study, I also found that my time in Guilin served as a great opportunity to experience the nature and culture of the region.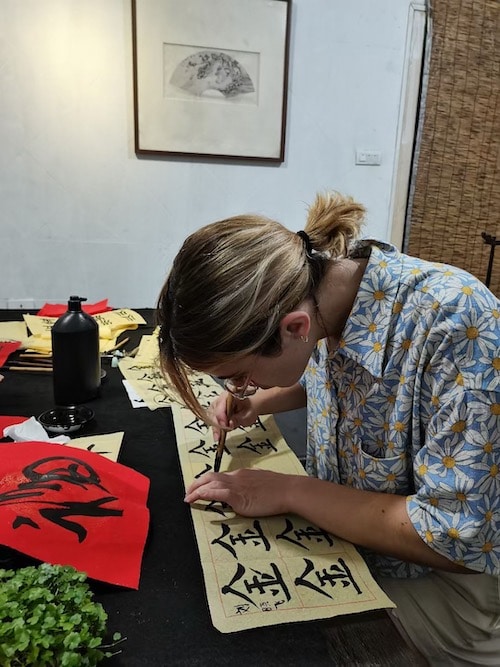 A fond farewell
When it was time to return to Shanghai, I was sad to leave Guilin but excited to get back to my bustling big-city life and show off my new Chinese skills.
"Ni de Zhongwen feichang hao!" one of my Chinese friends would exclaim the next time we met for lunch. Yes, I had done what I'd come for, and was ready to head back to Shanghai. Only, on the return journey, I took a flight.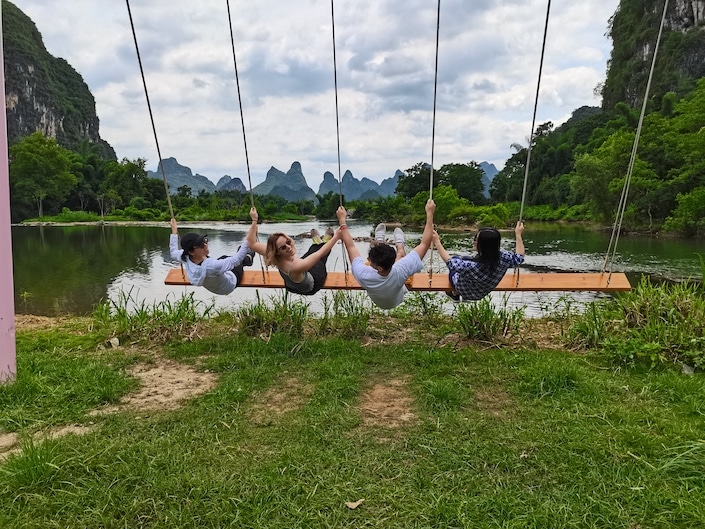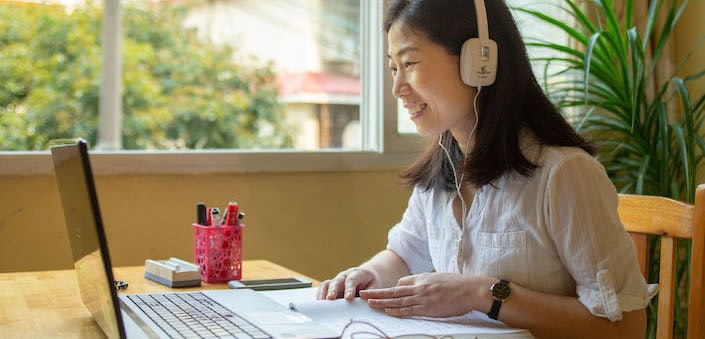 Free 30-minute Trial Lesson
Free 30-minute Trial Lesson
Continue Exploring