Stuart Ratcliff is no stranger to Asia. After traveling in Laos, Vietnam, Thailand and Nepal, Stuart decided teaching English in Beijing would be the best way to experience all that China has to offer. He quickly learned that Beijing can be a punishing, unrelenting place to live. With his health in flux and a longing for clear blue skies, Stuart decided to make the move to Guilin to learn Chinese in China. In this month's CLI Perspectives, Stuart breaks down the differences between studying Chinese in Guilin and Beijing.
Escaping the Cough of Beijing
By Stuart Ratcliff, CLI Chinese Immersion Program student
When planning where to study in China there are a few things to consider. One is that China offers a wide range of environments. It is home to giant sprawling metropolises as well as beautiful mountains and small villages. All are interesting and equally Chinese in their own right, but some are easier and nicer to live in than others.
Before I came to CLI, I was living in Beijing. Beijing is a city of around 20 million people. If you're coming from the US, there's nothing that compares to it. The city is unimaginably vast. It takes two hours to cross it by subway, and even longer by cab depending on the time of day. In Beijing, it's normal for people to commute over an hour and a half to work every day, and going out at night or on weekends to someplace interesting also usually entails at least an hour on the subway. I also lived in a cultural wasteland, next door to one of the largest (and least frequented) mall in Asia. I was at least half an hour from the more charming sites of Beijing. When I think back to my time there, most of my memories are set inside of a subway car or on a bus, and I don't find the inside of subways and buses particularly memorable.
The sheer size of the city has other consequences. One of the most notorious and hazardous is the air quality. In the winter of 2012, I lived through the worst air quality on record. For a couple days the U.S. embassy charted the air in Beijing, off of the Air Quality Index, into the 170s (the AQI is on a 150 scale, where 101-150 is already dangerous for sensitive groups). During these days, I remember waking up in the middle of the night with my eyes burning. Those days were especially poisonous, but before that time I had already suffered from bronchitis and was still coughing up phlegm in every color of the rainbow.
The air quality in Beijing is virtually always a serious health problem except for a few weeks in the fall when the wind picks up sufficiently to blow the sky blue again (which is the time to visit if you're set on seeing the belly of the beast as a tourist). Staying healthy in such a city is not easy. I ultimately failed at it and terminated my teaching contract for health reasons, but I also left because I felt like I was losing touch with the world. It occurred to me that it had been a long time since I'd seen anything natural. I thought that maybe we human beings take nourishment through all of our senses, and that without access to trees, flowers, fresh smells, and the feeling of the sun on our skin we starve a little.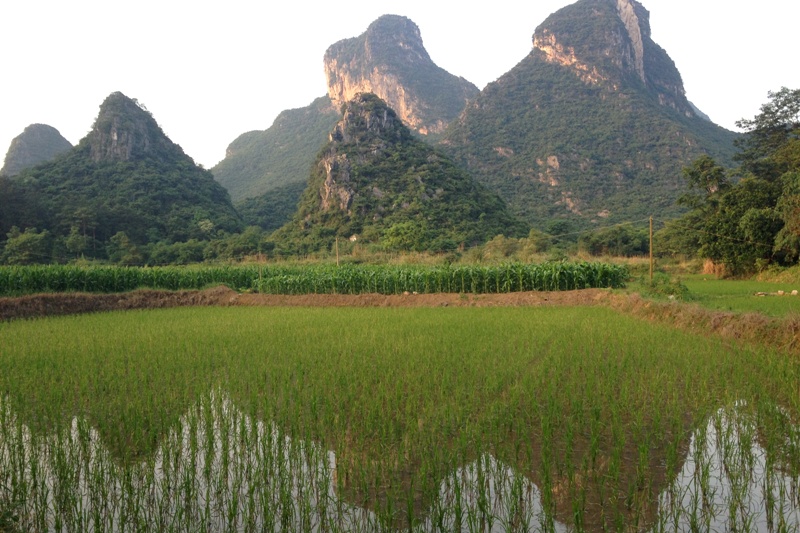 Stuart's favorite part of Guilin is its natural green landscapeI found CLI online, called Robbie, looked at some pictures of Guilin and booked my ticket out of Beijing. It's one of the best decisions I've ever made. Guilin is a great city. There are mountains popping up all over town, the air is clean, the water is clean, you can get anywhere within 15 minutes by scooter, and if you want to leave town and go into the back-country for hiking or biking, it's easy and incredibly beautiful. Before I came here, I thought that the stereotypical artist renditions of Chinese landscapes were pure fantasy. In Guilin you'll find they're real.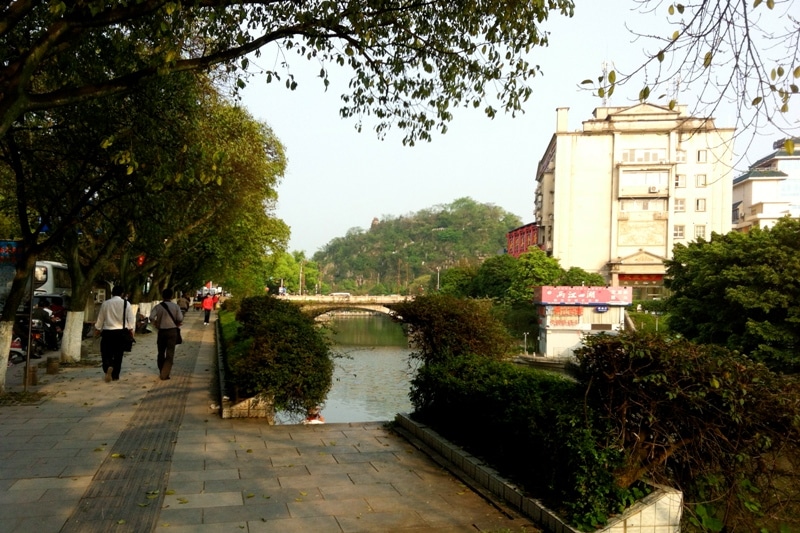 Guilin is filled with beautiful river walkways, green mountain tops, and fresh airBefore I moved here to study Chinese, a few people warned me that the local dialect of Guilin was unintelligible and that Beijing was a much better place to study because the spoken Mandarin was comparatively more standard. I found Beijing to be unlivable for other reasons and wouldn't choose to live or study there at all, but I also haven't had much difficulty communicating with people on the streets of Guilin either. Most people here, even if they speak the Guilin dialect amongst themselves, also speak standard Mandarin and will speak to you in standard Mandarin when you address them. Also, all the teachers at CLI speak standard Mandarin, and the students at the college down the street all study in Mandarin, speak Mandarin, and are also eager for an opportunity to language exchange in English and Mandarin too.
Finding opportunities to practice Mandarin here is not a problem. The fact is that no region in China is home to standard Mandarin. Not even in Beijing is there perfect Mandarin spoken on the street. Mandarin is the language broadcasted over the radio and television. It is the language the government uses to communicate to the people and the language China uses to communicate with itself. It is everyone's and no one's.
At CLI you will study standard Mandarin, but in Guilin you will hear accents from all over China. Part of studying Chinese is not just learning standard Mandarin, but learning to hear the subtle differences between accents and dialects. If you want to truly communicate with all of China this is a must.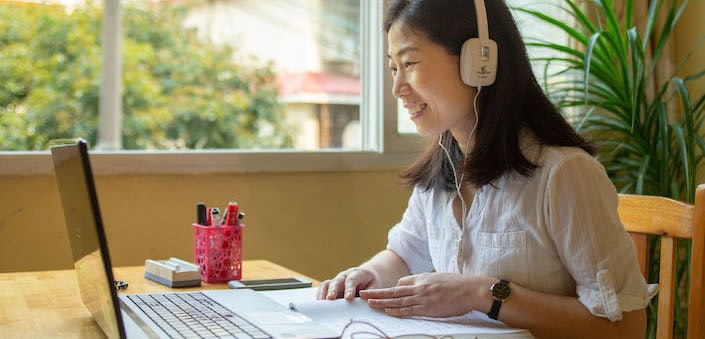 Free 30-minute Trial Lesson
Free 30-minute Trial Lesson
Continue Exploring