It's the twenty-first century and the era of online learning has arrived. Thanks to Zoom and similar video conferencing platforms, advancing your education from anywhere in the world is easier than ever. Among other subjects, foreign languages, particularly Chinese, are becoming more and more popular to learn online. Read on to discover how to start learning Chinese on Zoom today.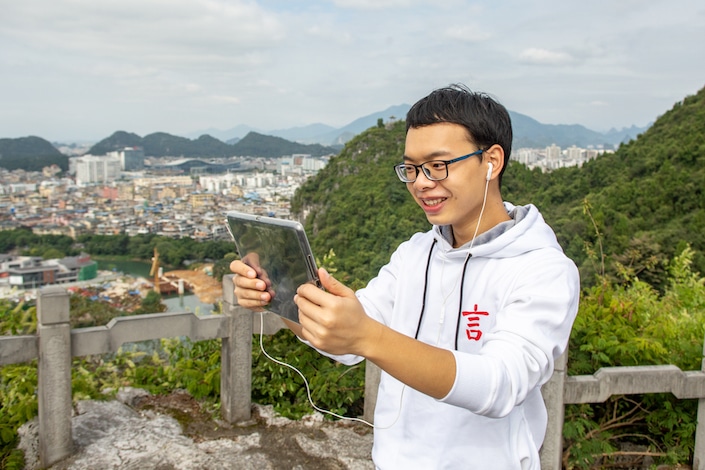 Why should you learn Chinese on Zoom?
Do you have spare time that you are looking to put to good use? Are you inspired by the countless stories of non-native speakers who have mastered a second language and gone on to accomplish great things?
Regardless of your motivation or background, learning a new skill, such as a foreign language, on Zoom is a valuable way to spend your free time and invest in your continued personal and professional growth.
The benefits of learning Chinese
There are countless reasons why Chinese should be your language of choice to study. Mandarin is one of the most widely spoken languages in the world, so you are guaranteed to meet native speakers most anywhere you live or travel.
Having a way to communicate directly with Chinese speakers in their mother tongue will come in handy when it comes to navigating diverse situations, making new friends, and building cultural bridges.
Because it is home to the world's second largest economy and many quickly growing industries, China also boasts abundant professional opportunities. Therefore, speaking Chinese is sure to help open new doors for your career.
Whether you're looking to expand your business internationally, teach English in China, or add a competitive edge to your resume, a foundation in Mandarin will set you apart from other candidates while improving your cultural competence and overall communication skills.
Why online learning is effective
Thanks to technologies like Zoom, you don't need to travel to China to begin your Mandarin learning journey. Although in-person study remains the first choice for many students and schools, online learning has also been proven to be an effective way to build new skills and advance your education.
There are many benefits to hiring an online Chinese teacher. Flexibility is one major advantage, as students can more easily integrate their practice into daily life and tune in from any environment, anywhere in the world.
Additionally, online lessons are both engaging and versatile thanks to ever-expanding virtual resources like digital flashcards, interactive videos, and web-based assessment tools.
Virtual learning is generally also more affordable than in-person lessons, making it easy to improve your skills on any budget.
How to use Zoom to learn Chinese
After understanding more about the value of learning Chinese online, you may be curious about how to begin using Zoom to learn Chinese.
In case you haven't heard of it, Zoom is a free, user-friendly voice and video conferencing platform.
This service rose to widespread popularity during the era of COVID-19 and is commonly used by companies whose employees work from home, teachers and students whose schools have adopted remote learning models and friends and families eager to connect with each other online.
Creating an account
To create a free account on Zoom, visit www.zoom.us and sign up with your email address. You'll then activate your new account through an email link to set up a password. After that, it is easy to log onto Zoom at any time through the web portal. You'll want to download the Zoom application on your phone or desktop for easy access.
In order to create your own Zoom meeting from the desktop app, simply click "New Meeting," or "Schedule," then copy and send out the customized invitation link to invite others to join.
Likewise, you can easily join meetings that other people host by clicking their invitation link or entering their meeting ID by navigating to the "Join" feature. For more support on how to get started with Zoom, check out this guide for new users.
Useful functions to support online language learning
Zoom has a number of innovative features that make online learning a breeze. One of our favorite tools is screen share, because it allows you and your Chinese teacher to both view course materials like online textbooks, flashcards and articles together, as if you were face-to-face in the same classroom.
The recording tool is also helpful because it allows you to record and rewatch your lesson if you need to review. Check out these video tutorials for more guidance on how to use Zoom and all of its neat functions effectively.
How to learn Chinese on Zoom with CLI online
If you're ready to start learning Chinese on Zoom, CLI's online lessons are a perfect resource for you to begin your studies from anywhere in the world, on any schedule that works for you.
CLI's Zoom Lessons
To get started learning Chinese on Zoom with CLI, all you need is a reliable Internet connection and a phone or computer. Once you've connected with our team to schedule your classes, your CLI teacher will contact you directly to set up a Zoom meeting and hold class over live video chat, creating a virtual, private classroom.
Since CLI's lessons are one-on-one, your courses are customized and designed specifically for your unique language level, study background, and future goals. After assessing your strengths and weaknesses through an evaluation, your CLI instructor will create a tailor-made study plan and recommend a course textbook.
Students may also request a focus for their curriculum, including, but not limited to, comprehensive Chinese, business Chinese, Chinese for kids and families, Chinese culture and history, and intercultural communication.
With teachers available seven days a week at almost any time of day, CLI's online lessons aren't based on a fixed or rigid schedule and are instead arranged based on your availability.
So, whether you have two hours or twenty hours to dedicate to your learning each week, our teaching staff will work with you directly to assess your scheduling preferences and create a course plan that fits your calendar.
Meet our teachers
CLI's team of experienced instructors underpins our organization and we're proud to boast some of the best Chinese teachers in the world. Our high-quality instructors are carefully selected for limited teaching positions based on education and work experience, as well as factors such as personality, creativity, and cultural competency.
Over the past ten years, we've carefully developed a comprehensive teacher training program for all teachers that includes lesson simulations, pedagogical workshops, and more.
Unlike the teachers on many online-only learning platforms, CLI's teachers also have extensive experience working with students from around the world during in-person classes at the CLI Center in Guilin. Our Chinese courses on Zoom are held to the same high standards as our Immersion Program in China.
Learn more about our instructors and team online at www.studycli.org/team.
Testimonials
We believe in our work at CLI and we're proud of how much our students from all over the world have accomplished in their Chinese studies.
Don't just take our word for it, though! Check out these testimonials from CLI students and email info@studycli.org to request to speak with a current CLI online student.
Start learning Chinese on Zoom today!
We hope that this guide to learning Chinese on Zoom has encouraged you to begin your virtual studies or pick up right where you left off! Remember, no matter where in the world you are, learning Chinese online is an investment that your future self will thank you for.
Get started for free today by enrolling in a complimentary trial lesson with CLI. Happy studies!
Chinese Zoom lesson vocabulary
| Hànzì | Pīnyīn | Definition |
| --- | --- | --- |
| 上课 | shàngkè | to hold class |
| 线上 | xiànshàng | online |
| 网络 | wǎngluò | Internet |
| 浏览器 | liúlǎnqì | web browser |
| 电脑 | diànnǎo | computer |
| 手机 | shǒujī | cellphone |
| 软件 | ruǎnjiàn | computer software |
| 平台 | píngtái | platform |
| 视频 | shìpín | video |
| 音频 | yīnpín | audio |
| 静音 | jìngyīn | to mute sound |
| 共享屏幕 | gòngxiǎng píngmù | screen share |
| 环境 | huánjìng | environment |
| 教室 | jiàoshì | classroom |
| 模拟技术 | mónǐ jìshù | virtual reality technology |
| 教学计划 | jiàoxué jìhuà | study plan |
| 课本 | kèběn | textbook |
| 电子版 | diànzǐbǎn | digital version |
| 优惠 | yōuhuì | discounted |
| 好处 | hǎochù | benefits |
| 空闲 | kòngxián | free time |
| 课表 | kèbiǎo | class schedule |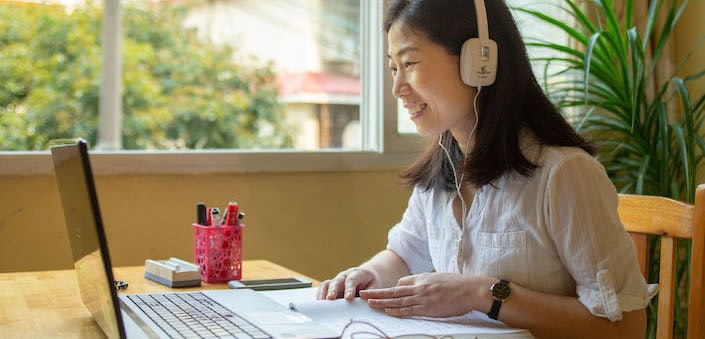 Free 30-minute Trial Lesson
Free 30-minute Trial Lesson
Continue Exploring