The weather is heating up in Guilin with summer just around the corner, so today we take a look back at cooler days with one of this spring's most memorable events: CLI's Flint Hill School China Study Tour.
It's already been a month since CLI's FHS China Study Tour, but the memories are still in full force. Leading students through China is always unforgettable, yet FHS managed to heighten the experience to another level. The group approached each day with a tremendous enthusiasm, positive spirit and sense of adventure. This was one of my favorite study tour groups ever to come through CLI, and I hope many of these ambitious young students someday return to China and continue excelling in our increasingly interconnected world.
-- Robbie Fried, CLI Co-Founder and Managing Director
Here's a nostalgic look back at this spring's FHS study tour through the words of the students themselves:
March 19, 2012 by Zane Homsi | BEIJING
This morning started around 4:30 for Luke and me, thanks to the jetlag. We both decided to become active for an hour or so and walked around, watched animal jokes, ate beef jerky, and listened to music. Then went back to bed.
Around 7:00 we reconvened with the rest of the group and ate breakfast. Most of us enjoyed eating our "American Breakfast" but some of us ate dumplings and Bao zi a traditional Chinese breakfast. Right after we left with Terry (our Beijing guide) and his Panda off to see the Forbidden City and the Temple of Heaven. We also had lunch at a family's home and rode rickshaws back and forth covering lots of ground in very little time.
The Forbidden City was AMAZING!!!! We walked right into Tian'anmen Square, and immediately all of the locals were around us in a frenzy … especially Alana.  We all concurred that it was her blonde hair that made her a sight to see.
We took our first steps into the City and we were all completely taken over by the amazing art work of the palace. We walked through every temple taking pictures and sharing a few words with the locals there too. Within the palace we heard many interesting stories, and facts about the place. Such as if you were to take a new born baby and let him sleep in a new room every night, he would be 27 years old by the time he slept in all the rooms. COOL RIGHT?!
We had an amazing time. No picture can capture the scenery around us all. We then rode the rickshaws into the residential district and ate lunch. The man who owned the home and head of the family had just had a baby boy a month prior and their house was full of decorations for Xue Yue Wai. We had a tour of the area and we learned that the atmosphere in China is much different from that we read in textbooks or see in movies.
We rode rickshaws to a bell tour which had the biggest steps I could ever imagine. My track coach would probably consider that my speed endurance training for the day, just going up once. The view from the top was fantastic. Even with the polluted hazy skies there was a certain feeling you got at the top that made all of us feel god-like.
We came back to the Hostel to rest up before having a Uyghar dinner. Uyghars are people of the northernmost province of China, one of the 56 minority groups of the 7% population of China. This was by far my favorite meal. With their use of spices and décor we all realized that the stereotypical China we picture is definitely not the real one. China is a melting pot of cultures and it would truly take a lifetime to understand and appreciate it all.
March 23, 2012 by Grace Cleland & Alana Suter | XI'AN
Day Five here in China! (Possibly six, we've lost count). We started the day with a bike ride atop the ancient City Walls of Xi'an. While the ride entailed a great amount of exercise, the whole group had a lot of fun with an aerial view of the city.
Next, the group went to an art museum, where we received a tour of various art styles and learned many interesting (and some quite horrifying) stories! All of the students found the tour enjoyable – and we're talking about teenagers here! The museum tour concluded with a calligraphy lesson, taught in part by a local artist and also by Dr. Xue's mother, who was happy to share her talent.
After a local lunch of our typical Chinese cuisine, the group headed downtown to a Round Robin ping pong tournament, definitely a highlight of the day. After a "March Madness" style bracket, Hooks Johnston emerged victorious.
Later in the day, we headed to the Muslim Quarter where we visited the Great Mosque of Xi'an. We learned about traditional Muslim culture, and witnessed a gathering for prayer. After the visit, the group split up. Much to our excitement, the girls were able to go to a local department store to receive manicures – for only three dollars (Dads, we're sure you're pleased with that!).
Meanwhile, the other group enjoyed a traditional soup dinner, and the group of girls ate WAY too many dumplings – eight plates in ten minutes – oops. The night ended with bargaining in the Muslim Quarter; quite a fun cultural experience. We're off to bed early tonight, because of our departure for Shanghai tomorrow morning at 5:40.
Perhaps this day was our favorite – and not just because of the shopping – because it reminded us how fortunate we are to experience such a wonderful, well-organized trip. The group reflected on the bus about how every meal, every activity, and every excursion was so well-planned for our group. The activities we have experienced here have made this one the trip of a lifetime.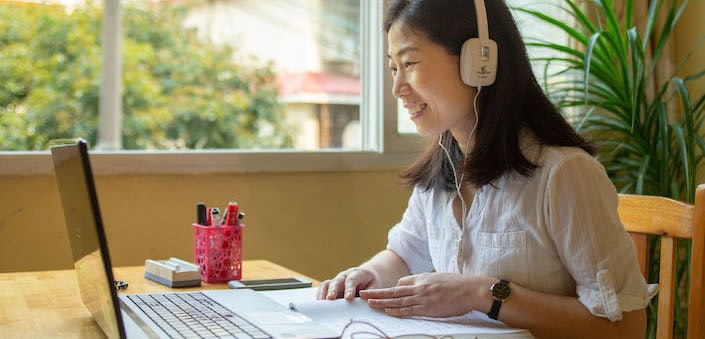 Free 30-minute Trial Lesson
Free 30-minute Trial Lesson
Continue Exploring