Harbin Travel Guide: China's Winter Wonderland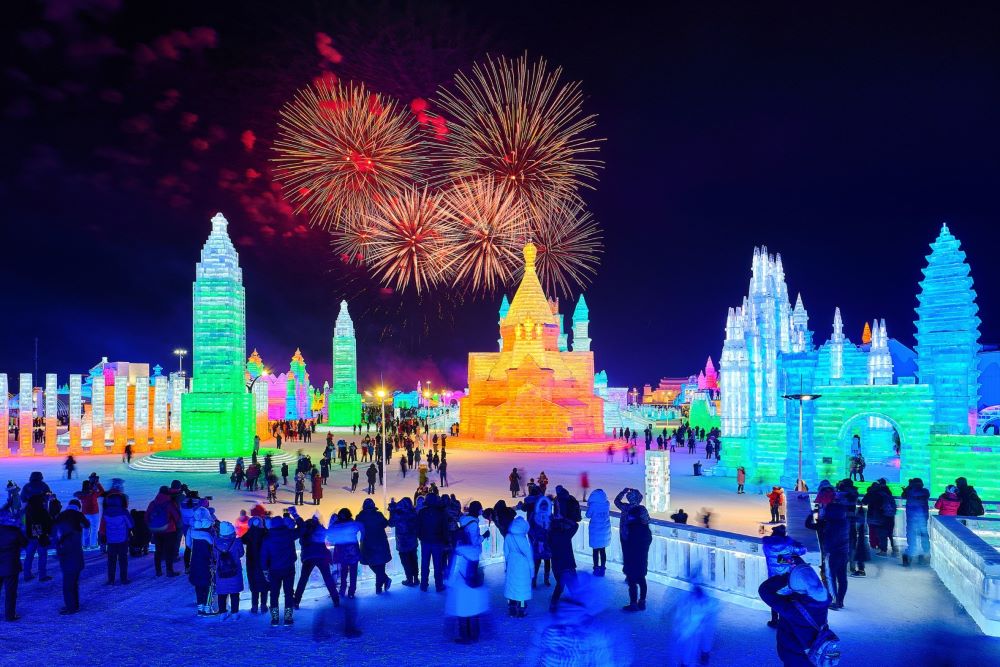 Harbin is the northernmost major city in mainland China. The eighth-most populous city in the country as a whole, its metropolitan area hosts a population of over 10 million people. First founded in the late 19th century as the Trans-Siberian Railway arrived in the area, it has grown to become one of the most important economic and cultural centers of the north.
At the very beginning, Harbin was a camp for Russian engineers surveying the area, and as the city prospered, so did its close-knit relationship with its Eurasian neighbor. Now, it's mostly known for its winter activities.
In the past, Harbin had a large population of Russian immigrants, and this group had an impact on the local culture. As a result, the town retains a mix of the unique charm of northern China with scattered Russian elements, particularly when it comes to the city's architecture and gastronomy.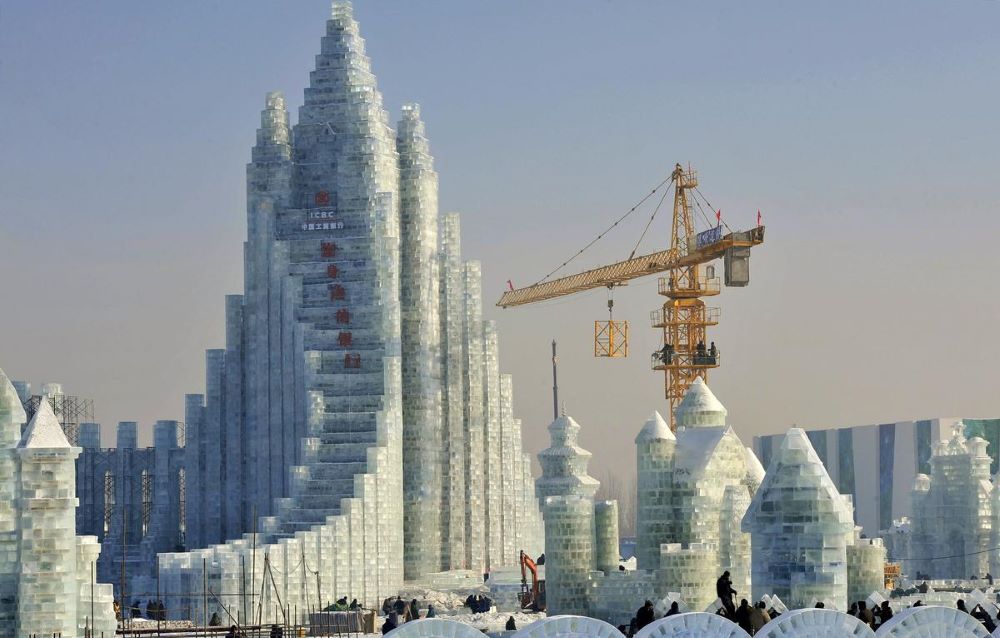 What Is Harbin Famous For?
Due to its location in the far north, Harbin has the coldest winters of any big town in China, a particularity that has earned it the nickname "Ice City." Receiving cold winter wind from nearby Siberia, Harbin becomes a snow-covered wonderland in the colder months. This harsh climate is what makes Harbin attractive, however, and it's the reason behind the city's most iconic form of cultural expression: the Harbin Ice and Snow Festival.
Taking place every year between late December and the end of February, this festival is one of the world's grandest celebrations of cold weather. Attracting millions of people from everywhere on Earth, it's a one-month celebration of everything involving ice and snow, providing a showcase for everything from some of the most massive ice sculptures in the world to fun winter sports like Yabuli alpine skiing and winter-swimming in the Songhua River.
The star of this unique festival is the exhibition of ice sculptures, which is known for showcasing some of the biggest such sculptures ever created. Sun Island, a recreational area across the Songhua River that's only open during the daytime, should be your first stop, as it exhibits some of the most breathtaking sculptures displayed during the festival.
When it comes to evening expositions, the Zhaolin Park Ice Lantern Festival as well as Ice and Snow World shouldn't be missed. Ice and Snow World is a large ice theme park of 7.5km (4.6 miles) created in 1999. It's a little outside town, with many wonders to explore. Some of the most iconic spots in the theme park include ice versions of landmark buildings from around the world, forming an imposing and one-of-a-kind architectural meetup. The park also offers a wide variety of culinary choices, with many well-heated restaurants to choose from, including fast-food joints.
Ice and Snow World is the heart of Harbin's festival, and the theme park offers a mesmerizing experience full of color, from ice buildings extending towards the sky to dreamlike ice chariots. The ice castles brightened by colorful lights are quite a sight to behold during cold Harbin evenings.
The Ice and Snow World park is also an excellent place for sports lovers, as it offers a wide variety of winter-friendly outdoorsy activities, including ice castle mazes, ice rock climbing, shuffleboard on ice, and many more. As an added bonus when it comes to entertainment options, there are also frequent performances of dances from different cultures offering exciting shows from many parts of the world.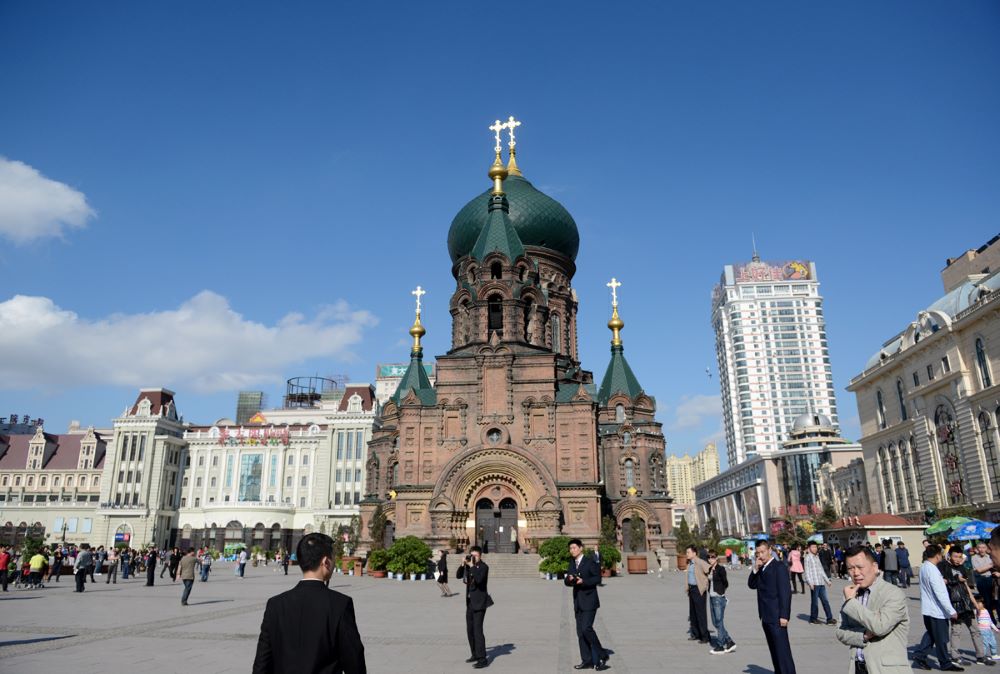 What to See and Do in Harbin
While the Ice and Snow Festival is the biggest event of the year, there's a lot more than that happening in Harbin. It is a metropolis that millions of people call home, which makes for a place full of activities for all tastes. It's also a fascinating city for travelers who love architecture, as its history of cultural exchange makes its buildings truly unique.
Head to the old quarters to see impressive buildings from the Russian era. The cobbled Central Street located there is the most extended pedestrian way in China. The street was built at the turn of the 19th century when Harbin received its first wave of Russian railway engineers and is lined with Baroque, Renaissance, Jewish and French buildings representing an eclectic mix of architectural trends.
Many of the buildings on this picturesque street have colorful spires and domes sporting hues like red, white, yellow, and green. Walking along this road from Jingwei Jie up to the Songhua River is a feast for both the eyes and the souls of architecture lovers, but do try to skip visiting during rush hour, as it's also a vital business street.
What's most interesting about this area is that it has remained almost untouched since the semi-colonial Russian period.
The most iconic architectural landmark from this period is undoubtedly the Saint Sophia Cathedral, a reminder of the mark early Russian immigrants left on the city. Constructed in 1907 by and for the growing Orthodox population, it stands on the corner of Toulong and Zhaolin Streets and is 53.3 meters (175 ft) tall.
This Neo-Byzantine-style building is easily the most famous building in Harbin and its red bricks and green dome often star on local postcards. The impressive structure, one of the largest of its kind in the Far East, now houses a museum dedicated to the city's history.
Harbin is quite a large city with a rich 20th-century history, and there are many other beautiful places of worship. People who are fascinated by temples and churches should feel right at home in the city, with places like the Buddhist Temple of Bliss and the 1920's Confucius Temple just waiting to be explored. If you enjoy music, you should consider visiting the early 20th-century Synagogue, which has been transformed into a concert venue specializing in classical music.
Another interesting, albeit darker visit, is the Unit 731 Museum, a remnant from the Japanese occupation of China during World War II. The facility once hosted human biological warfare experiments, and it's a grim reminder of the harsh times China had to endure during this period of world conflict.
Another popular place in the area is the Siberian Tiger Park, located north of the Songhua River. It's the world's largest reserve of big felines, housing a wide variety of cats, including lions, pumas, and, of course, Siberian tigers. Here, you'll find the cats roaming around in large spaces. Visitors are even allowed to feed the cats live animals, so this visit is not recommended for the squeamish.
For nature lovers, Harbin offers a lot of beautiful parks and outdoor areas to enjoy, whether it's marveling at the Harbin Ice and Snow Festival's winter wonderland or partaking in fun summer activities. After the freezing cold of winter, the city comes to life anew in the summer, and there's even a summer music festival every two years.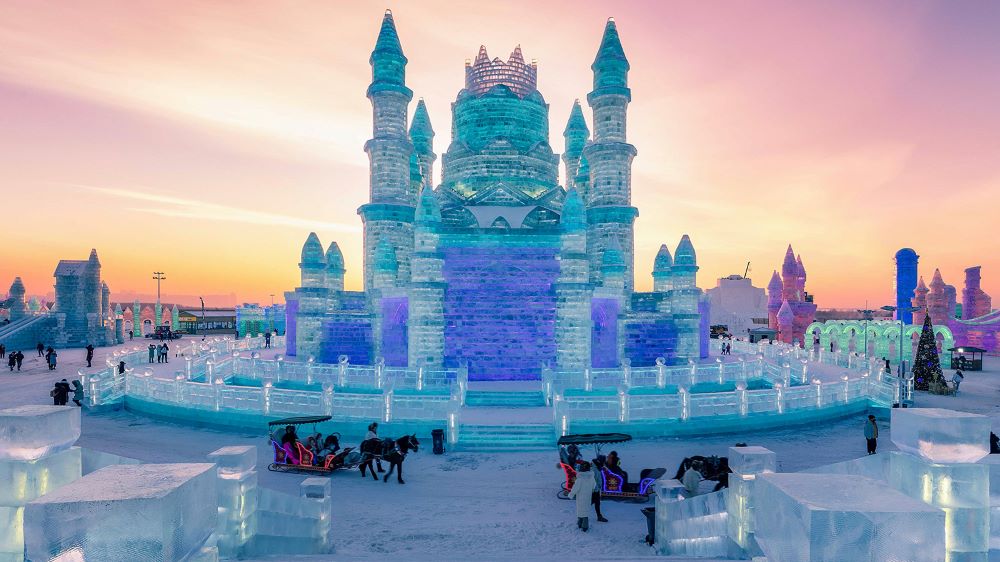 Harbin Weather and Best Time to Visit
Due to the city's famous ice festival, the most spectacular time to visit is undoubtedly the winter, when snow covers the town. However, it's important to note that winters are very harsh in Harbin, and they can also be quite long.
The 24-hour temperature average in January is only about −17.6 °C (0.3 °F). It's essential to wear layers when heading to the Harbin Winter Festival; while many indoor areas have climatized spaces, the better part of the festival's activities occur outdoors.
Ice Festival Harbin recommends packing heavy coats, scarves, hats or beanies, winter socks, and, very importantly, snow boots or waterproof shoes. Keeping warm is of the utmost importance when the temperature drops below zero degrees!
If you are planning to visit Harbin in winter, it might also be a good idea to learn about some time-tested Chinese Traditional Medicine (TCM) suggestions for keeping warm and healthy during the cold winter months.
If you can't stomach cold weather, visiting Harbin in the summer might be your best option. The July mean temperature is about 23.1 °C (73.6 °F), and you can enjoy the biennial music festival or the annual beer fest.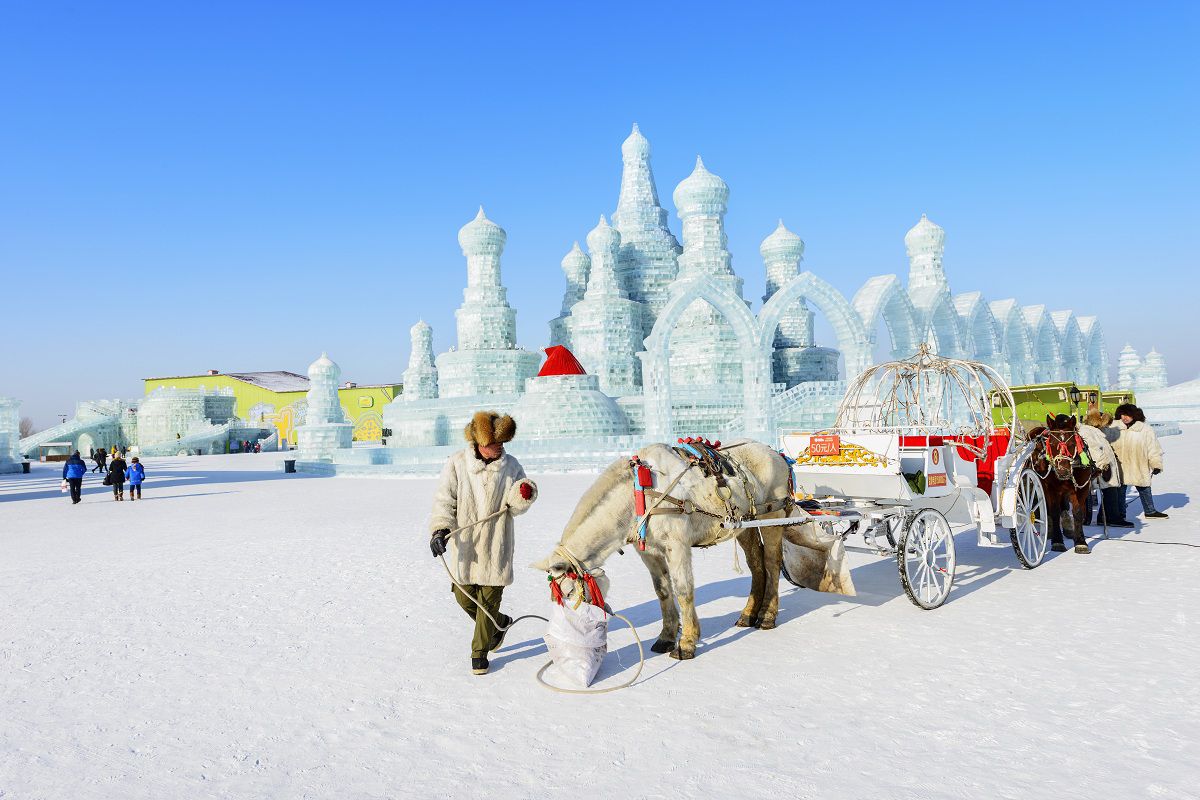 How to Reach Harbin
Harbin is one of the most important cities in northern China, and it receives flights from plenty of places within the country. Its airport also receives international flights from Russia, South Korea, Japan, and even Los Angeles, California. The airport is located about a 45-minute drive away from town, and you can get into the city via taxi or local bus service.
If you're getting in from elsewhere in mainland China, you'll find that the city is particularly well-connected by train. The central station receives passengers from many major cities, including Beijing, as well as some trains from nearby Russia.
Harbin's central long-distance bus station is across the square from the train station, and receives buses from many of the same places, although the travel time will be longer. If, on the other hand, you'd like to reach the city by car, Harbin connects to the rest of the mainland through Changchun's Highway 102. You can also drive from Jilin, Russia, and Mongolia.
Harbin is a fascinating place with a unique and vibrant culture that can't be found anywhere else in China. The city becomes a snow-blanketed place of beauty in the colder months when it plays host to its iconic Ice and Snow Festival. Harbin is a truly one-of-a-kind destination for anyone looking to get to know a different side of China!
If you have more time to explore other northern Chinese cities, try visiting Shenyang, a great destination for those interested in Qing dynasty history. And if you're tired of the cold, consider heading south to the tropical island of Hainan for a beach vacation, Chinese style!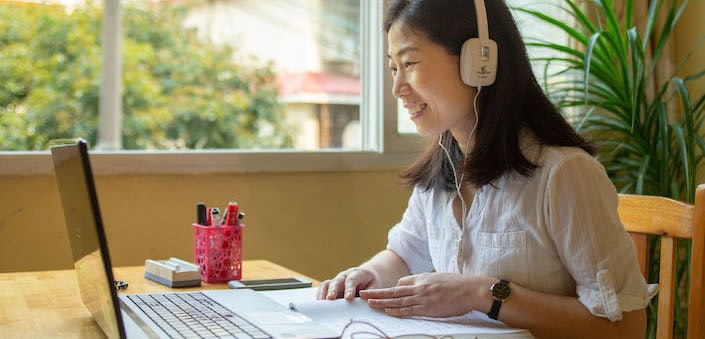 Free 30-minute Trial Lesson
Free 30-minute Trial Lesson
Continue Exploring