Nanjing Travel Guide: Welcome to the Southern Capital
When living in China or contemplating a visit to the country, it's important to keep in mind that there are many places waiting to be explored outside of Beijing and Shanghai. For instance, Nanjing, the 'southern capital,' is a city which features a unique mix of history and nature that makes it an ideal place for a vacation with loved ones. Aside from the many historical sites scattered around the city, Nanjing also boasts stunning landscapes with rolling mountains, rippling rivers and sparkling lakes.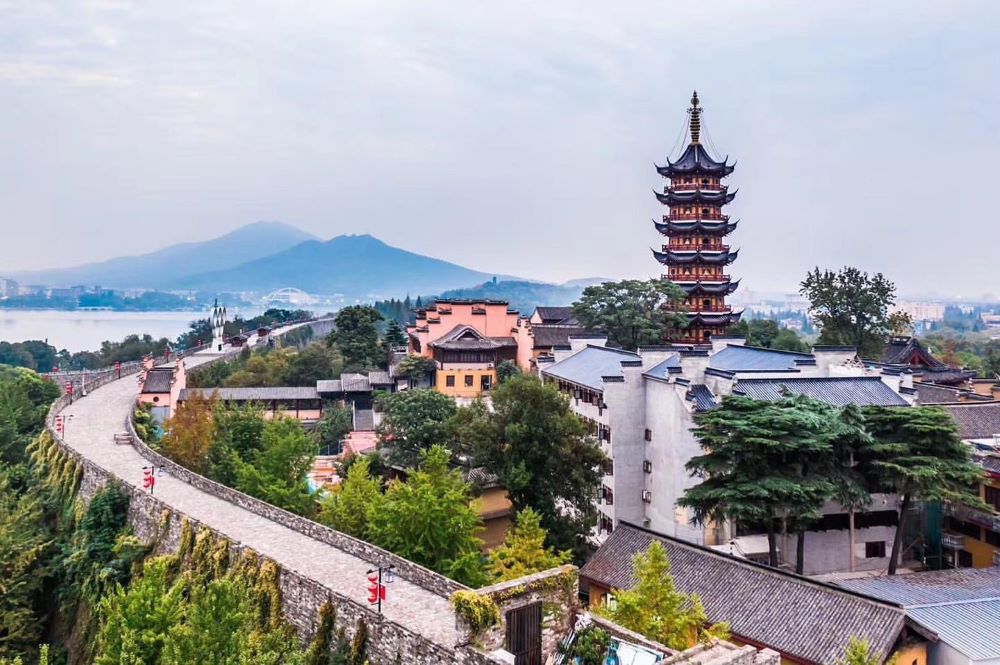 What's Nanjing's Claim to Fame?
They say a city grows on you. If that's true, Nanjing has been growing on the human consciousness for over five thousand years! Artifacts believed to be 5,000-years-old have been found in the city and a fort was constructed there some time before 473 BC.
Modern-day Nanjing, which is now the capital of Jiangsu Province, has undergone immense changes over its long history. The city was initially located within the City Wall of Nanjing. The founder of the Ming Dynasty, Emperor Zhu Yuanzhang, who made the city his capital, built this massive wall to protect Nanjing from invaders over 600 years ago. Nowadays, however, the city has outgrown the wall and stretches far beyond it in all directions.
The name Nanjing is written as 南京 in Chinese, which means the 'Southern Capital.' This name is a nod to the fact that Nanjing has served as the capital of China numerous times throughout its long history. Nanjing is sometimes also referred to by its traditional name, Nanking.
The city first became the state capital in 229 AD during the Wu Dynasty, when it was called Jianye. After that, it served as China's capital several more times and witnessed numerous historical events. As a result of the city's long history, multiple ancient buildings still stand to tell the stories of the past.
One of the most shocking events in Nanjing's history, the Nanjing Massacre or Rape of Nanjing, occurred in December 1937 during the Sino-Japanese War. History books say over three hundred thousand Chinese soldiers and civilians were killed by the Japanese army in this horrific bloodbath. The plunder of the city continued for over six weeks. Today, the Nanjing Massacre Memorial stands on a mass grave as a testament to the horrific event.
Although wars have destroyed the city several times, Nanjing bounced back time and again and lived on to become a modern, bustling city.
Things to See in Nanjing
Until recently, Nanjing did not find a place in the bucket list of popular destinations for visitors to China. However, this fast-developing city has quite a few interesting places to visit.There are numerous heritage sites, like the Ming City Wall, ancient Ming Tombs, and many places in and around the city where one can explore nature.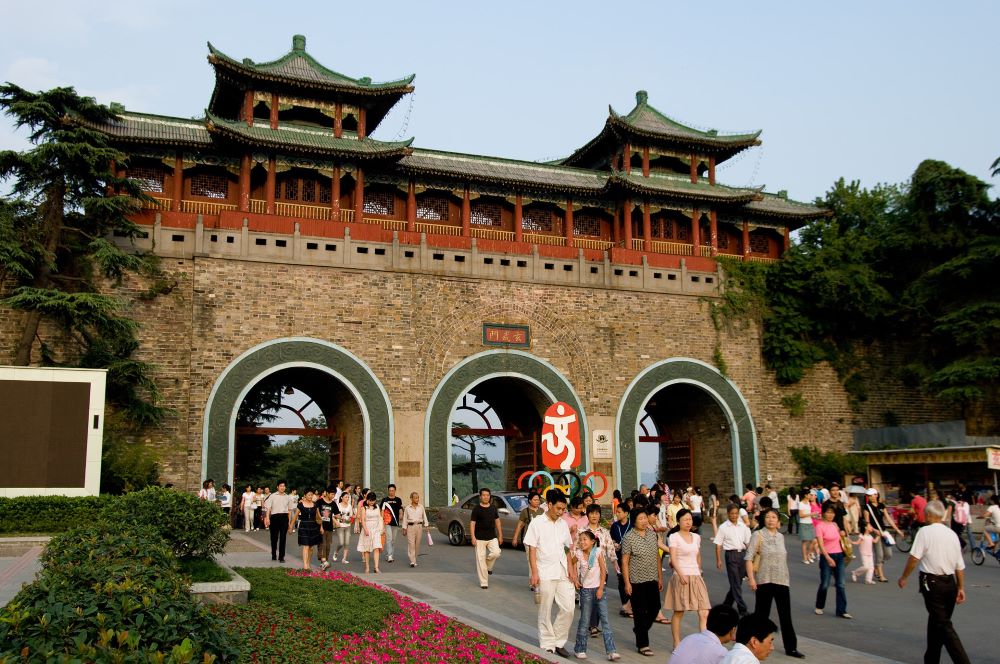 City Wall of Nanjing
The City Wall of Nanjing was built in the Ming Dynasty between 1366 AD and 1386 AD to protect the capital city from enemy attack, and parts of it are still standing today. Each brick has its origin inscribed on it, along with some other information that helps record the history of the wall's construction. Originally, this over-600-year-old wall was about 45 feet high and 45 feet wide, covering an area of 23,000 square miles. It initially had 13 gates leading to the city inside, but, later, the number increased to 18. Of these, two gates remain standing today.
Purple Mountain
Purple Mountain, which is also called Zijin Shan, meaning 'Purple-Gold Mountain,' probably got its name because it is often covered in purple and gold clouds at sunrise and sunset. These clouds make for some magnificent views. The mountain is also home to a wide variety of plants. This near-500-meter-high mountain in eastern Nanjing also has lots of heritage sites and amazing spots to enjoy nature. The Ming Dynasty tombs and the Sun Yatsen Mausoleum are among the sites that people keep coming back.
The Ming Dynasty Xiaoling Mausoleum
Located on the foothills of the Purple Mountain, this sprawling UNESCO World Heritage site, known as Ming Xiaoling, is the mausoleum of Emperor Hongwu. This quiet and peaceful place took over 20 years to build and was constructed by about a hundred thousand laborers at huge expense. It is a treasure trove of information for students of history and culture.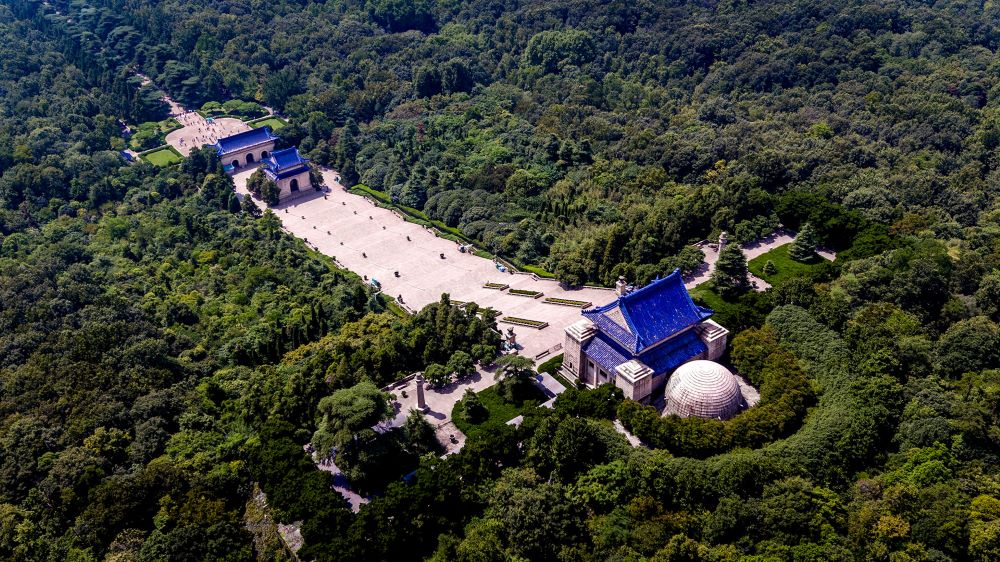 Sun Yatsen Mausoleum
Sun Yatsen, the first President of the Republic of China, also known as the 'Father of Modern China,' was a doctor of medicine, philosopher, and politician. The Sun Yatsen Mausoleum is a magnificent place and a must-visit site. Standing as a tribute to this great leader, this huge marble building, which features 400 steps leading up to the tomb, is located at Purple Mountain in the suburbs of eastern Nanjing. The actual tomb of this revered personality is at the top of the staircase in a marble sarcophagus with his statue over it.
Qinhuai River
Another amazing sight in Nanjing is the Qinhuai River, a tributary of the Yangtze. This lifeline of Nanjing is a place where history meets culture. There are several interesting spots along the banks of the river, like the Zhanyuan Garden and Confucian Temple, among others. It is also well-known as the former residential area of Ming dynasty courtesans.
Cruise ships offering individual and group tours during the day and night are available. The old lighted Ming Dynasty-style buildings make for a resplendent sight at night. Be sure to take time to enjoy their iridescent lights reflecting off the rippling waters while cruising along the river.
Confucius Temple
The Temple of Confucius, dedicated to one of the greatest thinkers and philosophers of China, was originally built in Nanjing during the Song Dynasty in 1034 AD. The temple was destroyed several times, most recently during World War II by Japanese soldiers, but was rebuilt every time. The different incarnations of this temple reflected the varying architectural styles of the different eras during which they were built. At present, the temple resembles a mixture of Ming and Qing dynasty architecture. Visitors from across the world come here to study Chinese history and culture.
Nanjing Massacre Memorial Hall
Built over a mass grave site where 10,000 bodies are buried, this building is a tribute to the thousands who died during the Nanjing Massacre. Exhibits inside the hall present information on the mass murder, the events that led up to it and those that followed. On display here are photographs, documents, historical artifacts, sculptures and excavated bones of the people killed in the massacre, among other relics.
Usnisa Palace
This Buddhist resort on the Niushou Mountain peak is a stunning place. It was built with great care and one has to see it to believe it. People visiting the place require a considerable amount of time to explore it properly. There are nine floors: six underground and three above. Every nook and cranny here is amazing, with countless Buddha statues and gold and gem-studded walls and pillars.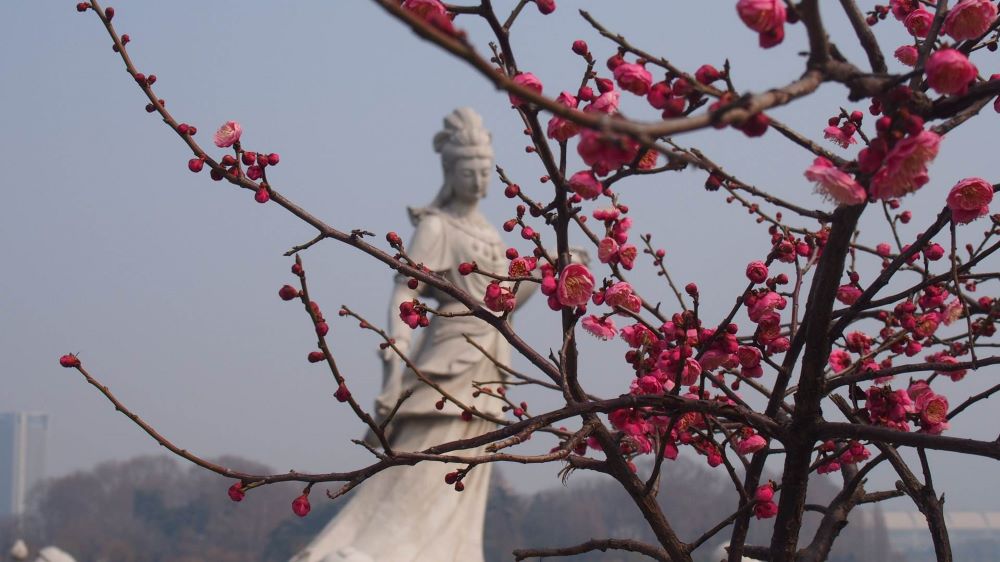 Xuanwu Lake
The famous Xuanwu Lake beside the City Wall is an exquisite place to enjoy a day out with family and friends in summer or spring. The banks of the lake are lined with a large variety of trees that make up a bright and colorful view with cherry blossoms, lilies, maples, and willows, among many others. When the cherry blossoms are in full bloom, they are a gorgeous sight to behold. In the evenings, when the sun goes down, the park around it comes alive with dazzling lights. People often hire boats and enjoy rides on the lake in the mornings and evenings.
Zhanyuan Garden
Nanjing's Zhanyuan Garden is a very attractive garden that features a beautiful courtyard with some very well-maintained Ming Dynasty architectural specimens. The place was destroyed during the Taiping Rebellion but was later restored to its old glory.
There are many more attractions here, including the Nanjing Museum, the famous Qixia Temple on Qiuxia Mountain, the Presidential Palace, and Nanjing Underwater World, among others.
Nightlife and Shopping
A visit to this ancient capital would be incomplete without a night out. Many places come alive after sundown, like the banks of the Qinhuai and areas around the Confucius Temple, but the best place to enjoy nightlife is Nanjing-1912, an entertainment block where one can find discos, pubs, nightclubs, and restaurants. It is also an ideal place to go shopping.
If you like to shop, also consider visiting Xinjiekou, the main business center of Nanjing where you will find offices, banks, shopping malls, theaters, and restaurants.
With so much to see and do here, when the time comes to bid adieu to Nanjing, you'll feel both satisfied and a little sad to leave!
Additional Considerations For Your Visit to Nanjing
Transportation
Nanjing is well-connected with the major cities of China, including Beijing, Shanghai, Hangzhou and Xi'an, by air, rail, long-distance air-conditioned buses, metro and boat. Traveling to and from Nanjing is not only easy but also inexpensive.
Languages spoken
The local people of Nanjing speak Nankinese, or Nanjing Mandarin, which is a dialect that's distinctly different from other versions of Mandarin. Don't worry if you don't know this dialect, though, since most people also speak Standard Mandarin.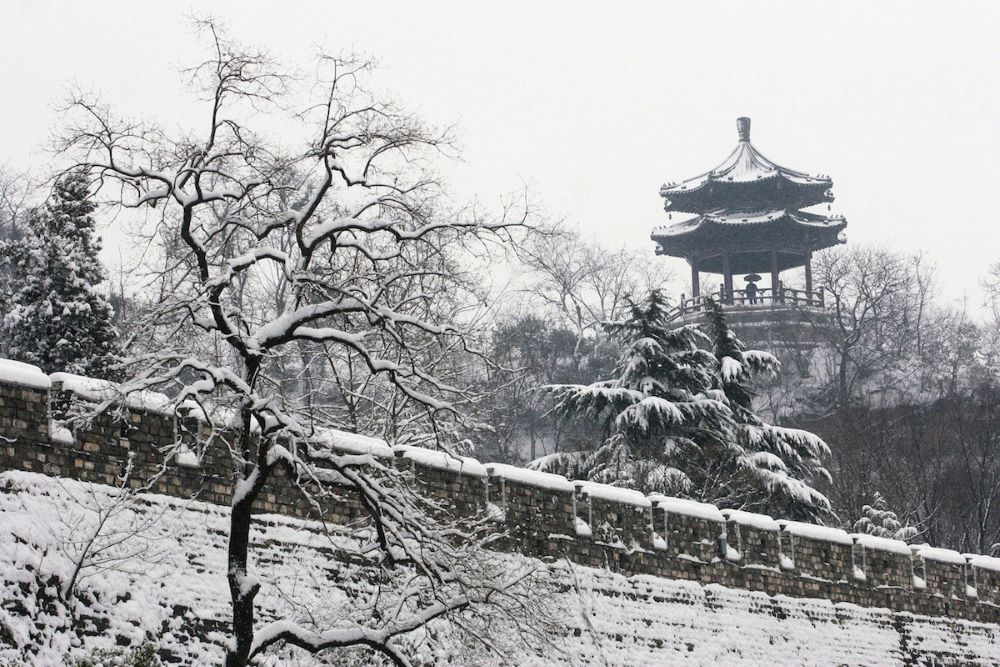 Weather
Winters in this ancient city are quite cold, with intermittent snowfall. Summers, on the other hand, are quite hot and humid. Generally, spring and autumn are the best times to visit Nanjing and enjoy outdoor activities.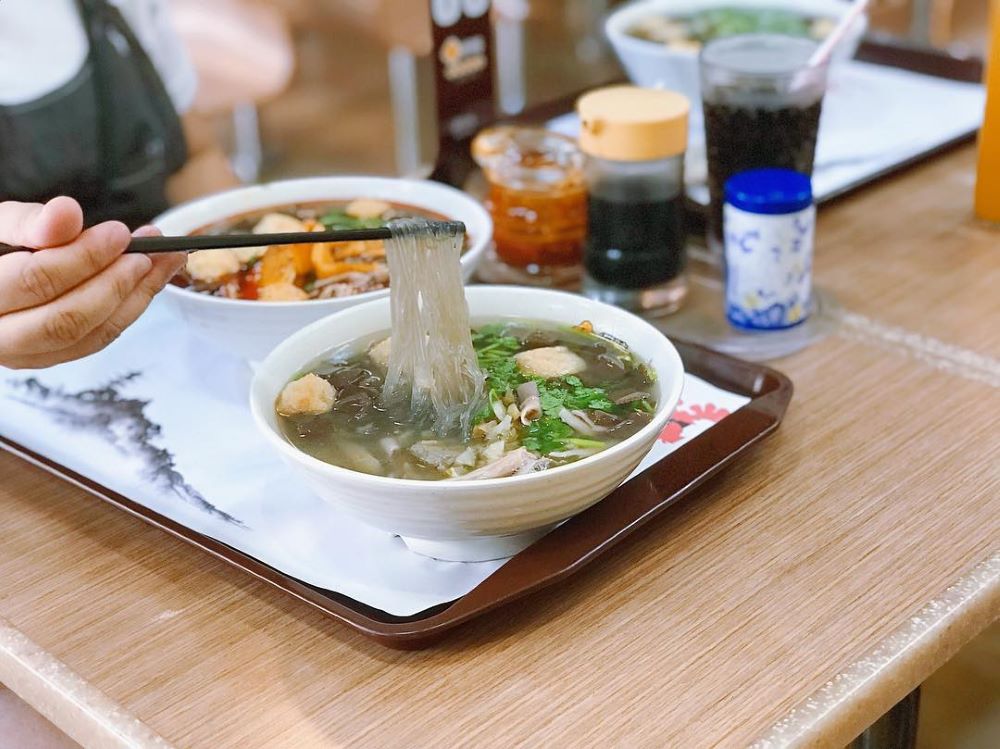 Food
Nanjing is a great place to explore exotic food. Some of the must-haves are:
Tangbao, a delicious dish of steamed soup-filled pork dumplings
Pan-fried beef dumplings
Shredded tofu, or gansi, as it is popularly known, a preparation of finely shredded tofu in chicken stock with bamboo shoots, ham and shrimp which makes a great aperitif
Duck meat soaked in brine, another typical Nanjing delicacy, served cold
Duck blood soup, another delicacy made of duck-bone stock, vermicelli, fried tofu and offal
Where History and Modernity Meet
Nanjing is a modern city steeped in history and culture. The Southern Capital's many parks, mountains, historical structures and shopping districts make it a great place to visit no matter what your interests, so it's definitely worth keeping this city in mind while planning your next trip around China!
In addition to Nanjing, China is full of ancient historical cities just waiting to be discovered. If you're interested in ancient Chinese architecture, a trip to Suzhou definitely deserves pride of place on your bucket list. You also shouldn't miss visiting Beijing, home to China's best preserved imperial garden, the Summer Palace. History buffs should also consider checking out Xi'an, once the starting point of China's storied Silk Road.
Before you step out the door, make sure you're prepared for your travels by checking out this list of 10 Chinese travel phrases.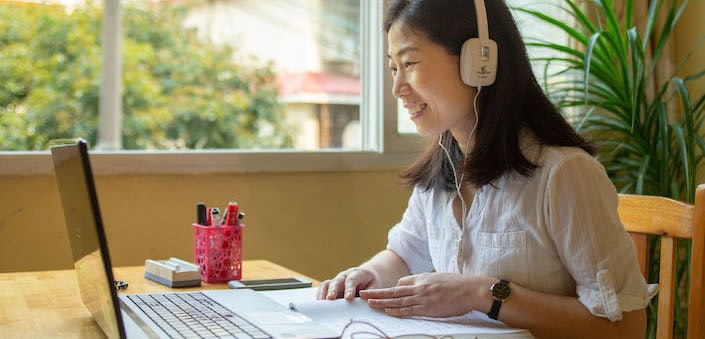 Free 30-minute Trial Lesson
Free 30-minute Trial Lesson
Continue Exploring