China's National Day, called 国庆节 (guó qìng jié) in Chinese, is celebrated with great fanfare every year on October 1 as a public holiday. It is a major Chinese holiday, and grand military parades are also held every 10 years to commemorate the founding of the People's Republic of China. The most recent parade was held on October 1, 2019, marking 70 years.
National Day is also one of the busiest weeks for tourism in China because most people have a week off, which they use to take trips with their families and friends. Advance planning is necessary for those hoping to travel during this busy period.
Read on for everything you need to know about this significant Chinese holiday.
When is China's National Day and what does it commemorate?
China celebrates the Chinese National Day on October 1st every year. The celebration commemorates the founding of the People's Republic of China, which was established on October 1st, 1949. On that day, an official victory ceremony was organized in Tiananmen Square, where Mao Zedong raised China's first Communist national flag.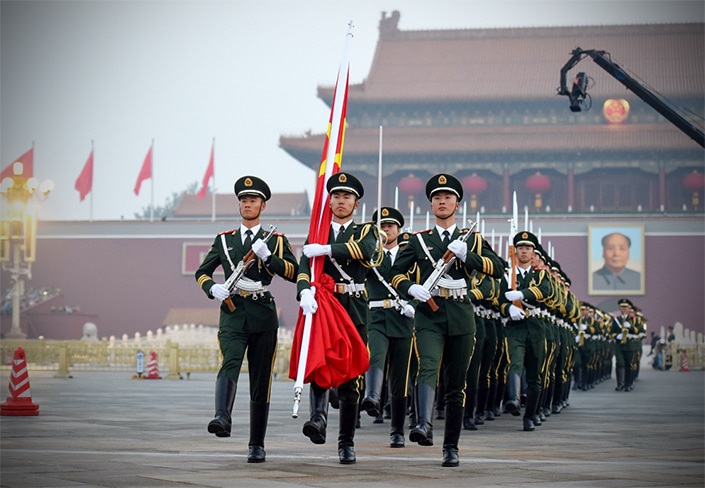 Presently, China's National Day is celebrated over a one week period. The 7-day holiday begins from October 1st and runs until the 7th, and this period is called "Golden Week" in China. During this week, most Chinese people travel around the country to enjoy their holiday.
Why is National Day called "Golden Week?"
The Chinese National Day holiday is called "Golden Week," or 黄金周 (huáng jīn zhōu) in Chinese, because this is the biggest week for tourism in the country. In fact, the government originally extended the length of this holiday to help encourage the growth of China's domestic tourism market. During this period, people have a week off to reunite with their family and take trips within China and to surrounding countries.
This weeklong holiday is one of the longest public holidays in China, so people can enjoy both short-distance and long-distance trips during this time. Also since the weather remains clear and temperatures are pleasant and comfortable, many people believe this is a golden time for traveling.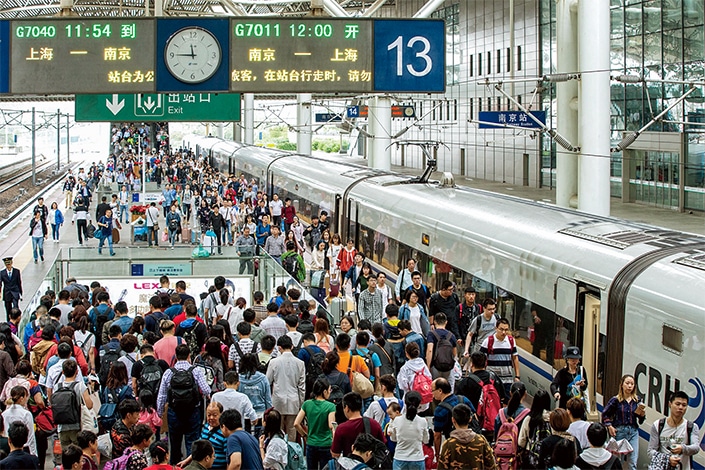 What is the history of China's National Day?
For centuries, China was ruled by a succession of different dynasties. After a lengthy civil war, the Chinese communist party proclaimed China's independence and established the People's Republic of China in 1949.
Mao Zedong, the leader of the party, declared the creation of New China from Tiananmen Square on October 1st, 1949, and this date was set aside to commemorate the founding of the People's Republic of China (PRC).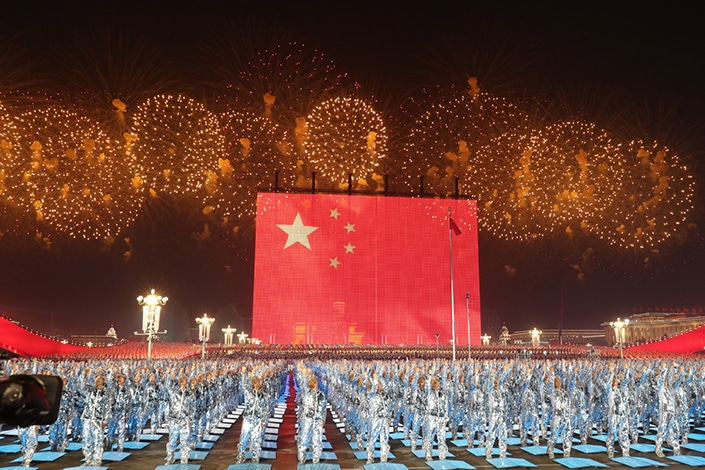 On October 1st, 1949, a grand ceremony took place at Tiananmen Square to celebrate the founding of the Central People's Government of the new country. On October 2nd, 1949, the new government passed the "Resolution on the National Day of the People's Republic of China" and declared October 1 as the Chinese National Day. Since 1950, October 1st every year has been celebrated as a great national festival in China.
How do Chinese people celebrate Chinese National Day?
Chinese National Day is celebrated throughout mainland China, Macau, and Hong Kong with many government-organized festivities. These include fireworks, concerts, sports events and cultural events.
Public places are decorated using a festive, patriotic theme. Portraits of prestigious leaders, including Mao Zedong, are publicly displayed. Many Chinese living abroad also celebrate this important holiday.
Some popular activities include the following:
1. National Flag-raising Ceremony
The 6 a.m. National Day flag-raising ceremony is organized in Tiananmen Square. This is one of the most important acts during which the national flag guards march from the Tiananmen Gate Tower.
Anyone can attend the ceremony, including the general public and tourists. The event is widely televised. Although a ceremonial flag-raising takes place on the first day of every month, the number of people attending the ceremony on October 1 is generally greater than those attending the ceremony on ordinary days.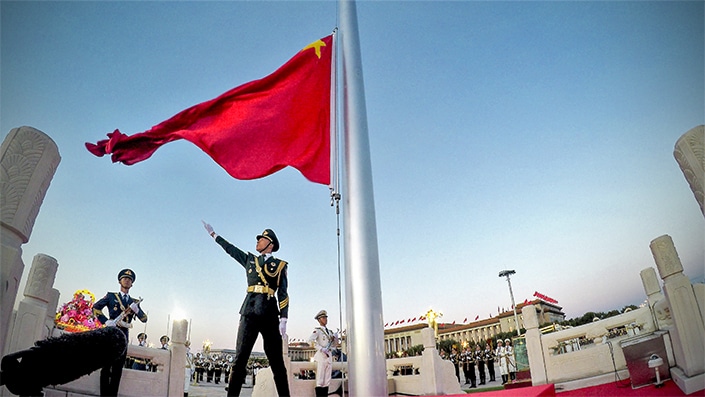 2. Anniversary Activities
Communist leaders offer flowers to the monument of the People's Heroes to commemorate the martyrs who died in the fight for the liberation of China. Many overseas Chinese Communities also celebrate the event and organize a flag-raising ceremony during the festival.
3. Evening Gala Event
At the National Day evening gala, attendees can enjoy songs and perform dances that focus on themes like love for one's motherland and celebration of the country's development. During this event, many Chinese people feel a strong sense of patriotism and take time to enjoy the event's festive mood.
Other activities that take place during the event are firework displays and painting and calligraphy exhibitions.
The National Day holiday is also an excellent time for shopping as many shopping malls offer attractive discounts during Golden Week.
Is it a good idea to travel during China's National Day holiday?
Frankly, during the National Day holiday, every tourist attraction is at full capacity almost everywhere. All cities and scenic spots are packed, and transportation gets quite busy and crowded.
During this time, many Chinese tourists travel to coastal areas and famous large cities, such as Hong Kong, Sanya, Beijing, and Shanghai. Unsurprisingly, train tickets to these cities tend to sell out fast. Popular tourist destinations such as West Street in Yangshuo and the Great Wall in Beijing sometimes become so packed with tourists that it is hard to appreciate the scenery. Thus, it is best to avoid visiting China's most popular travel destinations during this period.
China's southwest, west, and northeast cities are less crowded, however, which makes them better places to visit during this hectic time. Some of the best places to visit during China's National Day are Qinghai Province, Western Sichuan Province, Xishuangbanna, offbeat Beijing museums, and the Changbai Mountains.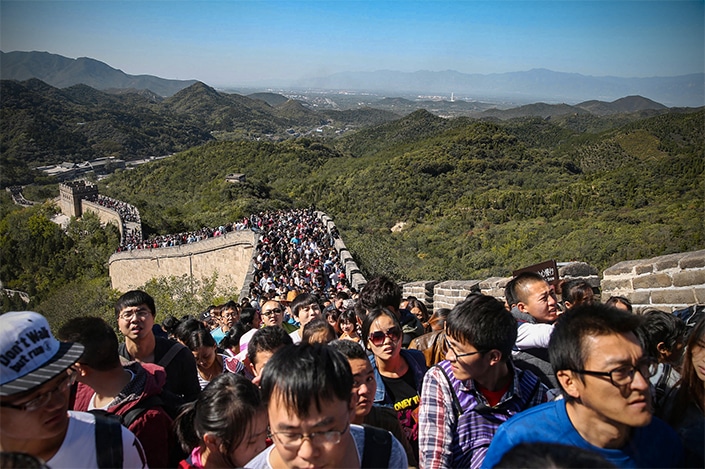 Keep in mind the following tips to ensure an enjoyable trip in China during National Day:
If possible, avoid traveling on the first day and the last day of the holiday. Instead, plan your trip on other days in between when there are fewer tourists and costs are comparatively lower.
Avoid visiting popular destinations as these are always crowded with visitors. Instead, choose tourist attractions that are not so famous so that you can enjoy the scenery at a more leisurely pace.
Book flights/train tickets and accommodations in advance. You can enjoy huge discounts on flight tickets if you book early. For trains, you can book tickets 60 days before departure. If possible, book hotel rooms in advance too.
If you aren't already proficient in Chinese, learning the most common Chinese characters helps while traveling in China.
Air travel is recommended because even the fastest and most expensive trains are packed during this time. Book your flight tickets in advance, and prepare your travel itinerary beforehand to avoid blunders that may spoil your fun while traveling.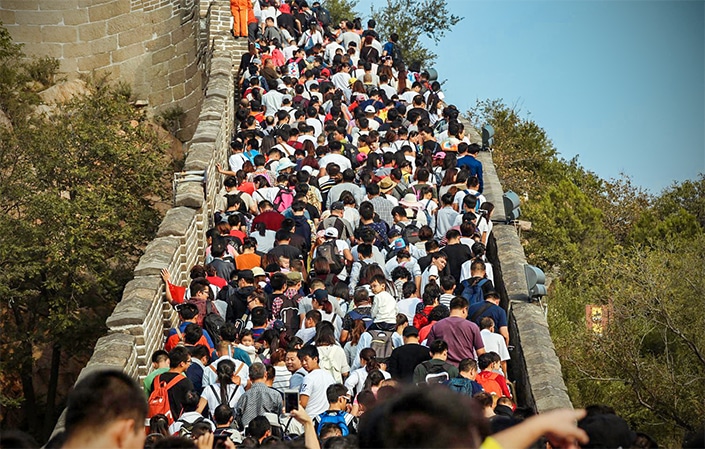 Overall, China's National Day exists to celebrate China's independence. Many see this holiday as a golden time to travel around the country or abroad, so careful advance planning is needed to ensure that you have an enjoyable holiday.
If you plan on visiting China during this week, be prepared with the tips given above.