Great Chinese Songs for Learning Chinese
Learning through songs is not just something for children. In fact, learning a language through music is a great way to assimilate syntax and enrich your vocabulary. It also helps with memorization and makes it much easier to learn and remember new words!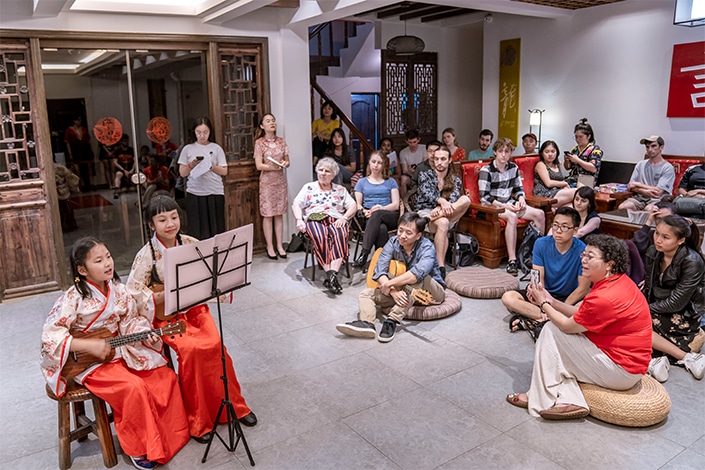 How can I use Chinese songs to improve my Chinese?
Using music to learn Chinese is one of the best and most fun ways to improve your listening and reading skills. It is a great way to acquire more vocabulary and to experience Chinese culture at a deeper level. Listening to Chinese songs not only helps reinforce the vocabulary you learn in Chinese textbooks, but also helps you learn more authenticate, everyday Chinese, like slang. 
One of the great things about Chinese music, in general, is that every music video and song you play has accompanying lyrics, so you can always sing along. Karaoke culture is also very big in China, so knowing some Chinese songs will definitely help you next time you go to KTV with your friends.
It is best to start out with slower songs until you have built the confidence to sing faster or even start rapping! For now, here are some famous song suggestions to get you started:
Tian Mi Mi by Teresa Teng (an oldie but a goodie!)
Mingming Jiu by Jay Chou
Paomo by G.E.M.
Yanyuan by Joker Xue
Say It by Luhan
PengYou by Zhou HuaJian (another great classic)
Pinyin Learner's YouTube channel is a great resource to find hundreds of songs accompanied with Chinese pinyin to help you sing along.
Where can I listen to Chinese songs?
There is a range of Chinese music streaming services and apps, but the most popular ones are QQ Music, Baidu Music and KuGou.
These apps can each provide you with a new playlist every day based on your listening habits and preferences, thus making it much easier to discover new music. You can even download the songs for free!
Popular streaming apps and services such as iTunes and Spotify also work in China. If you are outside of China, YouTube Music is another great place to search for Chinese songs. 
Want to find out more about Chinese pop culture? Check out our list of recommended Chinese TV shows, peruse our list of excellent Chinese podcasts or read our article on Chinese standards of beauty to keep learning.
| Chinese | Pinyin | English |
| --- | --- | --- |
| 个性电台 | gèxìng diàntái | personal Radio |
| 新歌推荐 | xīngē tuījiàn | new song recommendation |
| 排行 | páiháng | ranking |
| 歌手 | gēshǒu | singer |
| 最新专辑 | zuìxīn zhuānjí | latest album |
| 歌词 | gēcí | lyrics |
| 歌曲 | gēqǔ | song |
| 音效 | yīnxiào | sound effects |
| 视频 | shìpín | video |
| 分享 | fēnxiǎng | share |
| 音质 | yīnzhì | sound quality |
| 作曲家 | zuòqǔ jiā | composer |
| 摇滚 | yáogǔn | rock |
| 流行音乐 | liúxíng yīnyuè | popular music |
| 古典乐 | gǔdiǎn yuè | classical music |
| 传统音乐 | chuántǒng yīnyuè | traditional music |
| 电音 | diàn yīn | electric tone |
| 爵士乐 | juéshìyuè | jazz |
| 跑调 | pǎodiào | off tune |
| 声音太大了 | shēngyīn tài dàle | It is too loud |
Put on your dancing shoes
No matter where you are in your Chinese language learning journey, you can use music as a fun and inspirational way to improve your speaking (and singing) skills. You will also learn more about Chinese pop culture and the music scene in general, so why not give this learning method a try and listen to some Chinese songs today?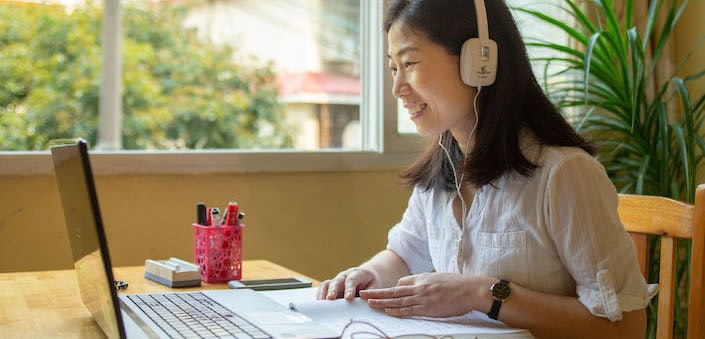 Free 30-minute Trial Lesson
Free 30-minute Trial Lesson
Continue Exploring