China Study Abroad: Finding Your Perfect Program
Embarking on a journey to study abroad in China opens up a world of diverse educational opportunities. Dive into our comprehensive guide to uncover valuable insights and tips to help you choose the program right for you!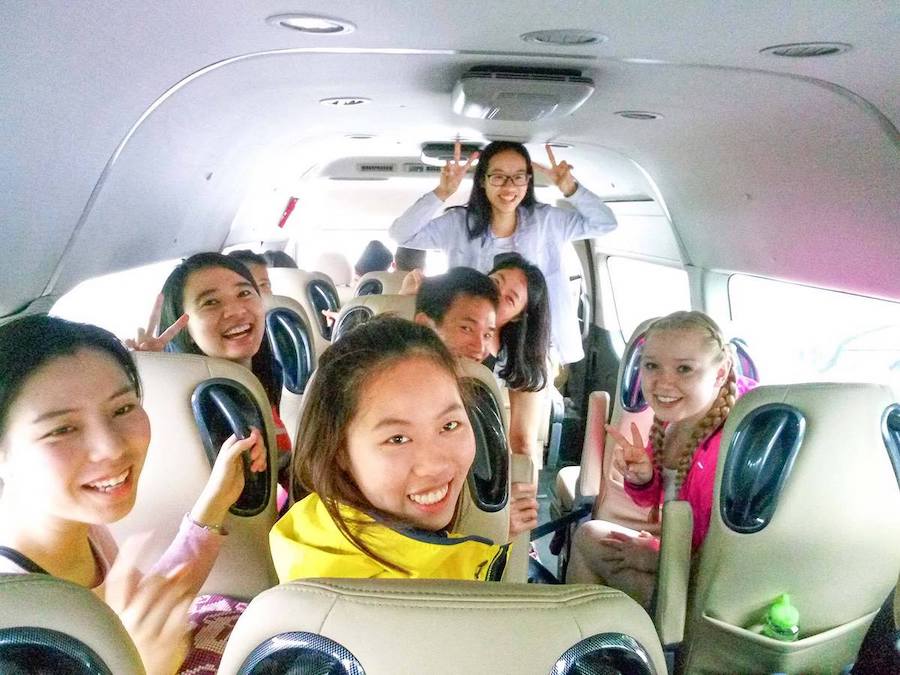 Why study abroad in China?
While China was once a niche location for study abroad, that is no longer the case. Every year, tens of thousands of international students from around the globe are now heading to China to participate in study abroad programs.
China boasts a safe, stable society with some of the most advanced infrastructure in the world, as well as a fascinating culture and history. As China's importance on the world stage continues to increase, so does its popularity as a study abroad destination.
Getting started
China is a vast country and when it comes to studying abroad, the options can seem endless. To help focus your search, you'll need to first consider important factors like what you want to study, program length, location and more.
Program options to study abroad in China
Before embarking on your China study abroad adventure, first choose the best type of program for you. Your options include:
Traditional semester or year-long for-credit study abroad programs

Full degree-granting programs 

Full degree granting programs at American universities

Short or long-term not-for-credit Chinese language study options
See the corresponding sections below for more information about each of these options.
Choosing what you want to study
China is the best place on earth to study the Chinese language. It's also a great place to study Chinese literature and teaching Chinese as a foreign language. Most traditional for-credit study abroad programs and short-term study programs at private language schools focus on these and other Chinese language and culture related subjects.
It's also possible to study a variety of different subjects in China, from engineering to architecture. Although some traditional study abroad programs offer the opportunity to study these sorts of academic subjects, it's more common for interested students to enroll directly in degree-granting programs at Chinese universities or at American universities with campuses in China.
English-taught versus Chinese-taught
Another important factor to consider when choosing a study abroad program in China is the language of instruction.
Most traditional for-credit study abroad programs either focus on the Chinese language or have a Chinese language component. Generally, all but the very earliest beginner Chinese language classes will be taught in Chinese. If there are classes about other subjects offered by your study abroad program, they are frequently taught in English.
When it comes to full degree programs, the language of instruction may vary. Many Chinese universities offer degree programs taught completely in English. While this can be a great option for international students who don't speak Chinese, the quality of these programs varies widely, as does the English proficiency of the professors who teach them.
Choosing a location to study abroad in China
Your choice of location for studying abroad in China can depend on a variety of different factors. If you plan to study a specialized major or program only offered at select institutions or if you want to study with a specific professor, then your choice of location will be dictated by the location of the program that best fits your needs.
If, however, you are coming to China to study the Chinese language or are planning to study another common major, then you will have more options for where to study.
When choosing a location, consider the following:
If you want to study Chinese:

If your main goal is to learn Chinese, steer clear of China's big international coastal cities which are full of both Chinese and international English speakers. Since language immersion is the key to proficiency, smaller, less cosmopolitan cities like

Guilin

will provide you with ample opportunities to use your Chinese on a daily basis. 

If you want to do an internship:

If you're interested in interning, consider study abroad programs based in China's international urban centers like Beijing, Shanghai, Shenzhen or Guangzhou. These cities host many large-scale Chinese and international companies which offer internships in a variety of fields. Note that if you're based in a smaller city, it's often possible to get permission to do a summer internship in a different city.

If you want a scholarship: It can be easier to obtain certain Chinese scholarships if you choose to study at universities that don't host many international students and that are located in smaller, less trendy Chinese cities. The cost of living in smaller Chinese cities is also much lower than in big cities, so consider third or fourth tier cities to help save on living expenses.
View this post on Instagram
Program length
Thinking about the ideal length of your study abroad experience can help you eliminate some possibilities while homing in on the most suitable ones.
Most traditional for-credit study abroad programs last for either one semester or one academic year. Many also provide a summer semester option.
If you're doing a full degree program, expect to study for several years depending on which degree you're hoping to obtain.
In Chinese universities and other academic institutions, the academic year is generally divided into fall and spring semesters. Fall semester generally starts in early to mid-September and ends in January or early February. After a break for Chinese New Year, the spring semester usually starts in February or early March and ends in mid-July.
If you don't need college credit or don't have time to spend a full semester in China, there are also many short-term language programs available.
Traditional study abroad in China programs for college students
If you're a current college student considering studying abroad in China, chances are you are interested in participating in a traditional study abroad program (that is, a semester or year-long program for which you can earn transferable college credits) as part of your undergraduate experience.
There are many options for students who wish to earn credit by studying abroad in China. Some are purely language focused, while many others include a mix of language classes and classes taught in English on other subjects.
Keep in mind that it's important to communicate with your school's study abroad office in advance to make sure that they will accept transfer credit from the Chinese study abroad program that you choose.
Below are some for credit Chinese language and culture focused study abroad programs:
The Chinese Language Institute (CLI) study abroad program

: This for-credit program, based in the picturesque city of Guilin and facilitated in partnership with

Guangxi Normal University

, includes a mix of Chinese language classes and classes on Chinese history, politics, economics and culture taught in English.

CET

: Based in several different cities including Beijing and Harbin, CET offers a for credit Chinese language-focused study abroad program.

Inter-University Program (IUP): This program is another solid Chinese-language focused option. Hosted at Tsinghua University in Beijing, it offers students the opportunity to receive credit for one semester or one year of study.
Non-language study abroad programs
It's also possible to find traditional study abroad programs in China which are not language focused. Although these often include a language component, they emphasize teaching other subject matter in English.
Two interesting options of this kind to consider include:
Non-traditional China study options
If you're a recent graduate or a seasoned professional not interested in earning college credit, a non-traditional study abroad program may be a better fit for you.
If you want to study abroad to improve your Chinese, consider studying Chinese at a private Chinese language school. One major benefit of schools like this is flexible scheduling which allows for rolling application dates and customizable program lengths.
Some private language schools, such as the Chinese Language Institute (CLI), also offer one-on-one classes, which are ideal for students looking for a more individualized program.
If you're serious about improving your fluency, be on the lookout for programs that offer a language pledge option, since speaking Chinese at all times is the best way to rapidly improve your skills.
Degree-granting programs at Chinese universities
Enrolling in a degree-granting program at a Chinese university is another increasingly popular option.
Chinese degree-granting programs can be great for students who already have a high level of Chinese proficiency and want to use Chinese to study another subject. They can also be a good choice for students who want to study a subject unrelated to Chinese in English while based in China.
Keep in mind that the quality of these programs on offer can vary widely, so it's best to do some research and talk to former international students who have experienced the program first before you take the plunge.
Chinese university rankings
The overall quality of many Chinese university programs, especially in the fields of science and technology, has soared to new heights in recent years. For example, when asked which university is best in the world for studying engineering, most people might think of MIT. However, Tsinghua, a top Chinese university in Beijing, now has the top-ranked engineering program in the world, according to US News and World Report.
When trying to decide which Chinese university to choose, it can sometimes be helpful to consult a list of Chinese university rankings to get an idea of their relative quality.
Top universities in China include:
Tsinghua University (Beijing)

Peking University (Beijing)

Shanghai Jiaotong University (Shanghai)

University of Science and Technology of China (Hefei, Anhui Province)

Zhejiang University (Hangzhou, Zhejiang Province)
Choosing a major
Below is a list of non-Chinese language subjects that are especially popular among international students studying at Chinese universities in China:
International business

Economics

Business

Computer science

Engineering

Medicine
Some students who come from countries where local universities already offer strong courses in the above subject areas may be more interested in studying specialized subjects difficult to access in other countries. Some of these include:
It's also possible to study Chinese and Chinese related majors by enrolling directly in a degree program offered by a Chinese university. Language students interested in this option can consider programs like the BA in Chinese language program offered by Xiamen University.
Chinese degree programs
Bachelor's:

Most Chinese BA programs last for 4 years. Some special bachelor's degree programs in subjects like medicine can last up to 6 years, however, and graduation requirements often include writing a thesis. 
Master's:

Chinese MA programs generally last for two years, although some are three years long. Master's programs are usually only open to students who've already completed a BA. Students are required to write and defend a thesis before graduation.
PhD: Chinese PhD programs are relatively short, with most only lasting 3 or 4 years. Chinese universities frequently require PhD applicants to already have a master's degree. To graduate, students must successfully write and defend a thesis.
Admissions requirements for Chinese universities
As you might imagine, Chinese admissions requirements vary widely depending on the type and level of program to which you are applying. As a general rule, you'll be required to provide a copy of your high school and/or college transcripts, plus a copy of any diplomas you've already obtained.
If you're applying for an English-taught program as a non-native English speaker, you may also need to provide proof of English proficiency.
To enroll directly in a Chinese-taught bachelor's program, you'll generally need at least a passing HSK 4 score, while graduate programs generally require HSK 6.
Chinese universities often also have age requirements for students. In general, you should be under 30 to apply for a master's degree and under 40 to apply for a master's or doctoral degree.
Not all majors at Chinese universities accept international students. Indeed, some of the top-ranked programs at Chinese universities are only available for students with Chinese nationality who have achieved high scores on the famously difficult Chinese college entrance exam, known as the gaokao.
Foreign students aren't required to take the gaokao and it's generally considered much easier to gain entrance into some of China's top universities as a foreign passport holder. Some Chinese universities have recently taken steps to tighten international admissions requirements, however.
Degree-granting programs at American universities in China
Some international students who are interested in doing a full degree program in China may feel more comfortable studying at a Western university, such as one of the schools listed below:
NYU Shanghai
Founded in 2012 and located in Shanghai, China, NYU Shanghai is a collaboration between New York University and East China Normal University. They offer a variety of exciting undergraduate and graduate programs including bachelor's, master's and doctorate degrees.
Although all academic programs are taught in English, international students are expected to study and become proficient in Mandarin. Graduates receive both an American and Chinese diploma.
Duke Kunshan
Duke Kunshan is another unique option for students hoping to obtain an American degree in China. Founded in 2013, Duke Kunshan is the result of a partnership between Duke University and Wuhan University. The university's campus is located in Kunshan, Jiangsu Province near Suzhou and Shanghai.
The school offers both undergraduate and master's degree programs in select disciplines, including Electrical and Computer Engineering and Environmental Policy.
The language of instruction at Duke Kunshan is English and graduates receive both a Chinese and American degree.
The Hopkins-Nanjing Center
Unlike the other options listed above, The Hopkins-Nanjing Center (HNC) offers a unique opportunity for international students to complete a graduate degree taught almost entirely in Mandarin Chinese. Opened in 1986, the HNC is the result of a partnership between Johns Hopkins University and Nanjing University.
The HNC offers a two-year master's degree in international affairs and a slightly longer hybrid master's program that involves taking courses both at the HNC and at the DC campus of the Johns Hopkins School of Advanced International Studies (SAIS).
The HNC is located in downtown Nanjing, Jiangsu Province. Students have the option of living with a Chinese roommate and upon graduation, master's degree program students receive a diploma from both SAIS and Nanjing University.
Since courses are taught primarily in Chinese, international applicants are required to first pass a Chinese language proficiency test.
Tuition and scholarships
Studying abroad in China can be quite affordable. There are also many scholarships available, so having an amazing China study abroad experience is possible for most students regardless of financial situation.
Tuition
Tuition for academic programs varies widely depending on the type of program and academic institution in question. Language and degree programs at Chinese universities tend to be the cheapest. Unsurprisingly, degree-granting programs at American universities are the most expensive, with tuition rates comparable to what students would pay if they were studying in the US.
International scholarships
There are a variety of international scholarships available for students interested in studying abroad in China. Which scholarships you're eligible for will depend on several different factors including whether you're an undergraduate or graduate student, what you plan to study, your nationality and your personal financial situation.
There are many scholarships aimed at Americans wishing to study abroad. Some of the more well-known ones include:
If you're ineligible for the scholarships above, you can search for others on websites such as www.iefa.org. You can also consider applying for Chinese scholarships.
Chinese scholarships
The Chinese government and Chinese universities offer a variety of scholarships to students interested in furthering their education in the country. Many Chinese scholarships include a stipend for living expenses.
Interested students can consider applying for one or more of the following scholarship opportunities:
Chinese Government Scholarship Council scholarships

Local Chinese government scholarships

Scholarships offered by individual Chinese universities
It's always best to inquire at your Chinese university's overseas education college (海外教育学院 hǎiwài jiàoyù xuéyuàn) or equivalent to find out which Chinese scholarships are available and how to apply for them.
Note that if you're interested in pursuing a job with the US government in the future, accepting a Chinese government scholarship may negatively impact your ability to receive a US security clearance.
Visas
As a general rule, if you plan on studying abroad in China at a university, you will need to apply for a student visa, known as an X visa. Students coming to China for short-term language study or other short-term programs may also be asked to apply for an F visa.
The application process for student visas in China is generally quite straightforward and your Chinese university or school should help guide you through the process.
Adventure awaits!
Studying abroad in China offers the adventure of a lifetime, and it's easier than you think! Overseas study also provides a wealth of opportunities to experience other cultures and meet new friends. It may even make you smarter!
Thanks to the wealth of academic programs available, you're almost certain to find a Chinese study abroad program right for you.
If you're still considering your options, we recommend you take some time to brush up on your Chinese skills by studying Chinese online or improve your understanding of life in China by reading some of our articles on fascinating and useful topics like Chinese social media, China VPNs and Chinese time zones (hint: there aren't any!).
Study abroad in China: Useful Chinese vocabulary
| Hànzì | Pīnyīn | Definition |
| --- | --- | --- |
| 大学 | dàxué | university |
| 大学生 | dàxuéshēng | university student |
| 留学生 | liúxuéshēng | international student |
| 教授 | jiàoshòu | professor |
| 学习 | xuéxí | to study |
| 系 | xì | department (in a college) |
| 海外教育学院 | hǎiwài jiàoyù xuéyuàn | overseas education college |
| 专业 | zhuānyè | major; field of specialization |
| 毕业 | bìyè | to graduate |
| 本科生 | běnkē shēng | undergraduate student |
| 研究生 | yánjiūshēng | graduate student |
| 硕士 | shuòshì | master's degree |
| 博士生 | bóshìshēng | PhD student |
| 毕业论文 | bìyè lùnwén | thesis; dissertation |
| 导师 | dǎoshī | advisor (for a thesis) |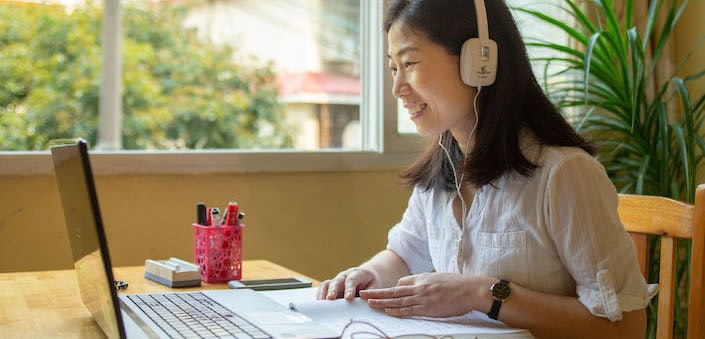 Free 30-minute Trial Lesson
Free 30-minute Trial Lesson
Continue Exploring